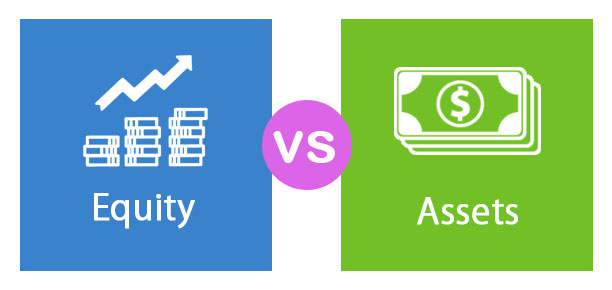 Difference Between Equity vs Asset
The equity of the Company or Business is money that is invested by the owner of the company. It can be said that Equity is the Capital of business. We should know who are owners of Business Forms. For Company Shareholders are the owner, for Partnership Firm, Partners are an owner, for Proprietorship individual is an owner. All the money which is invested by the owner is called Equity of Business. Meaning of Assets as per dictionary is "a useful and valuable thing". Assets are things which are bought or generated by the Company and which gives the economic benefit to the business. Assets are reflected on the right side of the Balance sheet. Assets can be classified as fixed assets and current assets according to the Life of Assets. Assets are also classified according to its physical existence that is Tangible Assets and Intangible Assets. Fixed Assets are those types of assets which are used by the business for the long term. For example Land and Building, Plant and Machinery, Vehicles, office equipment etc. Current Assets are those assets whose life is less than a year
Equity
In Equation form, Equity can be represented as
Shareholder's Equity = Assets – Liabilities
The interpretation of the above equation is "Assets which are created by the company after paying off all the debts".  We can also say that Shareholder's Equity in Net Assets of Company or it is also called as the Net worth of Company. Positive Shareholder's Equity is Good Sign of Financial Condition of the Company, which means that the company has a sufficient amount of Assets to Pay off its all due i.e. Liabilities. In the same line, negative Equity reflects, Company doesn't have a sufficient amount of Assets for paying of its due. This gives a negative impact on the Company. Utilization of Equity is done mainly for two purposes:
Creation of Assets or
Paying off Liabilities
Equity is a source of funds for the business. Hence it is always reflected as the Liability side of the Balance sheet.
Meaning of Assets:
Example of Current Assets is Accounts Receivable, Short term Loans and Advance, Prepaid Expenses, Cash and Bank Balance etc. Tangible Assets are those assets which have physical existence like Plant and Machinery. Intangible assets are those assets that cannot be seen or those which are invisible like Goodwill, trademark, patent, etc. Assets are Application of Funds of Business. Hence, it has a debit balance.
Equity vs Asset Infographics
Below is the top 7 difference between Equity vs Asset:

Key Differences between Equity vs Asset
let us discuss some of the significant differences Between Equity vs Asset :
Equity is money which is bought by Owners of Company for running the business, whereas Assets are things which are bought by the company and have a value attached to it.
Equity is always represented as the Net worth of Company whereas Assets of the Company are the valuable things or Property.
Equity always carries credit balance, which means the company has an obligation to repay whereas assets always carry a debit balance which means that valuable things are the property of Company.
Equity is Source of Funds whereas Assets are the application of that Fund.
There is no Classification of Equity whereas Assets are classified into Fixed Assets, Current Assets or Tangible Assets and Intangible Assets
It is reflected at Left Side of Balance sheet and Assets are reflected at Right Side of Balance sheet.
Below is the Balance sheet of Company, this is how both Equity and Assets are represented:
Balance sheet

Liabilities
Amount
Assets
Amount
Shareholder's Equity
 
Current assets
 
Equity
$1,00,000
Cash
$50,000
Reserves
$20,000
Petty cash
$500
Current/short-term liabilities
 
Inventory
$10,000
Accounts payable
$6,000
Pre-paid expenses
$100
Interest payable
$200
Fixed assets
 
Accrued wages
$300
Leasehold
$0
Income tax
$500
Property & land
$20,000
Long-term liabilities
 
Furniture & fitout
$50,000
Loans
$7,600
Vehicles
$4,000
Total liabilities
$1,34,600
Total assets
$1,34,600
Head To Head Comparison Between Equity vs Asset
Let's look at the top 7 Comparison between Equity vs Asset
| | | |
| --- | --- | --- |
| The Basis Of Comparison Between  Equity vs Asset  | Equity | Assets |
| Meaning | Equity is Money which is bought by owners of Company in the Business | Assets are things which are owned by Company |
| Purpose | For Buying Assets or for Paying off Debts | Forgiving Economic Benefit to Business by utilization |
| Classification | No Classification | Classified into Fixed Assets and Current Assets |
| Ownership | Equity is funds of Owner's | Assets are Property of Company |
| Equation | Equity = Assets – Liabilities | Assets= Equity+Liabilities |
| Debit/ Credit | Credit Balance | Debit Balance |
| Financial Statement | Reflected at the Liability side of BalanceSheet | Reflected at Asset Side of Balance sheet |
Conclusion – Equity vs Asset
Equity vs Assets are different terms but both are related. We can say that one is Source of Funds and Other is Application or Utilization of Fund. One is Liability and Other is Asset.
Recommended Articles
This has a been a guide to the top difference between Equity vs Asset. Here we also discuss the Equity vs Asset key differences with infographics and comparison table. You may also have a look at the following articles to learn more-