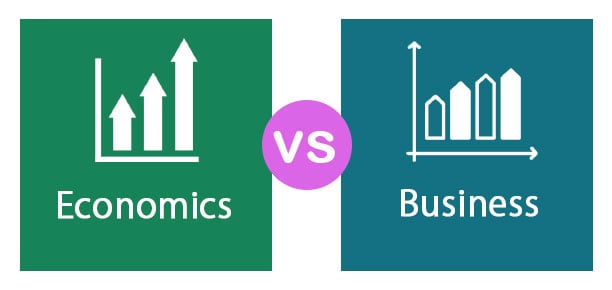 Difference Between Economics vs Business
Economics is a social science that studies how society uses its limited resources to satisfy unlimited human needs. It studies how production, distribution, and consumption of goods and services are carried out. It focuses on four factors of production Land, Labour, Capital, and Enterprise. Business is a part of economics that deals with production and distribution of goods and services with the use of four factors of production (Land, Labour, Capital, and Enterprise) with an objective of creating profit out of this activity. Business can take a different form.
What is Economics?
Economics emphasizes more on aspects such as demand, supply, foreign exchange rate, inflation, central bank policies, foreign trade national budget, etc.
Economics can be broadly classified into two:
Micro Economics
Macro Economics
Micro Economics
Micro Economics deals with individual units of the economy. Individual units can be consumer, household, firm or a particular industry. It studies the effect of individual unit decisions on the economy. It studies aspects such as demand, supply, input cost, product price, consumption patterns, etc.
Macro Economics
This is the branch of economics that studies activities carried out in an economy as a whole. It focuses on key metrics such as GDP growth rate, unemployment, poverty, foreign exchange, general price levels, etc. It aggregates all the Micro Economics metrics and analyzes its impact on the economy as a whole. For example, if you want to study how the increased discount on a product will affect the customers purchasing patterns and the firm's profitability, Micro Economics is the branch that deals with these aspects. If you want to analyze the impact of how the reduction of interest rate by a government would affect aggregate capital expenditure of the nation, the study that deals with this is Macro Economics.
What is Business?
Business involves individuals working together in an organized way to cater to societal needs with an objective to earn the profit. It involves Marketing, HR, Finance, Accounting, Research and Development, Product Analysis, etc. Business activities also analyze the political, government and legal atmosphere of a country to construe how it will impact their business.
Based on the nature of activities it carries out, it can be categorized as
Manufacturing Business
Trading Business
Service Business
Based on the nature of ownership, a Business can be:
Sole proprietorship
Partnership firm
Private Limited firm
Public Limited firm
Head to Head Comparison between Economics vs Business (Infographics)
Below is the top 7 difference between Economics vs Business

Key Differences between Economics vs Business
Let us discuss some of the major differences between Economics vs Business
As mentioned above Economics is a much wider concept than Business.
Economics carefully analyze and interpret how the activities of individuals will affect the progress of a country whereas Business is more concerned about how the actions of their employees and management will affect the progress of the company and maximization of shareholder's wealth
Economics covers the aspects such as GDP, Inflation, Unemployment, Interest rate, Supply, Demand, Balance of payment, International trade so that it can give central authority a quality input on which key decisions can be taken for the country's progress whereas Business is more concerned about Key metrics such as Revenue growth, Profit Margin, Leverage ratio etc. so that management can take timely decision to maximize the profit of the business thus the wealth of shareholders.
Business decisions are taken by managers whereas Economic decisions are framed by policymakers and taken by government officials
Economics vs Business Comparison Table
Let's look at the top 7 Comparison between Economics vs Business
| | |
| --- | --- |
| Economics | Business |
| Economics is a wider concept | Business is a subset of Economics and is a narrow concept when compared to Economics |
| All the Economics activities need not be profit motive | All Business has an objective to earn a profit. |
| Economics is the study of how participants use the limited resource to meet their unlimited needs | Business is an economic activity where goods and services are exchanged for money |
| Key metrics of an Economics are Percapita Income, Exchange rate of currencies, GDP growth rate, Fiscal Deficit, Repo rate etc. | Key metrics for business are Gross profit margin, Net Profit Margin, Asset turnover ratio, Financial Leverage etc. |
| Economics try to maximize the welfare of society | Business tries to maximize the wealth of its shareholders |
| Economics addresses key issues such as Poverty, Taxation, Unemployment, Interest rates, Government expenditure etc. | Business addresses issues such as product positioning, Organic and Inorganic growth, Cost minimization, product differentiation etc. |
| Economics emphasizes on how scarce resource can be put for best use | Business need not always emphasize on the best use of scarce resources |
Conclusion
Economics is a broad subject that studies how human being uses the scarce resource to meet their unlimited wants. It covers large aspects and has a wider scope. Key economic metrics help the government to take sound economics and political decision to ensure the prosperity of the nation. Business is an economic activity that uses the available resources in an organized manner towards a common objective. Business always tries to maximize its profit. Activities that don't help to contribute towards their profit fall out of their purview whereas Economics main objective is to maximize the welfare of the society and need not to be always profit making. Sound Economic policy and decisions are prerequisites for the success of Business and prosperity of the nation. It can improve factors like unemployment, poverty, a life expectancy of a nation whereas Business will not focus on these aspects. So the term Economics has a very wider concept than term business and business in one of the economic activities.
Recommended Articles
This has been a guide to the top difference between Economics vs Business. Here we also discuss the Economics vs Business key differences with infographics and comparison table. You may also have a look at the following articles to learn more –