Unregulated Practice
Dowry system is a social evil that has been prevailing in India since time immemorial. One generation after another carries on the age-old tradition. Dowry is a financial payment made in cash or kind by the bride's family to the bridegroom's family at the time of marriage. Giving and receiving money, goods, or property as a condition of marriage is a common practice. It is an unregulated practice and is illegal in India.
The Dowry system has been a part of Indian culture for centuries, but it has become an increasingly controversial issue in recent years. The culture deeply entrenches the practice and considers it a crucial aspect of the marriage process. The bride's family usually gives the groom's family a substantial amount of money or valuable items as dowry, to show their wealth. Now in this article Dowry System Essay we will see how it affected the groom.
Dowry System Essay – Source and Effects
The dowry system has been a major source of concern for many families in India over the years, as it has led to numerous cases of abuse, domestic violence, and even death. In many cases, the bride's family is unable to pay the demanded dowry, and the groom's family resorts to violence in order to collect the money. In rare instances, instances of dowry deaths have been reported where the bride has suffered fatal consequences.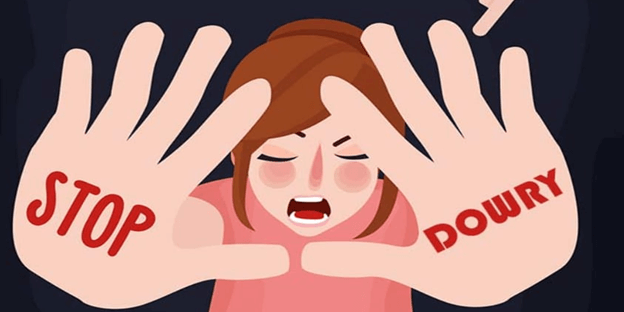 Dowry system is a social evil, which is still prevailing in society. It is a major issue in India, as well as in many other countries. It has been a matter of great concern since ancient times. The dowry system is a traditional practice in which the parents of a bride give a large sum of money, jewelry, and other expensive items to the groom's family as a form of marriage payment. This system has been in existence for centuries, and it is still a common practice in many parts of the world.
Objective Behind the System
The dowry system requires the bride's family to pay a large sum of money or give expensive gifts to the groom's family as financial security. This practice secures the groom's family's financial stability and ensures the bride's well-being and her family's financial security.
The dowry system has caused a lot of harm and distress in India. It has led to cases of bride burning, domestic violence, and even suicides. The high cost of dowry has made it difficult for many families to afford marriage. Agents arrange more marriages due to the high cost of dowry. These arrangements are often exploitative and oppressive.
Consequences
Moreover, the dowry system has also caused economic inequality in India. Wealthy families can easily afford to pay large sums of money in dowry, while poorer families struggle to afford even the basic items required for marriage. This has resulted in the exclusion of poorer families from the marriage market.
The dowry system in India perpetuates gender inequality by benefiting men and victimizing women. This patriarchal system views women as inferior and subject to domestic violence if they do not obey their husbands.
Steps Taken by Government for Eradication
We must immediately address the major problem of the dowry system in India. The government has taken some steps to reduce the practice of dowry, but these steps have not been successful. It is important for the government to take more effective measures to eradicate this practice. There is also a need for greater awareness about the harmful effects of dowry.
Eliminate the outdated and oppressive dowry system from our society. This practice causes harm and distress to families and must end. Change attitudes towards marriage and dowry, giving women equal rights and opportunities. Respect and value women, giving them dignity and respect in life
Side Effects of the System
The dowry system has caused widespread social unrest and perpetuates gender inequality in India. Men use it to assert their power over women and reinforce traditional gender roles, while families use it to gain financial and social status. The amount of dowry given often determines social standing.
Critics denounce the dowry system as it contributes to domestic violence, gender inequality, and even fatalities. It exploits women to benefit men's financial and social status. In recent years, the Indian government has taken steps to curb the practice of dowry and has enacted various laws to protect the rights of women. Despite these measures, the practice continues to exist and has become a major source of concern for many families.
Conclusion
In this article Dowry System Essay we have seen how to address and tackle the dowry system to prevent discrimination against women and respect their rights. Raising awareness about this issue and abolishing the practice is crucial to achieving gender equality in India.