What is Diseconomies of Scale?
Diseconomies of scale occur when a company's production cost per unit increases as the company expands its operation.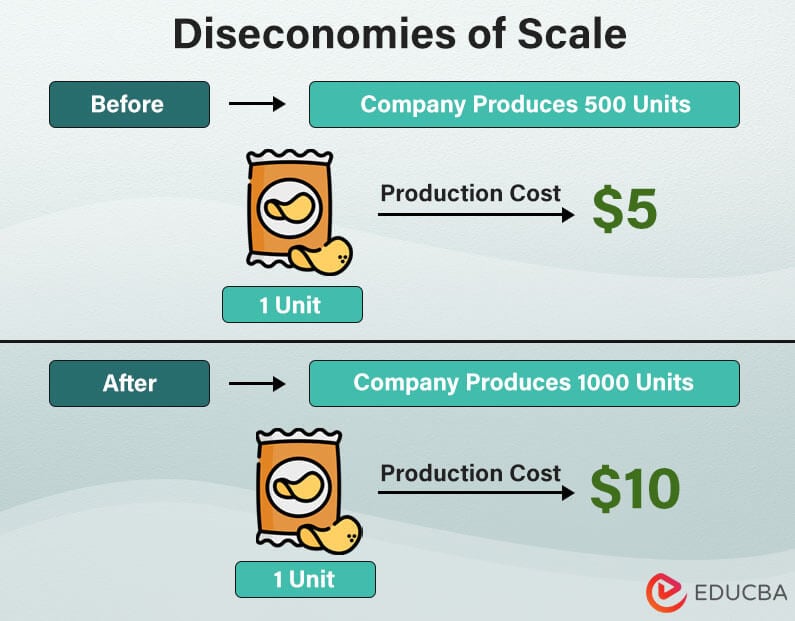 Table of Contents
When Does it Occur?
It occurs when a company expands its production. With an expansion, the firm faces challenges like increased bureaucracy, communication problems, and lack of coordination between the different departments. All these factors slow down the decision-making process, and businesses spend more money to complete the tasks. It ultimately increases the cost of producing a product more than its earlier cost of production.
For instance, suppose a food company expands its business and starts producing increased packaged food items. As a result, the cost of producing each item can increase. It is because the company may spend on new machines and hire more workers to keep up with the increased demand. Therefore, the company's efficiency can decrease and may not be profitable as expected. This is known as diseconomies of scale.
Example
Let's say Daisy has a small textile store with 15 employees. She decides to open two more stores in different localities. The below table illustrates the various aspects of her company's operations before and after expansion.
| | | |
| --- | --- | --- |
| Aspect | Before Expansion (Initial Store) | After Expansion |
| Labor Costs | 15 employees | 34 employees |
| Monthly Revenue | $24,000 | $48,000 |
| Monthly Expenses | $19,000 | $41,000 |
Solution:
To understand this concept, we must calculate the profit margin before and after the expansion.
1. Before Expansion
Initial Monthly Revenue = $24,000
Initial Monthly Expenses = $19,000
A) Profit
Initial Monthly Profit = Revenue – Expenses
= $24,000 – $19,000 = $5,000
B) Profit Margin
Profit Margin = (Initial Profit / Initial Revenue) x 100
= ($5,000/$24,000)x100 = 20.8%
Daisy's initial profit margin was 20.8%.
2. After Expansion
Monthly Revenue After Expansion = $48,000
Monthly Expenses After Expansion = $41,000
A) Profit After Expansion
Monthly Profit After Expansion = Revenue – Expenses
= $48,000 – $41,000 = $7,000
B) Profit Margin After Expansion
Profit Margin After Expansion = (Profit / Revenue) x 100
= ($7,000/$48,000)x100 = 14.5%
Daisy's profit margin after the expansion is 14.5%.
3. Calculating the Decrease in Profitability
Decrease in Profitability = (Final Profit Margin – Initial Profit Margin)/Initial Profit Margin x 100
=(14.5% – 20.8%)/20.8% x 100 = –30.3%
Diseconomies of Scale Graph
In the above example, we saw how expansion affects the profit margin. Let us now use the graph to understand how it leads to an increase in average cost per unit.
The graph illustrates how diseconomies of scale work when a company expands its business. This graph helps businesses with risk management, cost-related decision-making, resource allocation, and more.
To understand the graph, let us use production quantities and average costs for "Company A," a Smartwatch manufacturing company.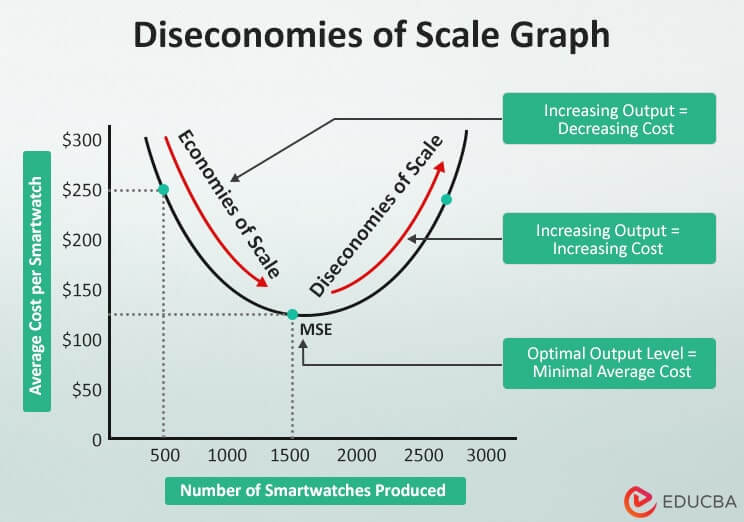 Graph Explanation:
X-axis: Represents the number of Smartwatches produced
Y-axis: Represents average cost per Smartwatch
Economies of Scale for Company A (Left Side of the Curve)
The downward slope on the graph denotes economies of scale for Company A. Here's how it occurs:
Company A begins by producing 500 Smartwatches at an average cost of $250 per Smartwatch. However, as the production increases to 1000 smartwatches, the average cost per Smartwatch decreases to $180. Thus, the company experiences economies of scale due to spreading fixed costs and increased specialization. Hence, the graph shows a downward-sloping curve, indicating that the average cost per Smartwatch is decreasing.
Minimum Efficient Scale (MES)
The graph reaches its minimum average cost as the company increases production capacity to 1500. It is the average Minimum Efficient Scale (MES). At this point, the company figures out the lowest possible cost to produce Smartwatches, say $130.
Diseconomies of Scale for Company A (Right Side of the Curve)
Now, the company has started producing 2500 Smartwatches. With increased production, its average cost rises due to management issues and limited resources. The production cost increases to $190 to make 2500 Smartwatches. Thus, the graph starts to slope upward after 1500 Smartwatches. It goes from $130 (for 1500 Smartwatches) to $190 (for 2500 Smartwatches). It indicates that the average cost per Smartwatch is increasing.
Concluding the Graph:
This graph shows Company A experiences economies of scale as Smartwatch production increases till the MES point. Beyond this point, diseconomies of scale start to emerge, causing the average cost per Smartwatch to rise. The MES point represents the optimal production level, where the average cost is minimum.
Types

1. Internal
Internal diseconomies of scale occur due to factors that are within the company's control. There are five types of internal diseconomies, which are as follows.
A) Technical Diseconomies
Technical diseconomies result from inefficiencies in the production process as a company expands, like:
The production process becomes complicated, leading to errors and delays.
Expansion requires more specialized machinery and technology, which can be challenging due to limited supply.
They also require more skilled workers.
B) Organizational Diseconomies
Organizational diseconomies arise from improper workforce management and communication, such as:
Communication gaps between different departments lead to misunderstanding and inefficiency in coordinating tasks.
The involvement of more individuals slows the decision-making process.
As the company grows, the manager may not monitor every aspect of the operation, leading to decreased quality control.
C) Purchasing Diseconomies
Purchasing diseconomies occur when a company's cash flow increases, but it faces issues of overspending and cost inefficiency. This results due to:
Lack of control over purchasing costs.
Inefficiencies in cash flow management lead to reduced profitability.
D) Competitive Diseconomies
Competitive diseconomies occur in non-competitive markets, where the company may lack the motivation to improve its efficiency. Therefore, in the absence of competition:
Companies spend without clear strategies, leading to higher costs.
They have no incentive or inspiration to increase operational efficiency as no competing companies exist.
E) Financial Diseconomies
Financial diseconomies result when a company needs expansion finance and depends on external funding sources, like banks or private equity firms. This leads to:
High-interest rates on loans, increased product costs, and reduced profitability.
Multiple funding sources and complex transactions can lead to higher administrative and operational costs.
Expansion requires large infrastructure and more machines, negatively affecting a company's financial resources.
2. External
External diseconomies of scale refer to increased production costs beyond the company's control. Factors include rapid population growth, shortage of skilled labor, increased labor costs, etc. There are three types of external diseconomies, which are as follows.
A) Diseconomies of Pollution
Diseconomies of pollution occur when industry expansion causes a negative effect on society, like:
Pollution can cause respiratory diseases and allergies due to poor air quality, water contamination, or soil pollution.
When pollution increases near the vicinity of the company's facility, the property rates in that area decrease.
Pollution can cause societal inefficiencies like increased medical expenses and reduced productivity.
B) Limited Natural Resources
Limited natural resources result in higher costs due to increased demand for natural resources. It occurs due to several reasons:
As the company expands, it requires more skilled employees, which increases labor costs.
As demand for resources (e.g., coal, oil, electricity) increases, their price rises, leading to higher operation costs.
C) Infrastructure Diseconomies
Infrastructure diseconomies arise when expansion creates tension in local infrastructure, affecting production costs. Some causes are as follows,
As a company expands, it can contribute to traffic on transportation routes like roads, causing delays and increasing transportation costs.
Traffic and overcrowding infrastructure increases delivery time, resulting in employees facing longer commutes, ultimately impacting overall operational efficiency.
Rapid expansion can pressure local infrastructure, like water supply and waste management, increasing maintenance costs.
Causes Of Diseconomies of Scale
Employee Costs
During expansion, companies might hire more employees than needed for manufacturing, promoting products, and administrative processes. It can indirectly increase the cost of paying those employees.
Bureaucracy
As a company expands, it might need new rules and regulations to manage production. It involves documentation, reporting, and approvals leading to a slow-down decision-making process and making the company less flexible.
Communication Failure
With the involvement of more people and departments in large organizations, there can be difficulty in coordinating tasks and activities. There might be communication gaps, leading to misunderstandings of important information. This communication failure affects prices, delivery time, and employees' efforts.
Administration and Compliance Costs
As the business grows, it spends more on management and administrative tasks, ultimately increasing the average unit production cost.
Resource Scarcity
Resource scarcity refers to the situation where there is a shortage or limited availability of resources to produce more products. Thus, when resources are limited, companies might pay a high price to procure those resources leading to an increase in the cost of producing per unit.
Solutions
There are several strategies that companies can use to address diseconomies of scale and minimize their impact on the business.
Organizations Management
Companies can invest in R&D to improve their production methods and technology to lower production costs.
They can set clear roles and responsibilities for each department to prevent confusion, misunderstanding and enhance teamwork.
Finance Management
Data analytics allows companies to analyze their financial data to make informed budgeting and resource allocation decisions to reduce costs.
They should implement strict purchasing policies and centralize processes to receive bulk discounts from suppliers to avoid unnecessary expenses.
Infrastructure Management
Companies can work with local communities to address environmental concerns.
They can also collaborate with the government and authorities to improve infrastructure, such as transportation routes.
Feedback and Competitor Monitoring
Companies must actively engage with customers and ask for product and service feedback.
They should understand the market trends and customer preferences to stay ahead of the competition.
Adopt Environmental Practices
Companies can adopt eco-friendly technologies and sustainable environmental practices to minimize pollution.
Frequently Asked Questions (FAQs)
Q1. What are the advantages of diseconomies of scale?
Answer: Diseconomies of scale can lead to the development of new innovative strategies, technologies, or management approaches to improve overall efficiency. It can also help companies to become more flexible and adaptable to changes in the market, consumer preferences, and other factors.
However, the challenges include communication issues, ineffective collaboration among different departments, resource allocation, and operational inefficiency.
Q2. What is the formula for diseconomies of scale?
Answer:  There is no specific formula for diseconomies of scale. However, determining cost-per-unit is valuable as it helps us to identify potential inefficiencies. It also allows firms to monitor overhead costs and maintain financial stability as the company grows.
Formula: Average Cost Per Unit= Total Cost / Total Units Produced
Q3. Differentiate between diseconomies and economies of scale.
Answer: Economies of scale occur when the cost of producing each unit decreases as production output increases. In contrast, diseconomies of scale describe a situation where the cost of producing each unit increases as levels of production increase.
Recommended Articles
We hope you find this EDUCBA information on Diseconomies of Scale useful. EDUCBA suggests the following articles for additional information on related subjects: