What is Depreciation for Cars?
Depreciation for cars is the decrease in a car's value after its use, i.e., the difference between the purchase value and the amount received when we sell it.
For example, a car model XYZ is worth $30,000. After five years of ownership, the car's value has dropped to $15,000, which means that the vehicle depreciated by 50% over five years.
The concept is typically used to refer to vehicles but can also refer to other physical assets such as machinery or buildings. When an asset depreciates, it signifies that it was in use and thus holds less value than when it was new. According to the IRS, only business use costs get deducted from the tax pay policy for vehicles used for business and personal service.
Key Highlights
Depreciation for cars is a method of accounting for the decrease in the car's value over time.
Various factors affect depreciation: wear & tear, age, technological advancement, condition, etc.
The depreciation rate is calculated by subtracting the residual value from the original purchase price and dividing the result by the years of ownership.
The IRS allows you to deduct depreciation when you buy a car. This deduction is an allocation of the cost of the vehicle over its useful life.
Depreciation Rates on Car
In the US, a car loses its value by 5% after its first drive.
Moreover, its value declined by 10% more after the first six months.
After a year of the car's purchase, the overall value falls by 20%.
In around four years of use, the vehicle's value almost decreases by 30-40%.
How to Calculate Car Depreciation?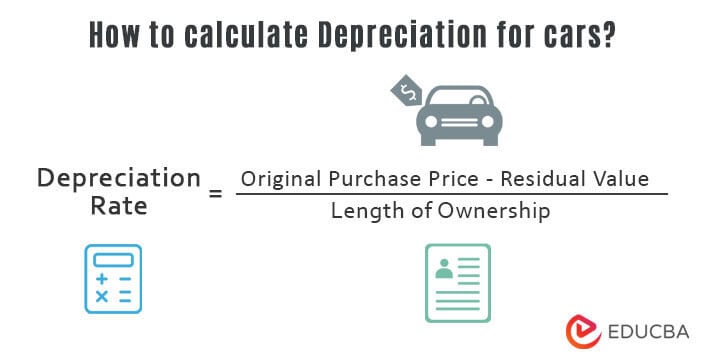 The formula for calculating the depreciation for cars is
Depreciation rate = (Original Purchase Price – Residual Value) / Length of Ownership
Where,
The Original Purchase Price is the amount a buyer must pay while buying a car. 
Residual Value is the amount a car owner gets when he decides to sell it.
The length of Ownership is the duration of the usage/ownership of the car.
Examples of Depreciation for Cars
Example #1
Mark bought a Ford F-150 in 2020 for $400,000. After its rough and tough usage for three years, in 2023, he decided to sell it, and its residual value is $100,000. Let's calculate its depreciation rate.
Given,

Solution:
As per the formula, the depreciation is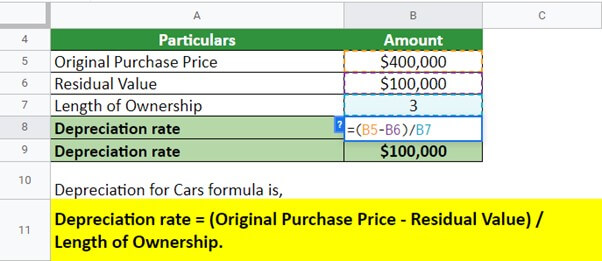 Depreciation for the car after three years is $100,000. So, it lost $300,000 in value.
Example #2
John buys Hyundai IONIQ worth $200,000 in 2023. With proper maintenance, John will use the car for four years till 2027. Thus, let us assume the car's residual value is $135,000. Let's compute the depreciation rate of Hyundai IONIQ after four years.
Given,

Solution:
As per the formula, the depreciation is:

Depreciation for the car after four years will be $16,250. So, it will lose $1,83,750 in value.
Factors Impacting Depreciation for Cars
Wear & Tear
Depreciation effects by several factors, including wear and tear due to usage, age, and external influences such as the economy and technological changes.
Without proper maintenance, a car's wear and tear can accelerate, leading to more rapid depreciation.
Age
The age of a car is also an essential factor in its depreciation rate.
As cars age, their value will naturally decrease due to the introduction of newer models with improved features and performance.
Additionally, external factors such as economic downturns or shifts in consumer preferences can significantly impact the value of cars on the market.
Technology Advancement
Technological advancements can contribute to a car's depreciation.
As new technology develops, it quickly becomes incorporated into the latest models of vehicles.
Condition
The condition of a car will affect its depreciation rate.
Vehicles that are well-maintained and regularly serviced have fewer issues and generally retain their value better than those that could be better maintained.
Techniques to Minimize Depreciation for Cars
Invest in Regular Maintenance
Investing in regular maintenance is one of the best techniques to minimize car depreciation.
Keeping up with routine service checks and replacing worn parts can help keep your car running longer and reduce the overall depreciation rate.
Drive Responsibly
Driving responsibly can avoid accidents and is another way to minimize car depreciation.
Avoiding hard braking, excessive speeding, and aggressive driving can help keep your car running well and reduce the overall rate of depreciation.
Choose a Reliable Vehicle
A reliable vehicle performs well in terms of mileage, safety, and maintenance.
Researching different models and reading consumer reviews can help you make a solid decision when selecting a car that will retain its value over time.
Install Up-to-Date Technology
Installing up-to-date technology, such as automatic emergency braking and adaptive cruise control, can reduce depreciation rates.
This technology also helps to increase safety, making it a win-win situation for you and your car.
Regular Maintenance
Regular servicing of your vehicle is essential in maintaining its value over time.
Making sure the oil is changed, brakes are working correctly, and tires are in good condition, and replacing filters can help to keep your car in good condition and maximize its longevity.
Cleaning
Keeping your vehicle clean, inside and out, can significantly reduce depreciation.
Regular wash and waxing of the exterior of your car help protect it from the elements and prevents rust or other damage that can affect the resale value of your vehicle.
Get Regular Inspections
Scheduling regular inspections for your car will help identify potential issues before they become more severe and expensive.
Regular reviews can help minimize depreciation and ensure your passengers' safety.
Minimize Mileage
Driving less can help preserve the life of your vehicle and reduce its depreciation value over time.
Limiting mileage by carpooling, taking public transportation, or walking short distances can reduce the wear and tear of your car.
Final Thoughts
Car depreciation depends on various factors, including their types, facilities, technologies, models, and many other factors. By understanding all the factors, minimization, and accounting decisions, businesses can ensure they are getting the most out of their investment. Further, all the vehicles lose their worth after their first drive.
Frequently Asked Questions (FAQs)
Q1. What is depreciation for cars?
Answer: Car depreciation is the decrease in a vehicle's value over time due to wear, tear, and aging. It's an essential factor to consider when estimating the total cost of car ownership over a set period.
Q2. How to maintain a car's value?
Answer: Even though a car's value will decline over time, there are a few things to consider to minimize its price. One can maintain its value with proper and time-to-time coloring, cleaning, maintenance, etc.
Q3. How does depreciation impact operating costs?
Answer: Vehicles with higher odometer readings and lower fuel efficiency lose value more quickly. It demonstrates that vehicles with higher mileage require more money for upkeep. Automobiles with less mileage, however, cost more. Thus, cars with higher operating expenses would have higher depreciation values.
Q4. How do you figure out a car's depreciation?
Answer: The online IDV calculator can determine a car's depreciation value. You only need to fill the calculator with your car's ex-showroom price and registration year. The calculator will subsequently determine the depreciation value of your vehicle.
Q5. What is the depreciation rate for buildings, machinery & furniture?
Answer: The annual depreciation rate for a building is 5%, and for machinery & furniture, the depreciation rate is 10%.
Recommended Articles
In this article, we got an overview of depreciation for cars. To learn more about depreciation for cars, please read the following articles: