Updated March 6, 2023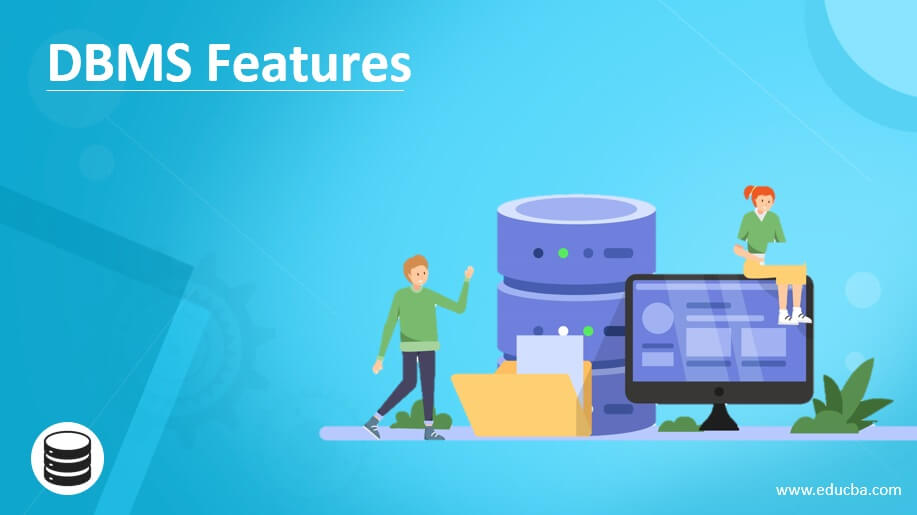 Definition on DBMS Features
Generally, DBMS is defined to be software chiefly functioning as an interface working between the end consumer and the database instantly handling the data, the database schema, and the database engine so that it can simplify the organization and manipulation of data. However, features of DBMS diverge significantly, therefore general-purpose DBMS functions and proficiencies must comprise: a user reachable catalog labelling metadata, data abstraction, and liberation, DBMS library management, data security, reviewing and logging of doings, support for approval of access as well as transactions and concurrency, access provision from remote places, DBMS data retrieval support in the occasion of damage and also implementation of constraints to confirm the data tracks definite rules.
DBMS Features
Let us discuss some significant landmarks from history of DBMS:
In the year 1960, the primary DBMS system was designed by Charles Bachman. Later on, many changes and inventions took place which included Object-oriented DBMS, production of initial Internet database applications, and also XML was implemented to the database processing works.
Let us point out few characteristics of DBMS mentioned as follows:
Eradicates Redundancy and delivers security
Contains self-explanatory behaviour of a database system.
Insulation provided between programs and data abstraction.
Support of several views of the data
Allocation of data records and multiuser transaction handling.
DBMS permits entities and relations amid them to produce tables.
The ACID property theory i.e. Atomicity, Consistency, Isolation, and Durability is followed.
DBMS holds a multiuser environment that permits users to access and deploy data in corresponding.
Benefits
Some of the benefits provided by a DBMS are as follows:
Integrity: The organization of the database can alter, but the application that uses the data need not be altered.
Efficiency: Evades data unpredictability and replication, and minimum space for storage is taken up since data is shared.
Consistency: Irrespective of who is inspecting it, the data is identical.
Backups: It is simple to backup data from one place.
Security: The data is kept in a safe central place and many access privileges may be allocated to several people.
Customization: The applications may be custom-built to ensemble the requirements of the user.
The database management system, DBMS, is basically a tool that functions to organize, store and edit information in a database server. It delivers different key features listed below:
Data is stored in one central location
Agrees data to be shared by various operators
Delivers user interface to function with the data
Builds backups
Regulates who can access and modify the data
Features
Let us explain these features in detail as follows:
1. Protects storage space and price: We can find a huge amount of data records present that are to be maintained by all the DBMS. But for saving much space requires proper integration in DBMS. Today, many industries are paying a huge amount for storing and securing the data. Thus, if the data to store is managed, then this will definitely save the amount of their charges of keeping data along with data entry.
2. Least Replication and Redundancy: There is greater chance of data duplicity if there are several users using the database management systems. Therefore, in DBMS the data files are shared in order to lessen the data replication and redundancy. Since, all the information in DBMS arises just once that reduces the chance of duplicity.
3. Big Database Maintenance: Only DBMS provides the benefit to maintain a huge amount of databases of large companies which need lots of features to be included such as security, recovery, and backup as well. Hence, DBMS supports all these features which aids to control and regulate large databases with different data and information.
4. Multi-user Access: Since, in DBMS all sorts of data information are collected at one store, therefore accessibility can be provided to multiple users. But every user needs privilege which offers rights to view or access and manage the data consequently. This causes the security and confidentiality of data to be amplified for the users because they will possess their own interface for accessing the data.
5. Anybody can Effort on it: Work on DBMS does not require any technical skills, since the query commands supported by DBMS are very simple and easy to comprehend and practice. With the aid of these queries, one may be easily able to insert, update or delete and even search any of the data record within the specified database. Even a non-skilled programming person can manage the queries in database operations with no help of programmer who is expert in it.
6. Delivers high level of security: DBMS is a robust type of software delivering high level of integration and confidentiality for data information of individual users among huge databases. Today, security is a very vast worry for all the companies that regulates immense quantity of data. But in DBMS, only DBA or the head of the department can hold entire access and privileges to work and manage the database thoroughly. This provides them rights to modify the database records and also managing all users formed by them so that the DBMS's security level becomes so great. Hence, no other consumer can access the entire database without permission allowed since all will have restrictions in accordance to their functions.
7. Enhanced File Uniformity: By applying the DBMS, any organization can make a homogenous way to implement files and confirm uniformity of the data with any other application programs or systems. Rationalization and controlling advanced data managing systems is indispensable. The application software of a progressive database system permits applying identical rules to all the data throughout the association.
8. Data Dictionary Administration: Basically, a dictionary can be defined as the collection of words with meanings of it. Likewise, a DBMS includes a dictionary that stores data information regarding all database tables, related rows, and columns as well as relationship established between them along with the alterations in them. Hence, as a result, user time is saved for tracking and organizing all of this by yourself.
Conclusion
DBMS is a group of programs that is responsible to manipulate, store and regain user's data records from the databases while allowing for applicable security procedures. Hence, it delivers an interface working between the information stores and application software. In the process, the DBMS agrees the request for data info from an application program and initiates the operating system to offer the indicated data.
Recommended Articles
This is a guide to DBMS Features. Here we discuss the definition, benefits, characteristics, list of DBMS Features. You may also have a look at the following articles to learn more –