Updated March 4, 2023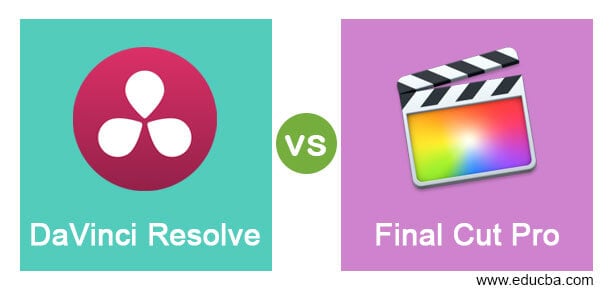 Difference Between DaVinci Resolve vs Final Cut Pro
DaVinci Resolve is non-linear video editing software which works on manipulation of video by managing different type of parameters of the video and also gives good result in color correction of video. It was formally known as Da Vinci Resolve and offers both free as well as commercial packages to their user with some different features. Final Cut Pro is also non-linear video editing software and uses different types of techniques for making several adjustments in parameters of features of the video. It allows users to log video then transfer it on to hard drive for editing as well as the processing and gives output in a wide range of formats.
I know you are eagerly waiting for leaning about DaVinCi Resolve and Final Cut Pro and I am going to tell you about all the important things about this software. So let us discuss them.
Head to Head Comparison between DaVinci Resolve vs Final Cut Pro (Infographics)
Below are the top 8 differences between DaVinci Resolve vs Final Cut Pro:

Key Differences between DaVinci Resolve vs Final Cut Pro
Some of the key differences between the DaVinci Resolve vs Final Cut Pro are given below:
By analyzing the below-mentioned points you can get an overview of the main characteristics of both software and can differentiate them very easily although they are using for the same type of purpose.
For having DaVinci Resolve in your hand you have two choices. The first one is if you want to learn it and use it for non-commercial purposes then you can have it free of cost with limited features but if you want to use it for commercial purposes with advanced features then you have to pay $357.01 and can enjoy it in your work.
Final Cut Pro X offers many numbers of good things to you that, same as DaVinci you will both free and commercial package in it but the good thing about it is that you can extend its free trail up to 90 days which is a pretty good time to develop your video editing skill with it. It generally offers 30 days trial version to its users but under some terms and conditions, you can extend it. On another hand, if you are looking to purchase it after the trial period you can pay $299.99 for Final Cut Pro X and $199.99 for Logic Pro X and can have all the advanced features of it.
Final Cut Pro gives you low rendering and exporting times for high-resolution videos which may not good thing for you whereas DeVinci Resolve is a great product for those who want a high level of color correction in video editing and can have lots of of of preset for these color correction features. Not only preset you can also set parameters of that preset according to your requirement because it offers adjustable parameters.
DaVinic resolve is not much popular as Final Cut Pro. Final cut Pro is focused on professional editing not only professional editing but it also designed for beginners to develop their skills to become a good video editor. In this sequence, you will find that Final Cut Pro has a magnetic timeline while DaVinci Resolve has a non-linear timeline which is a big difference in them.
Final Cut Pro has a good customized user interface which gives you a smooth working environment. DaVinci also offers a good working area with nice graphics capabilities for their users.
DaVinci Resolve vs Final Cut Pro Comparison Table
Comparison between DaVinci Resolve vs Final Cut Pro are given below:
Here you will get basic information about this software which are very necessary to know them deeply and these basics information includes required operating systems, latest as well as initial version and so on.
| | | |
| --- | --- | --- |
|  Basis | DaVinic Resolve | Final Cut Pro |
| Definition | DaVInic Resolve is a type of video editing software and uses different types of standard tools for dealing with high-quality video editing. | Final Cut Pro is also a video editor that makes different types of corrections and adds many effects into a video giving it a more realistic look. |
| Developed and Initially released | Initially, it was developed by Da Vinci systems and managed by them between 2004 to 2009 but later on it was taken over by Blackmagic and after 2009 it is maintained by Blackmagic. | First, it was developed by Macromedia Inc. but later on, in 1998 it was taken over by Apple Inc. Its initial version was released by Apple Inc. on June 21, 2011. |
| Latest version | 17.1.0 is its latest or current stable version and launched on March 10, 2021, for overcoming the issue of previous versions. | 10.5.2 is its the latest version which was released on March 4, 2021, with some additional changes in the previous version. |
| Operating system | It can easily run on several operating systems such as Mac OS, Microsoft Windows, and Linux. | It has its compatibility with Mac OS only. |
| Supported Language | For making itself more accessible to their use it supports 7 different languages and that is English, Chinese, French, Japanese, Spanish, Russian, and Portuguese. | It also available in several languages some of them are English, French, German, Italian, Danish, Spanish, and many others. You can visit its official website for having details of other languages. |
| Availability | If you want to collect more information about a different aspect of this software or want to download it then you can visit www.blackmagicdesign.com/products/davinciresolve | You can go to the Mac APP store for downloading this software. |
| Type | It can be categories under Video Editing as well as color correction software. | You can categories it under Video editing software. |
| License | It is licensed under Proprietary commercial and freeware software. | It has only a Proprietary commercial license. |
Now you got an idea about DaVinci Resolve and Final Pro for extracting details that are useful for you during understanding software. Now let us move to another section of this article for having knowledge about some advanced characteristics of DaVinci Resolve and Final Cut Pro.
Conclusion
Now DaVincI Resolve and Final Cut pro are both that software about which you have enough knowledge and you can use this knowledge for having good analysis on them. You can try free versions of both software if you haven't used them before but want to start learning with any one of them and can do lots of good editing in video footage.
Recommended Articles
This is a guide to DaVinci Resolve vs Final Cut Pro. Here we also discuss the DaVinci Resolve vs Final Cut Pro key differences with infographics and a comparison table. You may also have a look at the following articles to learn more –