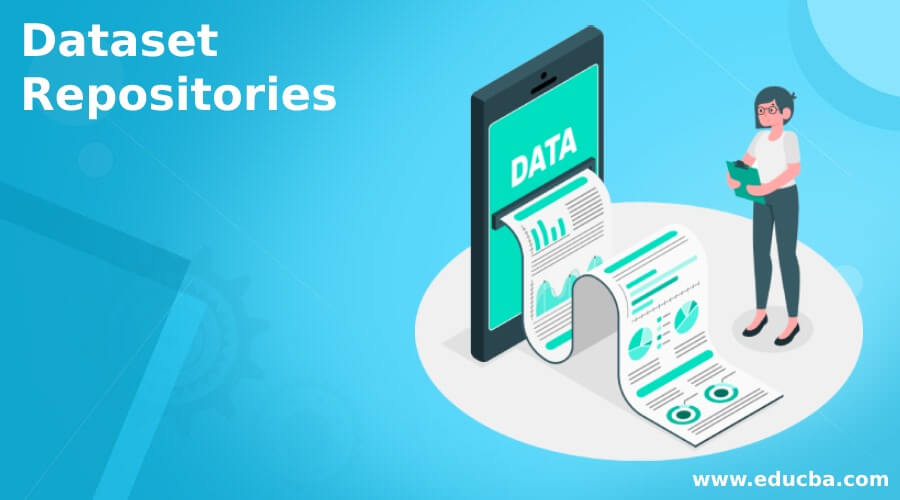 Introduction to Dataset Repositories
Dataset Repositories is defined as a central location where aggregation of the data that can be used for various applications are stored, managed and used. In the current timeline, it has always been a challenge to have a predefined dataset that can be used for database queries analysis that is reliable, clean and easy to interpret for various use cases like database query learning, data science modelling and/or machine learning. Likewise, it can be either fun or frustrating to glance through a lot of datasets and choose the perfect one for the required use case. In this article, we will go through some dataset repositories where one can find data set that will be suitable for the use case of database or data science or machine learning.
Top Dataset Repositories
In this article, we will try to encompass all the different sources that are the home for top dataset repositories, before we look at examples of the Data Repositories in our next section. The list of the top dataset repositories is:
Open Data from the US Government: This open dataset consists of data from different genres viz. climate, agriculture, finance, health-related, education etc. The website allows the user to search for the required data and post search, it provides the data that is public in nature and can be used freely. The dataset is available in different formats to be downloadable, aggregated by Data.gov and maintained through a GitHub repository. in the
Open datasets in Kaggle: Kaggle is an online community that connects data scientists and machine learning experts through the platform. This platform contains real-life datasets coming from various sources, like open datasets for learning ML/AI, real-life competitions by organizations who in turn use the solutions for their product building etc.
Dataset Search from Google: The most convenient platform to look out for any search related cases "Google". Google's dataset search is a toolbox that enables users to search for a dataset by its name. In doing so, there would be numerous dataset repositories that will be returned making it a platform for unifying the dataset and making it discoverable.
Indian Government platform for Open data: There are numerous data from the ministries and departments in India that collects data and these data are available in the Open Government Data, abbreviated as OGD, to enable a single point of access to the datasets. These datasets are present in open formats for public usage. The intent of data sharing through this platform is to imply more transparency on the government's functioning along with opening up new avenues to experiment and have innovative use of the government data.
Open Data from Microsoft Research: Like Google, Microsoft also extended a part of the data in collaboration with a research community in July 2018. The datasets present are curated for the research studies done and published. The dataset in this repository belongs to a wide genre of topics like Computer Science, Biology Mathematics, Healthcare etc.
Open Data from Socrata: This platform contains datasets from multiple sources and is put together in a place which is referred to as the Open Data network, where users can go over and search across thousands of datasets from the open catalogue for the required dataset. The search methodology also employs machine learning for dataset analysis and then enable categorizing them between the catalogues. The platform also enables built-in visualizations tools within itself.
Dataset from Quandl: Anyone who has been working in the genre of machine learning projects has probably once in their lifetime come across a dataset in Quandl as it is said that the world's most powerful data resides in Quandl. The dataset in Quandl is clean and hence the prediction through the data is fairly accurate. In this platform, some data are public whereas others are not freely available.
UCI Machine Learning Repository: This is again one of the most famous data repositories and again anyone working on the machine learning problem would have encountered this repository as this contains ~ 500 datasets ranging through various topics, and the dataset classified for the type of problem statements like classification or regression.
Academic Torrents: As the name itself suggest that it is not a mainstream repository, yet it is a powerful one. The main attempt to create such a platform is to have datasets used in various types of academic research and corresponding papers made available through BitTorrent.
Datasets from Reddit: Last but not the least is the repository from Reddit, a very popular website for news, where there are discussion boards where sharing of the dataset is possible. These boards are referred to as subreddits or r/datasets. One point of a challenge is that the sanity of the dataset shared still remains a big question mark.
Examples of Data Repositories
Though data repository is a very generic term which does contain the various ways data is collected and stored. Below are some examples of data repositories along with their corresponding explanations.
Data Warehouse: This is a storage place where data from multiple data sources are aggregated keeping in mind that the data are not necessarily related.
Data Lake: This storage refers to the data being stored in its raw and unstructured format. The formats of data being present are either blobs or files.
Data Marts: These are smaller versions of the data repository, keeping in mind that these repositories need to be targeted. These repositories tend to be more secure as the authorized users are limited to just the isolated dataset that is just intended for that target audience.
Metadata repositories: This is storage where information about the data being stored is stored.
Data cubes: These are data stored as a multi-dimensional arrays consisting of values!
Conclusion
In this article we have discussed the various dynamics of data repositories, starting from the top repositories and corresponding examples of how data is stored in the repositories enabling different examples of data repositories for users and correspondingly, this will enable readers to make the correct choice for their respective use case!
Recommended Articles
This is a guide to Dataset Repositories. Here we discuss the various dynamics of data repositories, starting from the top repositories. You may also have a look at the following articles to learn more –