Updated March 6, 2023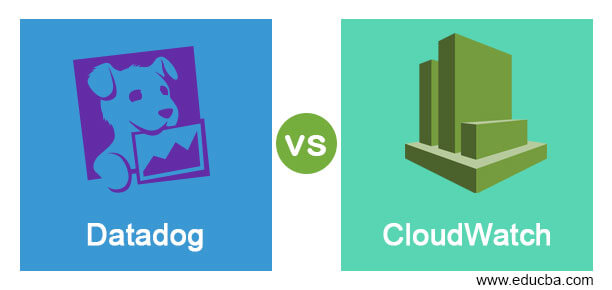 Introduction to Datadog vs CloudWatch
SaaS platform provided for monitoring and analytics where DevOps teams can monitor for cloud-based events or cloud servers is called Datadog in which performance can be analyzed monitoring alerts can be provided through customization in systems or web applications. Also, Datadog can be integrated with other applications to make working easier. A built-in monitoring system for Amazon web services where performance reporting is facilitated by itself depending on the needs of architects or system designers is called CloudWatch. Any calls made to the console, management CLI or API is monitored and logged for further analytics and to make the service more prompt based on user needs.
Head to Head Comparison Between Datadog vs CloudWatch (Infographics)
Below are the top 7 differences between Datadog vs CloudWatch:

Comparison Table of Datadog vs CloudWatch
Now let's draft the comparison in a table below.
| | |
| --- | --- |
| Datadog | CloudWatch |
| Metrics for this application is less and hence detailed reporting cannot be prepared from the application. It becomes difficult for users to prepare reports from Datadog. | The application provides detailed metrics for monitoring and hence detailed reports can be taken from the application. The utilization and storage can be monitored and reported easily. |
| It can group the servers and visualize them for customer's needs. This helps customers to figure out any issues in the application at a deep level and to resolve the same. | It cannot group the servers and visualize them as per the customer's needs. Amazon's cloud services can be accessed from the dashboard and can be modified as per customer's requirements but it will not provide the reports by itself. |
| The dashboard and user interface are very clear and self-explanatory that have all the applications and features in place. Customers can see the features directly and use them if needed. | The infrastructure and the applications cannot be viewed directly from the dashboard. Customers need to search for a feature and locate it in the user interface. |
| Realtime data is not provided but the data need to be uploaded by the user. This helps users in a way that they can see the patterns of their own data and do monitoring and visualization. | Realtime data is provided as AWS has the data stored in the system of customers and this helps the users to make patterns of data and make monitoring easy in the system. |
| Monitoring metrics is really good but root cause analysis of the errors is difficult with intensive monitoring metrics. Team should figure it out by themselves by looking into the monitoring logs. | Errors can be traced easily with the metrics provided by the application. This helps the users to find out the issue faster and to resolve it without any external applications. |
| It can be integrated with different services and hence if the users are using Azure or AWS, they can integrate with these cloud services that help users to take metrics and reports from any services. | Integration with other services is not easy as it is provided by Amazon. It integrates with AWS and AWS users can go along with CloudWatch for their monitoring. |
| We cannot auto-scale the application directly. Customized packages are provided with less price and hence auto-scaling is not possible for Datadog without changing the package. | We can auto-scale the application and it is not much costly when doing it with AWS. This helps the users to enjoy the full features of big databases. Databases capacity can be increased in AWS and monitoring can be done with CloudWatch |
Key Differences of Datadog vs CloudWatch
The user interface is simple and understandable even for beginners of CloudWatch. Any features can be in the dashboard and can be used. Dashboards are designed in a manner for easy access to customers. All the features and applications are included in the dashboard of Datadog and hence dashboard appears cluttered and messy. This makes customers' difficult to work on the interface and search for the applications. Though the features are in the dashboard itself, too many features on the dashboard make customers confused about the selection criteria. The features and infrastructure are shown directly to the users.
The support team of Datadog is good as they are available always to answer customer's queries and to help them with the setup if any difficulties arise. Also, Datadog gives the direction of the product and gives an insight of product's various features to help the users initially. CloudWatch support team is also good but not that great as Datadog.
Both CloudWatch and Datadog are easily set up with the help of documents. But ease of use goes to CloudWatch as the dashboard is easy to understand. Admin access is also easy for CloudWatch when compared with Datadog. When users are beginning to use the cloud and if they need a monitoring application, they can go with CloudWatch as it is good for beginners. With too many features and customized applications, Datadog might confuse the users initially.
We can call CloudWatch cloud monitoring as the name says. It monitors entire services of the cloud and makes reports based on the same. Whereas, Datadog is a performance monitoring application where the performance of the entire application is monitored and reports are created for the same.
Datadog is expensive. If we are not using the customized packages or if we need to scale up the services for monitoring, it becomes costly for users. Also, the service is complicated for beginners. Cost is less for CloudWatch as it is provided along with AWS. Cost is calculated based on the usage and it is easy to use for beginners.
With CloudWatch, we can monitor AWS resources and services. Hence, it is useful for people who use AWS services for their systems. Datadog helps to monitor all the services and databases of different applications. This helps users to reduce costs if they are using multiple applications for their database.
If needed, we can send logs and reports from CloudWatch to Datadog or vice versa. Datadog is preferred for users who have many cloud applications and if they need to monitor the performance for the same. CloudWatch is preferred mostly by AWS users who need to make a watch over the entire cloud application for its errors and to make logs.
Recommended Articles
This is a guide to Datadog vs CloudWatch. Here we discuss the Datadog vs CloudWatch key differences with infographics and comparison table, respectively. You may also have a look at the following articles to learn more –