Updated March 10, 2023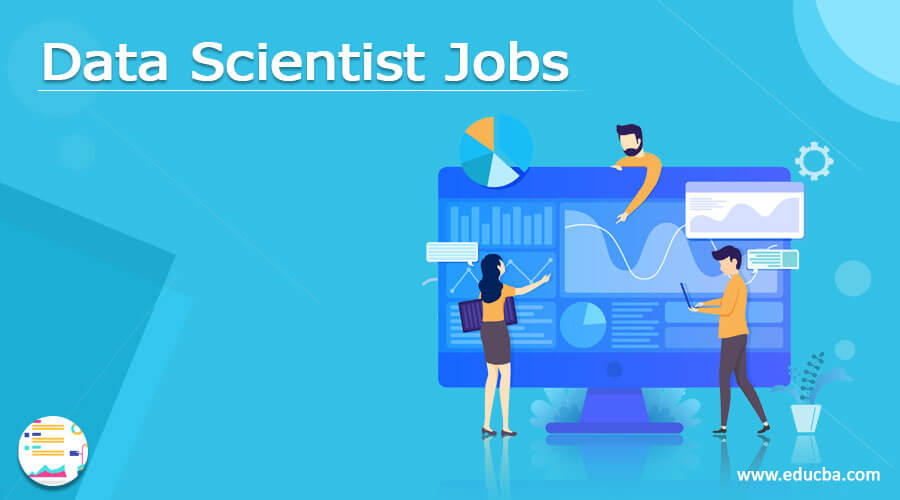 Definition of Data Scientist Jobs
Data scientists are the experts who mostly have domain knowledge involving subject knowledge like Computer Science, Statistics, and mathematics. Data scientist jobs are nowadays trending job profile. It is one of the demanding job profiles as in mere future everything is related to data and analysis. Data scientist jobs require a mix and blend of both technical skills and subject matter knowledge like artificial intelligence, data structures, machine learning algorithms with some strong mathematical computational model knowledge as well. Data scientist jobs do need skills to take strong decisions and anticipation capabilities to settle with complexities as well.
Data Scientist Jobs Overviews
Data Scientist is a very complex job profile that requires a lot of analytic and brainstorming skills for solving critical problems.
Experienced data scientist engineers do enhance their profile by practicing and learning new data mining techniques with data science-related knowledge starting from marketing to organization and then implementation with a specific set of requirements.
In today's tech-savvy era it is good to have data scientists as an option to opt for development and earning.
To land a data scientist job there are certain pre-requisites that need to be fulfilled like strong subject knowledge and an undergraduate degree in data science.
It is not mandatory to have an undergraduate degree in data science it can be any specialization with some of the other skill set and degree that is close to Data Science.
It will be a valuable addition if a master's degree is earned in this field of data science as it will leverage and tag for some reputed firms on going Proof of concepts that might act as a feather added.
There are certain responsibilities that a data scientist needs to be taken that are as follows:
To solve some of the business logic and problems that need to be researched and framed using open-ended industry questions.
Some of the sophisticated tools related to machine learning or other technologies to get the data for predictive and prescribed modeling.
Discovery and learning of new algorithms to solve the problems that persist in the framework.
It needs to perform some of the exploratory data analysis (EDA) to get the analysis of missing data and to look after some of the existing trends in data modeling and pre-processing.
To maintain resources and perform cost-effectiveness to existing procedures and strategies.
Needs to employ some of the sophisticated analytical methods in order to filter irrelevant data and information for processing.
Some of the required skills that can be learned to become a data scientist which is as follows:
Cloud Tools
Risk analysis
Machine Learning Techniques
Artificial intelligence Algorithms and techniques.
Effective communication
Data Mining, storage, and cleaning techniques.
Visualization of Data and Reporting.
Mathematical techniques with statistical analysis.
Software Engineering Practices
Data Warehouse and its associated data structures.
Research
Big Data Analysis
Top Data Scientist Jobs (USA)
According to surveys, it is found although the demand for data scientist jobs is still high, supply is low in the USA.
U.S Bureau of Labor Statistics predicts and analyzes that in mere future the growth of data science jobs will increase by 28 percent which means around 11.5 new million jobs will get generated with this.
There are top-notch companies like Google, Shopify, Amazon, etc. whose main aim to hire a data scientist is to evaluate products and provide improvements to enhance products.
There will be a collaboration with an entire multi-disciplinary team of engineers and analysts which will help in bringing a lot more rigor and statistical methods to perform manipulations.
Google, Amazon, Microsoft, and Walmart are the big giants which create a lot of jobs nearly millions for the data scientist profile.
It requires a broad technical skillset for those who are ready to adopt these new tech stacks with a lot of challenges and revolutionize thoughts.
Research data scientists on other hand will require a lot of skills to explore, research, and bring upon some of the innovative solutions.
Salary and Careers
Data scientists come with lucrative salaries and job profiles that involve a lot of responsibilities with required skills.
It is surveyed that a data scientist can earn a decent pay of around $65000 per annum.
Again, it depends upon the type of designation and skill set that can be=:
Database manager: A Database Manager can earn around $65550 and is mainly responsible for troubleshooting, diagnosing, and creating solutions for varied solutions.
Data analyst: A Data analyst majorly earns around $ 75220 or more and is responsible for synthesizing and filter data having a large amount.
Database developer: A Database developer earns around $ 89000 or more and is responsible for maintaining all the operations related to the database.
Data warehouse manager: A Database warehouse manager earns around $84500 and is responsible for maintaining the warehouse with a lot of actions starting from maintenance to security.
Database administrator: A database administrator earns around $90000 or more and is responsible for managing day to day operations of the database.
Business intelligence developer: A business intelligence developer can play around with any digits starting from $ 100494 or more and is responsible for data modeling activities and visualization purposes.
Statistician: A Statistician earns well around $99500 or more and is responsible for collecting the facts and figures as part of data essentials and samples for analysis.
Big Data Engineer: They can earn handsome figures without a second thought and have certain crucial responsibilities like dealing and transforming with a huge amount or large datasets and databases.
Machine learning Engineer: Machine learning engineers have some work like they are mostly responsible for creating systems that carry out functions without creating many tweaks in them and can earn around $ 149000 or more.
Data Scientist Jobs Entry Level
There are many entry levels jobs to become a data scientist:
Junior Data Scientist
Associate Data Scientist
Intern Data Scientist
Database administrator
Data Science Specialist
Data Scientist Operational Research
Conclusion
Data Scientist Jobs are quite demanding job profile which has bright future. It helps in making many other transformations as per requirement. All data scientist enthusiasts can sharpen their skills and acquire specialization courses that will help them to land on the job of choice.
Recommended Articles
This is a guide to Data Scientist Jobs. Here we discuss the definition, overview, Top Data Scientist Jobs. You may also have a look at the following articles to learn more –