Learn from Home Offer TAKE THIS BUNDLE
Tableau Training in Mumbai (8 Courses, 8+ Projects)
8 Online Courses
8 Hands-on Projects
55+ Hours
Verifiable Certificate of Completion
Lifetime Access
Projects on BI Tools and Tableau Analytics
Business Intelligence with Tableau
Projects on R and Tableau - Customer Analytics
Projects on R and Tableau - Pricing Analytics
Offer ends in:
TAKE THIS BUNDLE
* One Time Payment & Get Lifetime Access
What you get in this Tableau Training in Mumbai?
Online Classes
Technical Support
Mobile App Access
Case Studies
About Tableau Training in Mumbai
| Course | | No. of Hours |
| --- | --- | --- |
| Tableau Desktop Training 2022 | | 4h 12m |
| Tableau Project-Creating Dashboard and Stories For Financial Markets | | 2h 08m |
| Tableau Project - Russo-Ukraine War A Data Analytical Review | | 1h 02m |
| Tableau Certification: Desktop Specialist | | 4h 11m |
| Tableau Desktop Data Management | | 2h 17m |
| Tableau Desktop Training | | 5h 18m |
| Tableau | | 4h 7m |
| BI Tools and Tableau Analytics | | 5h 38m |
| Business Intelligence with Tableau | | 5h 43m |
| Tableau Features Hands-on! | | 5h 47m |
| Analytics using Tableau | | 9h 29m |
| Case Study - Customer Analytics using Tableau and R | | 2h 7m |
| Case Study - Pricing Analytics using Tableau and R | | 2h 39m |
| Tableau Practical - Super Store Business Requirements | | 45m |
| Tableau Practical - Fatal Accidental Drugs Overdose Analysis | | 1h 26m |
| Tableau Practical - Retail Store Business Analysis | | 3m |
| | |
| --- | --- |
| Course Name | Tableau Training in Mumbai |
| Deal | You get access to all 8 courses, 8 Projects bundle. You do not need to purchase each course separately. |
| Hours | 55+ Video Hours |
| Core Coverage | Business Intelligence with Tableau, Customer Analytics, Pricing Analytics using Tableau |
| Course Validity | Lifetime Access |
| Eligibility | Anyone serious about learning Tableau tool and wants to make a career in Data and analytics |
| Pre-Requisites | Ability to Analyze and Visualize Data |
| What do you get? | Certificate of Completion for each of the 4 courses |
| Certification Type | Course Completion Certificates |
| Verifiable Certificates? | Yes, you get verifiable certificates for each8 course, 8 Projects with a unique link. These link can be included in your resume/Linkedin profile to showcase your enhanced skills |
| Type of Training | Video Course – Self Paced Learning |
| Software Required | None |
| System Requirement | 1 GB RAM or higher |
| Other Requirement | Speaker / Headphone |
Tableau Training in Mumbai Curriculum
---
There will be multiple comprehensive training modules in this Tableau Training in Mumbai and there will plenty of use cases and projects at the end of each module. First, the training begins with an introduction to tableau where its inception, importance will be learned. Then what is a business intelligence and how tableau going to help in this case? This module is the core root of the training and hence will be covered with utmost guidance and effort. Why data is getting generated on such a scale, why it needs to be processed, and how it will help the business is the crust of this module. There is a module on analytics using tableau where you will learn on different analytics like segmentation and cohort analytics, scenario-based and what -if sort analysis, time series analysis, and predictive analysis, etc. There will be use cases like the project on BI tools and Tableau Analytics, project on R and customer Analytics, getting hands dirty with sufficient hands-on Tableau features, superstore business requirement using tableau. After the analytics module, there will be a project on fatal accidents with drug overdose analysis and a project on retail store business analytics using Tableau. Apart from these will discussion forums where your queries get resolved and also sufficient guidance will be given to handling any roadblocks faced by the associate.
Tableau Training – Certificate of Completion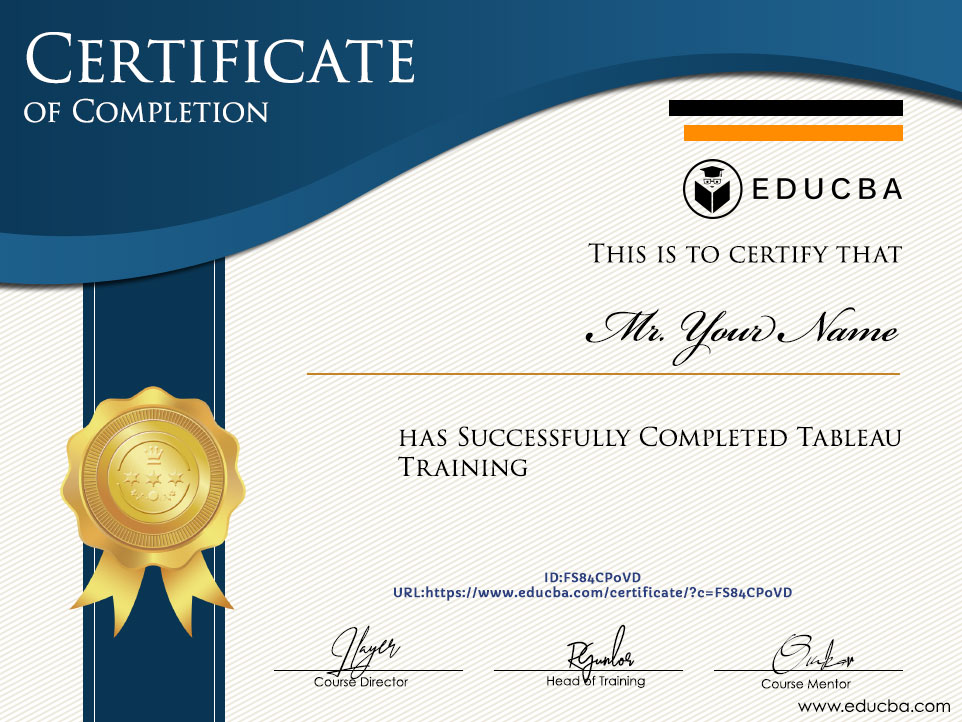 What is Tableau?
Tableau is a business intelligence and visual data analytics tool that source the data either from the file-based system or RDBMS and process them with statistical functions to generate graphs and charts. It gives us the trends, variance, and density in the data. This tool becomes prominent because the business started to get smarter and investors and organizations need trends to understand the customer interest. In many ways, whether it might data collections or processing or presenting etc tableau stands alone in the analytics world. Tableau possesses a robust and dynamic calculation language which makes it quite easy for our argument analysis with complex valuations and data manipulations in the background. Tableau has many built-in options with statistical calculations such as standard deviation, kurtosis, mean, mode, skewness, correlation, and covariance. Challenging database tasks such as manipulating summarised data, complex lags, complex data structure, etc can be easily resolved by simple tableau expression with the help of tableau table calculations. Tableau invests its ideas in advanced analytics so that even though the data is complex you can get to the root of your questions quite easily

Industry Growth Trend
The global Advanced Analytics Market size was USD 7.04 billion in 2014 and is projected to reach USD 29.53 billion by 2019, growing at a Compound Annual Growth Rate (CAGR) of 33.2% during the forecast period.
[Source - MarketsandMarkets]
Average Salary
Average Salary
$65,502 per year
The average salary for a Data Analyst is $65,502 per year in the United States.
[Source - Indeed]
Which Skills will you learn in this Course
?
There are mainly five products of tableau like Tableau Server, Tableau Desktop, Tableau Public, Tableau Online, and Tableau Reader. You will learn many things regarding data analytics and business intelligence. First, you will understand why data is so important, and even though it is complex why it needs to process and analyzed. How will be the data generated is going to help business or organization in any way. What re the other tools similar tools available in the market and why tableau is stand out in all. Other few skills will be like strategy development that needs to decide after predicting the data, understanding product management, pre-sales, product marketing, requirement analysis, etc, Data Visualisations, statistical understanding. You will get familiar with many statistical terms like mean, variance, data density, covariance, etc. You will have sufficient uses cases to solve and projects to gets hands dirty. And once you can complete all of these and then you will be quite comfortable with data and its visualization using tableau.
Pre-requisites
Familiarity with Microsoft Excel, programming terminologies, basics on data sources, data warehouse, etc will help in fast learning. If you have an idea of statistical concepts like graphs, charts, etc will be added advantage. Since tableau can source from RDBMS as well familiarity with SQL will be good. The above prerequisite is not compulsory and one can get these with corse progress as well. But the main prerequisite is the desire for learning without which learning is impossible and even tutors will not able to help in this. If you have some experience in the field of data warehousing, data mining, or any other ETL processing then it will also help you because you will be already familiar with the importance of the data. But this particular requirement is not compulsory
Target Audience
The main target audience would be those who are passionate or have hands-on data analytics. Associates who want to start their career in analytics and take up this Tableau Training in Mumbai if they have some idea on Microsoft Excel. Testing professionals who work on data debugging etc,

business intelligence professionals

also can take up this course and add flavors to their resumes. Business users both technical and non-technical can also gain from this course. Professionals who have worked on statistics and calculation platform will also gain from this Tableau Training in Mumbai.
Tableau Training in Mumbai – FAQ
---
Why should you take up the Tableau Training in Mumbai?
Tableau requirement trends and salary rewards are on the sharp rise in the bot India and the overseas market. In India, Mumbai is the prime location for any business and other major organizations. Also since that data generation rate is increasing most of the organizations are migrating towards Tableau for their visual analytics and intelligence requirement. Hence Mumbai is one of the locations which will create lots of opportunities for such professionals. And hence one needs to consider to get training in tableau and that too in Mumbai which is the financial capital of India
What is the Tableau market trend in Mumbai?
The tableau market trend in Mumbai is on the steep rise all over India and Mumbai is no exception. Being the financial capital it is not astonishing to note that the source of the steep rise in the tableau the trend is from Mumbai. And since data generation going to be increasing quite exponentially these trends seems to remain and hence associates need to prefer this tableau training to be industry-ready fro the field of data analytics.
Do I need to be familiar with SQL to learn Tableau?
Knowing SQL will be an added advantage for Tableau since Tableau can source the data from RDBMS systems as well. SQL is a prerequisite for many of the industry requirements hence knowing it will be good.
Will I become a tableau expert after this Tableau Training in Mumbai?
The taring module is comprehensive and a module is designed with plenty of use cases and projects. Once you can complete them then you will be able to solve many analytics questions and can strive to become an expert in it.
Do I need to know any programing language to learn this Tableau Training in Mumbai?
Not required. Knowing a few programming terminologies will be beneficial but it is not compulsory. Since tableau deals with data people will be learning R and Python and but it will be just added advantage but not compulsion. Knowing the basics of Microsoft Excel will be the main prerequisite for this.
Will learning Tableau make me a data analyst?
Tableau is one of the core components to be a data analyst but you need other skills as well. So the only tableau will not suffice data analyst requirements.
Sample Preview
---
Career Benefits
Tableau has been named a leader in the Magic Quadrant report of Gartner in the field of business intelligence and data analytics and most of the organizations use these particular tools for their analytics purpose. In the year 2019, it is one of the hottest trends in the market, and learning this would help the associate to crack his dream job. There is an immense demand for tableau professionals and trained professionals are less in the market. In the coming few years the world will be generating 50 percent of more data and analytics will become more complex and we have the only tableau to present visual analytics and hence the demand for trained professionals will be more in the future as well. So associate who is desiring the career in the analytics should add Tableau in their resume.
Reviews
---
Customer Analytics Course Experience
I took this course as part of my Business analytics and the content of the course is adequate to understand the concepts. The examples and cases used for the explanation made my understanding easier for me. The instructor has explained in detail which was easy for me to try on my own and learn faster. This also helped me develop my analytical skill in customer analytics. Thank You. Keep up the good work.
Linked
Akash Guru
Great course
This is my first online course and I am satisfied with this program. This course is in-depth with customers' analysis. Clear teaching methods and hands-on examples. This course gives real-life data explains how to use the data. I plan to take more courses in the future. I would recommend this course to a friend.
Ricky Ly
Business Intelligence with Tableau
This was my first course with Tableau and it was very useful for the development of my skills. I took this course since a friend of mine told me that Tableau has become an industry standard for best practices in data visualization. The part of the training that was most useful was the forecasting with Tableau and this was new to me. A great course overall.
Linked
Gus Raposo
Customer Analytics using R and Tableau
The course gives an overview of how R studio and Tableau tools can be used to analyze customer behavior using the responses they give. The course teaches how clustering is done to cluster customers and make use of the clusters to provide customized offers/discounts to retain them. These techniques are used in e-commerce, cab aggregators, and so on. In short, it is a useful course to gain a general understanding of how businesses use customer analytics to increase customer base and their revenue.
Linked
SHERI MIRIAM JOHN
Good one
It was a wonderful course, it teaches how to manage the program perfectly. Very detailed and amazing.
Linked
Juan Carlos Pardo Polo