Learn from Home Offer TAKE THIS BUNDLE
HADOOP Course Bundle - 32 Courses in 1 | 4 Mock Tests
125+ Hour of HD Videos
32 Courses
4 Mock Tests & Quizzes
Verifiable Certificate of Completion
Lifetime Access
TAKE THIS BUNDLE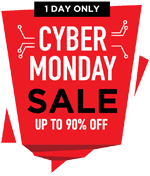 * One Time Payment & Get Lifetime Access
What you get in this HADOOP Course Bundle - 32 Courses in 1 | 4 Mock Tests?
125+ Hours
32 Courses
Mock Tests
Course Completion Certificates
Lifetime Access
Self-paced Courses
Technical Support
Mobile App Access
Case Studies
About Hadoop Training in Delhi
| | |
| --- | --- |
| Course Name | Online Hadoop Training in Delhi |
| Deal | You get access to all 32 courses, Projects bundle. You do not need to purchase each course separately. |
| Hours | 125+ Video Hours |
| Core Coverage | You get to learn MapReduce, HDFS, Hive, Pig, Mahout, NoSQL, Oozie, Flume, Storm, Avro, Spark, Splunk, Sqoop, Cloudera and various application-based Projects on Hadoop. |
| Course Validity | Lifetime Access |
| Eligibility | Anyone serious about learning data science and wants to make a career in analytics |
| Pre-Requisites | Basic knowledge of data analytics, programming skills, Linux operating system, SQL |
| What do you get? | Certificate of Completion for each of the 32 courses, Projects |
| Certification Type | Course Completion Certificates |
| Verifiable Certificates? | Yes, you get verifiable certificates for each32 course, Projects with a unique link. These link can be included in your resume/Linkedin profile to showcase your enhanced skills |
| Type of Training | Video Course – Self Paced Learning |
| Software Required | Ubuntu, Java, Open Source- Hadoop |
| System Requirement | 64-512 GB RAM |
| Other Requirement | Speaker / Headphone |
Hadoop Training in Delhi Curriculum
---
Hadoop training is designed in a structured format covering the topics from the basics of big data to advanced concepts. We target to provide a high-class training which contains 20 modules having around 17 projects. You can spend more than 135 hours on improving your skills or adding a new skill to your knowledge bank along with certifications on successful completion of training which you can use as an asset in CV while seeking or switching jobs.
The Hadoop Training in Delhi covers topics like Map-Reduce, Pig, Hive, Apache Spark, NoSQL functions, and much more. There are different projects you will get hands-on at. These advanced topics are explained in the form of user-friendly content so that it becomes easy for a newbie to understand easily. Hand-on sessions are designed with pinpointed details to foster the environment where all the doubts and confusion on this new topic can be removed. Learners will get insights about real-life business scenarios and issues and how Hadoop is used to solve such issues. This gives a broad business perspective along with technical knowledge on how unstructured data can be used which will help you prepare yourself for the industry.

Hadoop Training – Certificate of Completion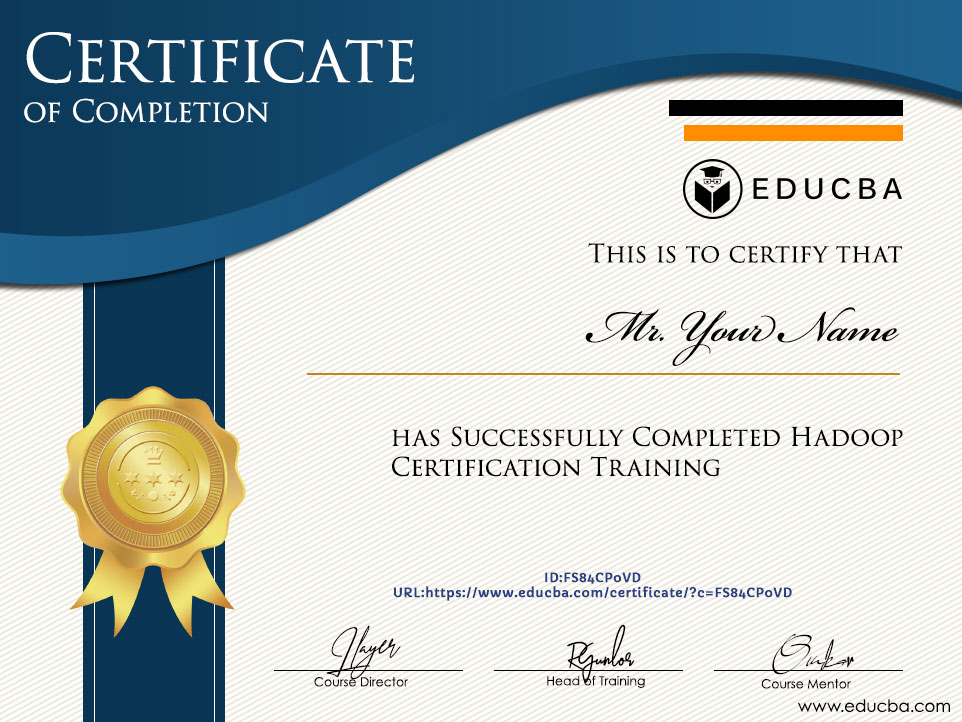 What is Hadoop?
Most of the data in today's word are created in recent years because of various electronic devices like video cameras, IoT devices, android mobile phones, and social media. To handle such a huge amount of bytes google came up with a solution named "MapReduce". This algorithm divided the data into small sets and assign these multiple sets to different processing machines. These machines work concurrently thereby reducing time and improving efficiency. The result from these machines is then integrated into the central device to publish the final output. This algorithm is then used by Dough cutting and his team to develop an open-source software which is now known as "HADOOP".
Hadoop has two major layers:
Processing/Computation layer: For this layer MapReduce algorithm for speedy processing of big data on clusters. It deals with getting high throughput in less time for data-intensive applications.
Storage layer (Hadoop Distributed File System): This system is on the lines with the google file system to provide fault-tolerant, low cost distributed file systems so that applications can run smoothly especially when extensive data processing is required.
You will find more detailed content on the same in training.

Industry Growth Trend
The hadoop big data analytics market is projected to grow from USD 6.71 Billion in 2016 to USD 40.69 Billion by 2021, at a CAGR of 43.4% between 2016 and 2021.
[Source - MarketsandMarkets]
What skills will I learn from this course?
As a part of this Hadoop Training in Delhi, various courses will be offered to the trainee. The below list gives an overview of topics to be offered as part of this training:
Big data and Hadoop training
Hadoop architecture and HDFs
Mapreduce
HIVE
PIG
NoSQL functions
MAHOUT
APACHE (Avro, Storm, Flume, Oozie, spark)
Splunk
Pre-requisites
Below mentioned are the prerequisites of this Hadoop Training in Delhi:
Good internet connectivity since it is online training.
A system with 1 GB RAM or higher configuration.
Comfortable with the English language since the course is designed in the English language.
Basic understanding of JAVA as Hadoop operates on JAVA.
Willing to work or passionate about analytics.
Target Audience
Students: Students in college or schools who aspire to make their career in Big data and Hadoop can attend this Hadoop Training in Delhi. They will be awarded certification along with the hands-on training which will be added as a feather in their crown to showcase in interviews.
Experienced Professionals: Professionals who are working in any domain or technology for a long time now and seek a change in their career path should enroll for this training. This Hadoop Training in Delhi comes as a full package containing online content along with certification which can be used to showcase in their CVs during interviews.
Job seekers: People in the market who are searching for a job opportunity in the market and are ready to learn a trending technology can go for this training. The market trends show that the demand for applicants with skillsets containing Hadoop, Apache, HIVE, PIG, and big data tools is on the rise.
Analytics enthusiasts: Irrespective of job experience and the field one works on, all the analytics enthusiasts who seek to learn how we see a prediction of stock exchange market trends, how we see Facebook flashes an advertisement of shoes having your favorite color and much more are most invited to attend this Hadoop Training in Delhi. This training will cater to your curiosity in the field and you may end up knowing things which may interest you in taking future endeavors in the field.
Entrepreneurs: There are a lot of startups like platform, Alpine data labs, Altiscale, trifecta, etc. marking their presence in the market who are working to unleash the power of data. All young entrepreneurs are most invited to attend this Hadoop Training in Delhi to get an idea of how to make the most out of data in today's world.
Hadoop Training in Delhi – FAQ's
---
Why should you attend Hadoop training?
This Hadoop Training in Delhi comes with a great opportunity for all the analytics enthusiasts who seek to build their career in Hadoop. One can have a good salary, job satisfaction, a good learning work environment along with working on the latest tools and technologies by learning machine learning at today's time. To gear up your career and seek these opportunities one should be ready. This training trains a trainee making them industry-ready.
How is the market trend for job applicants having Hadoop in their skillset?
We are shifting towards a world where we seek a risk-free environment around us. These companies are investing money to make their products even better and robust for that, they are gathering historical data linked to their products and customers to learn from the mistakes done in the past. To accomplish this task there are multiple tools present but they need skilled people to operate on them. We should see an upsurge in demand for Hadoop learners to cater to this demand by many IT Firms.
I am experienced in some other technology, is it beneficial for me to attend this Hadoop Training in Delhi?
If you are trained in some outdated technology and wish to have a marked shift in your career, then you should not leave this opportunity to Hadoop. Be it normal programming language like JAVA or be it any ERP like SAP, Salesforce all of these are being integrated with different tools to analyze the historical data to study behavioral patterns of the market, customers, policies, etc. and use all of this analysis in business's favor. You can have a change, salary hike, get more interesting work, and add colors to your daily routine.
Due to the job profile, I did not work much on coding skills. How much coding should I practice for understanding Hadoop?
Although Hadoop uses JAVA as a base language the tools like PIG and HIVE in it are easy to be used which do not require to use JAVA. Pig Latin and HQL which have SQL as its base can be learned to navigate through these tools and we can extract a lot of information using it. For map-reduce, you will require to have basic knowledge of JAVA.
Why should you take up the Hadoop Training in Delhi?
Delhi being one of the favorite destinations for IT firms provides a wide number of opportunities to job seekers who wish to work on trending technologies.
One can expect these benefits out of learning Hadoop:
Salary increment as Hadoop is still a niche skill found in job applicants.
Job satisfaction as one gets to solve challenging and interesting results by analyzing data.
Get to work with a big organization. We see many big IT firms going for implementation of Hadoop now, this trend then will be followed by small firms too.
Get to work with knowledgeable experienced IT professionals in Hadoop creating an overall collaborative learning environment in the workplace.
Get to work on the latest data analysis tools and technologies which are open source and allows you to tweak into the standard JAVA code to design something catering to your customer's customized demand.
What is the Hadoop market trend in Delhi?
The market for Hadoop learners is on the rise and we expect the same going forward. This can be verified by the statement made by physis.org. They say that "Today it would take a person approximately 181 million years to download all the data from the internet"
Delhi is one of the IT hubs in India where many companies are setting up their R & D departments for big data analytics. It will provide humongous opportunities to learners so that they can leverage the benefit of Hadoop training.
Sample Preview
---
Career Benefits
Salary hikes as this is still a niche skillset and are in demand by big organizations. As per market trends, this demand will increase in the future too.
A high number of jobs coming on the way for Hadoop learners in the future.
It will be possible to play with a humongous number of data sets in units like petabytes fostering advanced data analysis. Hence providing you with an interesting job profile.
It is beneficial for those who are trying to switch into data analysis coming from different technical backgrounds.
If you show up your interest in learning Hadoop, then it also verifies your adaptability and interest to learn new technology in the market.
The certification obtained after this Hadoop Training in Delhi will help in getting more weight to your CV in comparison to others.
Reviews
---
Big Data and Hadoop Training
Valuable learning Hadoop introductory course and introduction to big data. We still need to learn more complex scenarios to realize the advantages of Hadoop in processing large amounts of data. It will be helpful to continue the advanced course of using a more complex algorithm to map and reduce processing. Will continue further.
Linked
Sivakumar Santharam
Nice Learning Experience
This course gives a great amount of information on big data. The explanation was very good and so the examples. I think that it would be interesting if the instructor shows how I can configure the Hadoop in the cluster to run the example proposed. Great learning experience. Thanks!
Linked
Mahfoudh Abkar
Hadoop overview training feedback
The Hadoop overview of training was very helpful. The content covered gives you a better understanding of the components of Hadoop and how the components work. Training is presented well and the examples used are easy to understand. Images or charts used gives you an overview of the components and helps you to relate well with theory. One who knows other file systems will be able to relate things very easily. Good job by the trainer!
Linked
Shiyas Cholamukhath
Bigdata basic introduction
It turned out to be one of the best courses taken so far on any platform, for several reasons. A wonderful course, excellently delivered. I am doing an MBA right now and taking this course to help me. This is an exceptional course. The class is great for sure, yet quite challenging because there is a lot of material covered in a short amount of time.
Linked
Shaurya Bhagat
Nice!
The instructor was pretty well in explaining the stuff. I hope this is useful to me. I found the course good at an introductory level. And I am Looking forward to more in-depth courses like this.

Anamika Shivhare
Hadoop Master Series Couse
It was a great learning Hadoop from the start. As a beginner, It gave me a clear picture of big data and Hadoop. Moreover, it enhanced my knowledge. the language chosen was simple and easy to understand. reading and writing anatomy was well explained. Hadoop Master Series Module is designed in such a way that any beginner will understand it and also understand the technicalities in it. I would appreciate educba for introducing such a course in it. Also, it has a different module which will help everyone to understand Hadoop very well.
Linked
Sushmita Mandal
Best short term course on BIG DATA and HADOOP
The course is awesome, I enjoyed a lot. The trainer had taught the course in very good and step by step format. Firstly we had studied about Big Data, its theoretical and practical definition, its uses, challenges. Then we studied about Hadoop framework, distributed storage- HDFS, Hadoop roles, Hadoop Distributions. Then the most interesting part of BIG DATA hands-on came, where we came to know about the practical approach. Overall very good practical exposure by the trainer. Keep going !!! 🙂
Linked
HARSHIT GUPTA
Nice videos
It was very informative. The instructor explained nicely. Understanding the same was very easy. Understanding the basic concept of Hadoop along with map-reduce and programming was explained step by step which was very simple to understand. Thanks for this video and will continue visiting other tutorials and comment on the same
Linked
Poorvika Awasthi