Learn from Home Offer TAKE THIS BUNDLE
DATA SCIENTIST Course Bundle - 150 Courses in 1
608+ Hours of HD Videos
150 Courses
Verifiable Certificate of Completion
Lifetime Access
TAKE THIS BUNDLE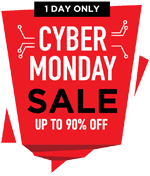 * One Time Payment & Get Lifetime Access
What you get in this DATA SCIENTIST Course Bundle - 150 Courses in 1?
608+ Hours
150 Courses
Course Completion Certificates
Lifetime Access
Self-paced Courses
Technical Support
Mobile App Access
Case Studies
About Data Scientist Course Philippines
| | |
| --- | --- |
| Course Name | Online Data Scientist Course Philippines |
| Deal | You get access to all videos for the lifetime |
| Hours | 608+ Video Hours |
| Core Coverage | You get to learn data science using R, Python, Machine Learning, Artificial Intelligence, Big data & Hadoop, Predictive Modeling, Business Analytics, Data Visualization, and other areas under Data Science. |
| Course Validity | Lifetime Access |
| Eligibility | Anyone serious about learning data science and wants to make a career in analytics |
| Pre-Requisites | Basic knowledge of data and analytics |
| What do you get? | Certificate of Completion for the course |
| Certification Type | Course Completion Certificates |
| Verifiable Certificates? | Yes, you get verifiable certificates for each150 course, Projects with a unique link. These link can be included in your resume/Linkedin profile to showcase your enhanced skills |
| Type of Training | Video Course – Self Paced Learning |
| Software Required | None |
| System Requirement | 1 GB RAM or higher |
| Other Requirement | Speaker / Headphone |
Data Scientist Course in Philippines Curriculum
---
Due to the vastness of the application of the Data Science domain, the tools and technologies available to aid are also expanding at a rapid pace. It could prove to be intimidating to a fellow aspirer unless a structured guide or path is available. This Data Scientist Course in the Philippines was created as a one-stop solution to build a strong fundamental base, both in the technology and science (or theory) required to be efficient while practicing Data Science. It thus starts with getting a rock-solid foundation in python programming and it's most powerful libraries for Data Science. Next, it gets you familiar with R, language designed primarily for data science and analysis. Once these languages are picked up, the course continues to explore more complex and niche technologies, which can reduce significant programming effort during some part of your data science project life cycle. These include SAS, Hadoop, SPSS, Splunk, MATLAB, Minitab, Tableau, and Oracle DB. Each of these enables one or more features among data storage, data processing at scale, exploratory data analysis, structured data processing, and data visualization capabilities, etc. Technology training, together with the multiple hands-on projects you stumble upon during coursework, will show real-life problems faced during a data science project and provide crucial experience to overcome inertia, not addressed in most of the available online courses. Post-certification, a person should be confident to take on real-life problems at scale independently.

Data Scientist Course – Certificate of Completion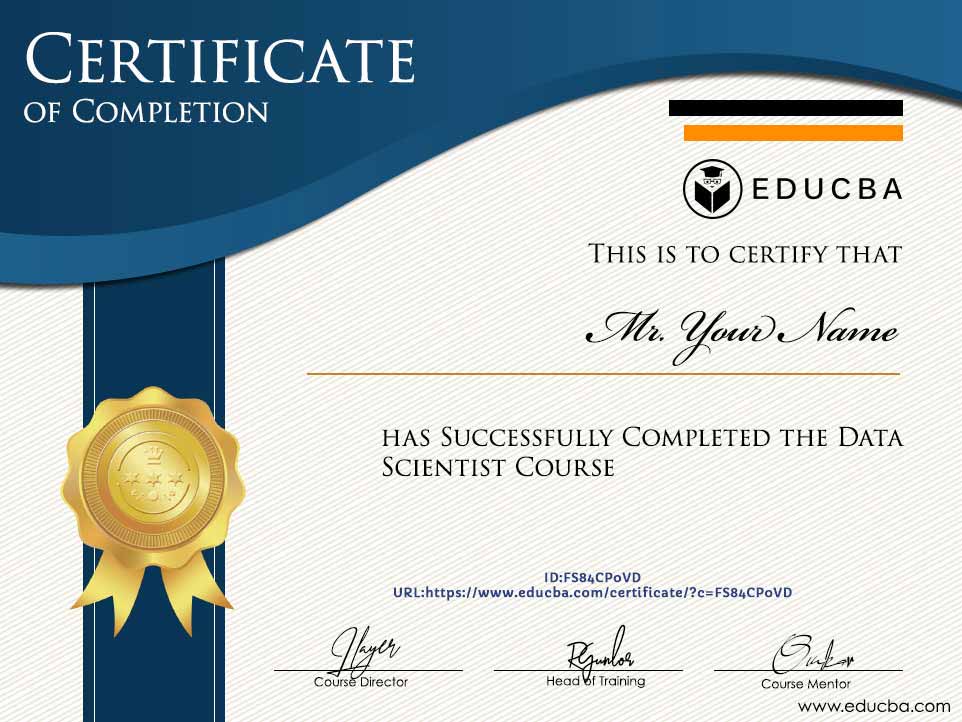 Who is a Data Scientist?
A necessary skill for any professional to be called a Data Scientist is understanding of mathematical and statistical algorithms and formulae required to identify and prove statistical relationships between events. This forms the actual foundation of any reasoning to be done for a given problem statement.
Once a person has good enough capability to understand how to prove the existence of statistical relations (or non-existent of one), he/she attempts to do it as a scale.
This is done with the aid of modern technologies to mainly automate data collection, data cleaning and wrangling, data storage, data visualization, statistical inference and proof, and then prediction capability, and optimizing data pipelines for production usage. Most junior data scientist become efficient at 1-2 of these activities, experience has a fair idea of all, and the veteran is capable of causing advancements in a given area.

Industry Growth Trend
The overall data science platform market is expected to grow from USD 19.58 billion in 2016 to USD 101.37 billion by 2021, at a CAGR of 38.9% from 2016 to 2021.
[Source - MarketsandMarkets]
Average Salary
Average Salary
$120,301 per year
The average salary for a Data Scientist is $120,301 per year in the United States.
[Source - Indeed]
Which Skills will you learn in this Course

?
The Data Scientist Course in the Philippines covers a wide set of technologies, ensuring a one-stop solution for all your data science needs. It begins with a deep-diving in python usage, a skill you must have. Then moves to teach R, a language at par with python for data science and analysis. These two are the foundational skills for any exploratory projects. The second half of the courses get you familiar with key technologies considered cutting edge in the industry currently. These include Hadoop, SAS, Tableau, Splunk, Minitab, etc. Each of the sections comes with hands-on projects and exercises giving you the necessary experience in their usage.
Pre-requisites
The Data Scientist Course in the Philippines is self-contained and can be picked up even by a person completely new to the field of programming and data science. It is designed as an all-rounder course of the field, thus doesn't necessarily require any pre-known skill, and will require a machine to work upon and an internet connection to follow through the coursework.
Nonetheless, learning time can be reduced significantly if there's previous programming or scripting experience, especially familiarity with languages R or Python.
Target Audience
Data Scientist Course in the Philippines in itself contains content that addresses the basics or the foundational details and as well as advanced problems and an experienced professional also might not have encountered. Thus it is limited to the will for the person to grow holistically in this futuristic field. College students, fresh graduates and experienced candidates can all find the content useful in their growth.
Data Scientist Course Philippines – FAQ's
---
Why should you take up the Data Scientist course in the Philippines?
The Philippines, being one of prominent developing countries, experienced massive development and growth in tech-based industries including e-commerce and digital media usage. In the past decade, roles related to SEO and Digital Marketing picked up traction, creating thousands of new jobs for skilled workers. Big Data and Data Analytics domain is the focus now, and there's already an ever-growing demand for skilled Data Science professionals. A person can create great demand for the next decade why undergoing complete professional training, such as the one taught here.
What is the Data Scientist market trend in the Philippines?
While there's already a global shortage of skilled Data Scientists, this demand is extremely high in developing countries like the Philippines due to budding start-up industries. Also, the country is assumed to be the center for big data analytics in the future. Recently even the government voiced their prediction of increasing demand for skilled professionals in the analytics domain, proving it's vitality both in the short and long term. The industry is on the verge of exploding in terms of shortage of resources and now is the right time to enter this domain with a long term growth perspective.
Sample Preview
---
Career Benefits
command strong knowledge in core theory revolving around statistical inference, understand the different rules and hypotheses to apply a varying set of problem statements, and wield the technology-stack required to do these activities within a feasible and acceptable time of an enterprise. Any personnel finishing the course in its entirety will possess a strong control over all these activities. One would be able to pick up large-scale industrial analytics projects and do anything required to turn around new projects efficiently and effectively.