Learn from Home Offer TAKE THIS BUNDLE
DATA SCIENTIST Course Bundle - 150 Courses in 1
608+ Hours of HD Videos
150 Courses
Verifiable Certificate of Completion
Lifetime Access
TAKE THIS BUNDLE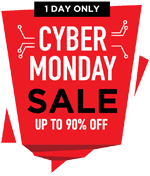 * One Time Payment & Get Lifetime Access
What you get in this DATA SCIENTIST Course Bundle - 150 Courses in 1?
608+ Hours
150 Courses
Course Completion Certificates
Lifetime Access
Self-paced Courses
Technical Support
Mobile App Access
Case Studies
About Data Scientist Course in India
| | |
| --- | --- |
| Course Name | Online Data Scientist in India Certification Course |
| Deal | You get access to all 150 courses, Projects bundle. You do not need to purchase each course separately. |
| Hours | 608+ Video Hours |
| Core Coverage | This Data Scientist course will help you learn data science using R, Python, Machine Learning, Artificial Intelligence, Big data & Hadoop, Predictive Modeling, Business Analytics, Data Visualization, and others. |
| Course Validity | Lifetime Access |
| Eligibility | Anyone serious about learning data science and wants to make a career in analytics |
| Pre-Requisites | Basic knowledge of data and analytics |
| What do you get? | Certificate of Completion for each of the 150 courses, Projects |
| Certification Type | Course Completion Certificates |
| Verifiable Certificates? | Yes, you get verifiable certificates for each course with a unique link. These link can be included in your resume/Linkedin profile to showcase your enhanced skills |
| Type of Training | Video Course – Self Paced Learning |
| Software Required | None |
| System Requirement | 1 GB RAM or higher |
| Other Requirement | Speaker / Headphone |
Data Scientist Course in India Curriculum
---
This course has been designed and developed very carefully to meet the requirement of anyone willing to learn Data Science regardless of their familiarity with any of the components of data science. The initial part of the course is comprised of Python-based units. In these units, you will learn how python is used to work with a huge amount of data to generate useful information. You will get to learn about the special libraries in python that comes with numerous functionalities and lets the user extend the functionalities to the application. In addition to that, you will get to learn about R programming that is another major part of data science. Some program-specific features are implemented by using R programming language and you will be learning them in this Data Scientist Course in India.
In addition to that, you will also get to learn about data science through SAS and will be doing the live project using it. For all of the topics included in this Data Scientist Course in India, there is the learning and the project part available. The project will help you understand the actual working of the technology by the virtue of the mentioned technology or techniques. The course will also offer you a deep understanding of modules like Hadoop, SPSS, Tableau, Minitab. Every topic defined here endorses the approach that aggregately considered as data science. Eventually, you will get a chance to learn about Splunk and Matlab before the course finishes so that you can be aware of all the aspects of data science.
Together with the topics, there are projects respective to every technology or tool covered in this Data Scientist Course in India which has been introduced to assist you in getting hands-on experience. While the time you will be practicing the project, you may come across the real-time issues that occur in the production environment, and solving those errors will help you to understand the technology deeply.
---
Data Scientist Course in India – Certificate of Completion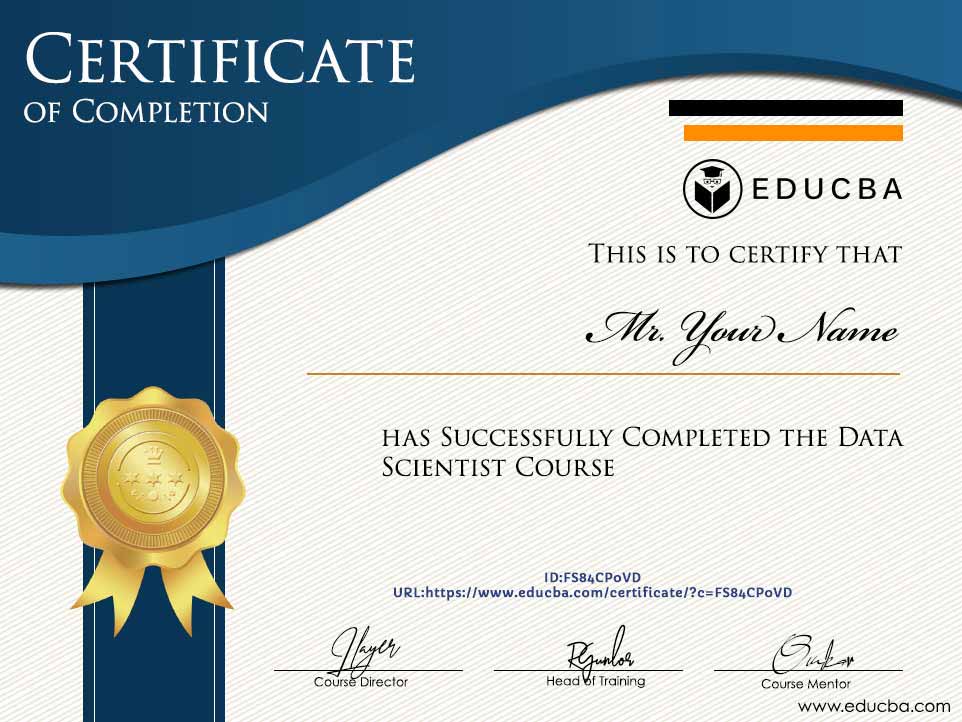 Who is a Data Scientist?
The data scientist can be defined as the professional who is an expert in working with a huge amount of data to extract some useful information from it. A data scientist leverages several technologies to work with the data. They usually have a very good hold on programming languages like python and R with a sheer understanding of different frameworks. The core role of a data scientist is to process the data by applying the algorithms and unique methods. They are also cognizant of technologies like Hadoop, MatLab, Splunk, and so on.
They are required by the organization that handles lots of data to derive the decision out of it. Data scientists are also able to produce the data in the graphical representation which makes it way too easy to make decisions. In addition to the programming skills and the knowledge about several technologies, they are also proficient in performing a mathematical calculation based on statics that endorses data processing. As a part of their role, they turn the mathematical formula into an algorithm that processes the data and generates useful information.

Industry Growth Trend
The overall data science platform market is expected to grow from USD 19.58 billion in 2016 to USD 101.37 billion by 2021, at a CAGR of 38.9% from 2016 to 2021.
[Source - MarketsandMarkets]
Average Salary
Average Salary
$120,301 per year
The average salary for a Data Scientist is $120,301 per year in the United States.
[Source - Indeed]
Which tangible skills you will learn in the course?
This Data Scientist Course in India is comprised of all the components that one needs to learn to become a data scientist. As the initial topics are based on python, you will learn deeply about python and some of the specific frameworks. You will also get to learn the R programming language that is a must for data scientists. In addition to that, you will learn to work on other technologies as well as MatLab, Splunk, SAS, Tableau, Minitab, and so on. The course also includes the project module that has been introduced to give you actual hands-on experience. All the units that you will cover here will endorse you to be a data scientist and these are the skills that you will learn in this course.
Pre-requisites
For some of the courses, there are defined Prerequisites that must have to be satisfied to move forward. But in this case, we don't have anything as Prerequisite but some technologies can make the learning easier for you. The first thing is python programming. The application developed with the motive to serve the purpose of data processing is developed in Python using different frameworks. It will be very helpful to you if you know how to code in python and also R. Other than this, there are some of the tools or technologies that can assist you while you try to be a data scientist. You should have a basic understanding of technologies like Minitab, Hadoop, Splunk, and Matlab.
Target Audience
For any course, anyone who wants to learn that course can be the best target audience and the same implies to this Data Scientist Course in India as well. More specifically, the professionals who want to grow their career in the domain of data science can be the best audience for this course. They will get to learn various new things and will be getting privileges in the interviews or the existing job after completing this course. The students who are in the final year of their studies and willing to be a data scientist can get a kick start to their career with this course. As this Data Scientist Course in India is majorly focused on the practical aspect, the students will learn a lot of new things that they might have missed in their academics.
Data Scientist Course in India – FAQ's
---
Why should you take up the Data Scientist Course in India?
The e-commerce and online services by organizations are growing exponentially in India. Organizations are looking for candidates who are amply experienced to work with the data and help them in getting accurate information out of it. Being a data scientist in India is way more lucrative due to the high demand for professionals working in data science. In the current job market, there is a massive number of job openings and the count is going to grow rapidly shortly. If you want to take advantage of the highly demanding technology, you can opt to learn this Data Scientist Course in India that improves your data science skills.
What is the Data Science market trend in India?
It's not been much time since data science has reported vigorous growth. India is a large country with a population in billion and the majority of them use the internet for their purposes that eventually ends up generating huge data. To handle that data, business in India required some special and vast technology and that was the time when data science made the debut in India. A few years back the demand in this technology was not that high but contemporarily it is on high demand in India and almost all of the Industries need the professional who is expert in working with data science. The trend is booming these days and it is expected to be expedited shortly.
Sample Preview
---
Career Benefits
This course is comprised of all the modules that are required by someone willing to grow their career in data science. They will be learning the new technologies in an advanced manner as this Data Scientist Course in India has covered all of the topics that fall under the court of data science. The important part about this training is, together with the learning part, you will also get to know about the how the project in data science is handled as there is a project module respective to every module or technology. After completing this course, you will be able to work as a data scientist and will also be able to handle the work all alone in the production environment. If you are looking for a rewarding career that offers better competitions as well, you might want to come to the domain of data science.