Learn from Home Offer TAKE THIS BUNDLE
CloverETL Course Bundle - 2 Courses in 1
This CloverETL Tutorial includes 2 Courses with 4+ hours of video tutorials and Lifetime access. Through this course, we will make sure to transform you into a data cognizant who can work with heterogeneous data to satisfy the business needs. We shall understand data integration and visualization and its component with the help of a demonstration. You will be learning a lot of things in addition to the data processing and everything will be implemented using CloverETL.
TAKE THIS BUNDLE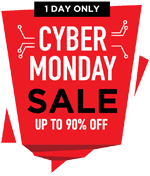 * One Time Payment & Get Lifetime Access
What you get in this CloverETL Course Bundle - 2 Courses in 1?
4+ Hours
2 Courses
Course Completion Certificates
Lifetime Access
Self-paced Courses
Technical Support
Mobile App Access
Case Studies
About CloverETL Course Bundle
---
| | |
| --- | --- |
| | |
| Courses | You get access to the 2 courses, Projects bundle. You do not need to purchase each course separately. |
| Hours | 4+ Video Hours |
| Core Coverage | Learn data integration and visualization and its component with the help of demonstration |
| Course Validity | Lifetime Access |
| Eligibility | Anyone serious about learning Clover ETL and wants to make a career in the data integration and visualization field. |
| Pre-Requisites | Basic knowledge about machine learning would be preferable |
| What do you get? | Certificate of Completion for each of the courses |
| Certification Type | Course Completion Certificates |
| Verifiable Certificates? | Yes, you get verifiable certificates for each course with a unique link. These link can be included in your resume/Linkedin profile to showcase your enhanced skills |
| Type of Training | Video Course – Self Paced Learning |
CloverETL Course Bundle Curriculum
---
In this section, each module of the CloverETL Certification Course is explained.
| | | | |
| --- | --- | --- | --- |
| SR.NO | Course Topic | Time Required | Course Description |
| 1 | CloverETL Data Integration  | 2h 56m | In this CloverETL Tutorial module, you will be learning about the fundamental of ColverETL. You will go through several terms that belong to ColverETL to learn it easily, we call it Jargon. The video tutorial is almost three hours long which will consist of several examples together with the explanation of various topics that will lead to reinforcing your understanding of this tool. The educator will show you how the data has to be transformed from one form to another so that it could be used for other applications to process it. You will be shown the real example that you will be working on to have solved the existing problem. |
| 2 | CloverETL Data Integration – Advanced Case Studies  | 1h 12m | This CloverETL Tutorial will show you how data integration has to be done using CloverETL. This unit has been developed to give you an insight into the advanced features of this tool. You will be solving a complex problem that requires an advanced understanding of this technology. The trainer will take you through the actual case study that uses this tool to solve the real problem. By the end of this module, you will be able to work on the advanced module of this technology to make integrate the data for its processing so that it could be transformed into information. |
---
CloverETL Tutorial – Certificate of Completion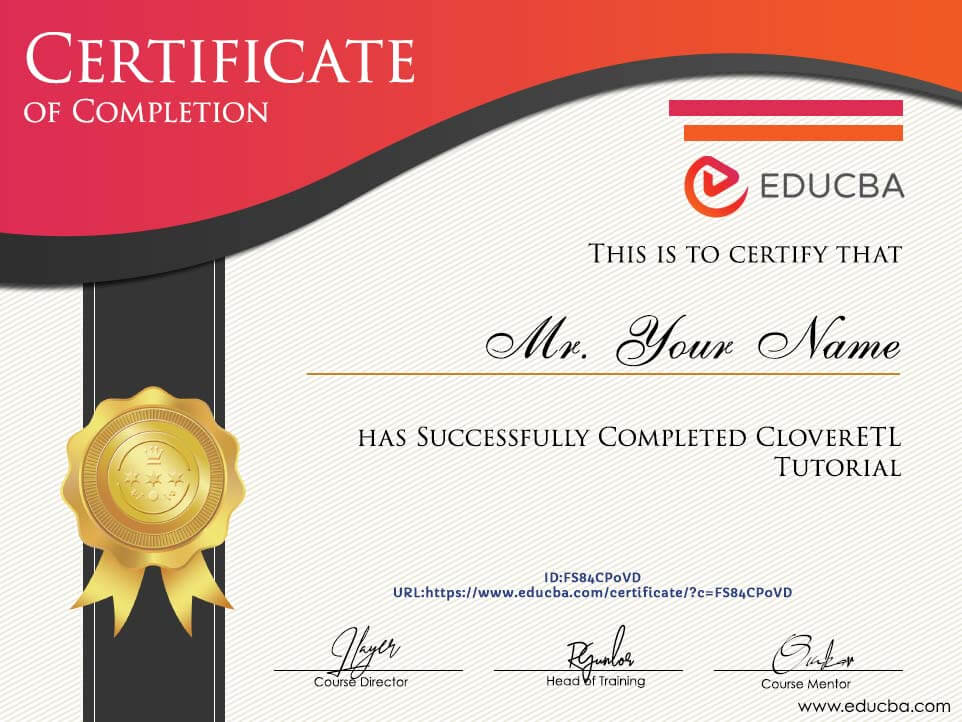 ---
What is CloverETL?
CloverETL may be defined as a tool that is used for data integration and data transformation. The data that has been stored differently can be converted into the other format so that it could be used for any purpose. The data integration can also be facilitated using this tool that makes it easy for other applications to utilize that data for their requirement. It is a graphical tool that provides a simple interface for the users to make them work efficiently using this tool. It helps the other applications as well by transforming the data for their input so that they can perform their expected tasks.
For illustration, one can use the CloverETL tool to transform the data stored in the excel sheet to the data stored in a MySQL database. Once the data has been transformed into MySQL, the application can leverage SQL commands to process the data stored in the database. The excel sheet can be imported using in this tool and then it can convert the data in a matter of a few minutes. It also makes the data transformation or data integration very convenient so that the developers or the professionals can fulfill their requirements in almost no time. It adds an advantage to the data processing by making things simpler for the professionals.

Industry Growth Trend
  The overall data science platform market is expected to grow from USD 19.58 billion in 2016 to USD 101.37 billion by 2021, at a CAGR of 38.9% from 2016 to 2021.
[Source - MarketsandMarkets]
Average Salary
Average Salary
$65,502 per year
The average salary for a Data Analyst is $65,502 per year in the United States.
[Source - Indeed]
Which tangible skills will you learn in this Course?
---
In this course, you will be learning how to work with complex data to transform them from one format to the other. You will be learning how to work with the command-line application as well to integrate the data. You will also get exposure to working with a server-side application to solve the data based complex problems. CloverETL is a standalone tool, so you will be getting an insight into working on various platforms at a single platform. In this CloverETL Tutorial, you will be going through several examples that will strengthen your skills on this tool.
This course has been developed to meet the requirements of the beginners to the professionals. At the beginning of every unit, you will be walked through the fundamentals of the topic or unit and the level will get advanced as the times pass. At the end of the module, you will be going through the complex or advanced level example that will make you understand things very easily and inefficient manner. All of the examples added in the tutorial has been developed by taking care of the fact that the trainee has to be job-ready right after the completion of this CloverETL Tutorial.
Every topic that falls under CloverETL has been covered in this tutorial making you cognizant about this tool. You will learn every single thing about CloverETL that will make you contribute to data transformation from one format to another. You will also get hands-on practice on working with the command line which will end up making you proficient in CloverETL. Overall, you will be an efficient professional who can work in CloverETL to solve complex problems.
Pre-requisites
Before you begin the CloverETL tutorial, you are required to have basic knowledge about various formats in which the data could be stored. The much you have an idea about working with data, the more you are likely to learn this technology or tool in a short period. If you have just started knowing things related to data, in that case, you may take the standard time to learn this, while if you have in-depth knowledge of data processing, you will be able to learn this in a short period.
Also, since the application has been developed in Java and has the command-line interface, it will make things easy for you if you had prior experience in working with the applications that allow the command-line interaction. Additionally, if you have an idea about how the java based application works, that will add extra points in your learning way. You will be able to learn CloverETL very conveniently if you possess a basic understanding of these things. In case if you are not very much aware of all these, you don't have to worry much as in this tutorial, we will give you the introduction of all the prerequisites before we start learning this tool.
Target Audience
The best audience for this CloverETL Tutorial will be someone curious about learning this technology or tool. To be specific profession wise, the IT professionals who are already working with data transformation technologies and want to enhance their hands-on expertise in other tools as well. They will be learning about how to work with heterogeneous data to satisfy the business requirement to have the data in the desired format. They will be able to work with CloverETL right after completing this course.
The other best audience to learn this tool could be the students who want to begin their careers in data integration and transformation technology. It will help them to get some extra edge in their career and will make them the preference among others when it comes to placement or selection for internship. They can also use this tool to create their project which will help them to stand out from the crowd as it is an interesting and unique technology.
The trainers who want to explore more about data processing can learn this tool so that they can train others who want to grow their career in CloverETL. It will give them an extra understanding of this technology and the most important thing is, they can also change their domain of service from education to production. This CloverETL Tutorial is useful for all of the folks mentioned above to give them additional points in terms of technology.
CloverETL Tutorial – FAQ's
---
Why should we learn CloverETL?
CloverETL is a tool based on the modern approach to work with data to make them ready for processing. One can learn CloverETL as it helps to solve the complex business problems that need data processing. It makes one able to work with a significant sum of data. We can perform data integration and data transformation using this tool. Also, it is a graphical tool with a very simple interface that makes it very easy for everyone to interact and work. It also endorses the working of other applications and hence provides a broad area of learning as well.
How long it may take to learn CloverETL?
The answer to this question is based on how closely you have worked with the heterogeneous data. If you at the beginner level in terms of relation with data than it may take you around one and half months to two months while if you have expertise level in this, you may end up with learning this within a month. So overall that all depends on you on how fast you want to learn this and how likely you are to grabs the things.
Which are the top companies that offer jobs in CloverETL?
Most of the IT companies these days have a huge requirement for the professional who has hands-on experience of working with data. One with knowledge of CloverETL can be selected by various IT companies, but when we talk about the name of the companies, they are Amazon, Facebook, Infosys, and so on. These companies leverage such intelligent tools to work with the data. You can get opportunities in these companies after completing this CloverETL Tutorial.
Sample Preview
---
Career Benefits
This course has been developed very carefully by considering the requirement the needs of the beginner and the professional, as we discussed earlier. This course will give you hands-on exposure to CloverETL so that you can be job-ready right after you finished this course. You will be working in the real-life examples throughout this CloverETL Tutorial so that you can learn how the real scenarios could be worked on leveraging this tool or technology. If one is already a professional, they will be learning lots of extra things under this tutorial.
All the big information technology-based companies want to leverage such technologies to design business solutions which tells that there are a lot of open opportunities for this position. Even in the upcoming days, the professionals are going to see the flood of opportunities in this technology due to the exponentially increasing number of internet users every day. The e-commerce and social media companies are going to be the mass recruiter for this technology shortly.
One who completes this course will get to learn a lot about the newly emerging technology. They will learn all the aspects of CloverETL efficiently and will be job-ready as soon as they complete this CloverETL Tutorial. The very interesting thing about this tutorial is, it is mainly focused on enhancing your practical skills rather than giving you theoretical ideas. You will also be supposed to do things on your own to grab more and get yourself some amazing skills. So don't prefer to wait much and begin your journey as soon as you can. You are just a course away from what people usually want to achieve in terms of their careers.
Reviews
---
Basic CloverETL Tutorial
It was a great course!!! the videos are comprehensive. Examples are amply explained, the videos covering all the basic prerequisites to either learn or brush up on CloverETL. There are two other courses, I'm about to attend, would surely recommend Educba!
Sameer Panda
Good learning
I learn a lot about the CloverETL especially the basics one. it's good for the beginners. It was precise and easy to learn, you can understand the way they teach in English. The lectures are very great and it is worth it to pay for the same..great work educate you to save me a lot in learning the tool and its basics function. one more thing is that the video plays well & the quality of videos is good.
Eduard Duffy
Data Integration in CloverETL
This was a good course for the beginner up to expert – was able to follow along in several parts. The training was split into a good size and easy to follow. I also found the material very useful in small in a short period. It would be nice to have a system to follow with as they work. Also, like the selection of courses.
Carol