Learn from Home Offer TAKE THIS BUNDLE
CLOUD COMPUTING Course Bundle - 23 Courses in 1
97+ Hours of HD Videos
23 Courses
Verifiable Certificate of Completion
Lifetime Access
TAKE THIS BUNDLE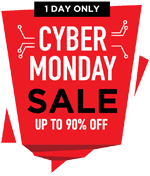 * One Time Payment & Get Lifetime Access
What you get in this CLOUD COMPUTING Course Bundle - 23 Courses in 1?
97+ Hours
23 Courses
Course Completion Certificates
Lifetime Access
Self-paced Courses
Technical Support
Mobile App Access
Case Studies
About Cloud Computing Training in Mumbai
| | |
| --- | --- |
| Course Name | Cloud Computing Training in Mumbai |
| Deal | You get access to all videos for the lifetime |
| Hours | 97+ Video Hours |
| Core Coverage | Virtualization and Cloud Computing, AWS Amazon Web Services, Microsoft Azure, Amazon Cloud Computing, Azure Data Lake, Azure Data Factory, and such others to learn technical delivery of Cloud software development capabilities, including analytics and infrastructure concepts. |
| Course Validity | Lifetime Access |
| Eligibility | Anyone serious about learning data science and wants to make a career in analytics |
| Pre-Requisites | Basic knowledge of data and analytics |
| What do you get? | Certificate of Completion for the course |
| Certification Type | Course Completion Certificates |
| Verifiable Certificates? | Yes, you get verifiable certificates for each23 course, Projects with a unique link. These link can be included in your resume/Linkedin profile to showcase your enhanced skills |
| Type of Training | Video Course – Self Paced Learning |
| Software Required | None |
| System Requirement | 1 GB RAM or higher |
| Other Requirement | Speaker / Headphone |
Cloud Computing Training in Mumbai Curriculum
---
This Cloud Computing Training in Mumbai is comprised of all the updated stuff on Cloud Computing engulfing those of the certifications as well. This Training will help you learn all the basics of cloud computing by providing an overview of a cloud at an enterprise. It will show you the concepts of resource sharing and managing them within the cloud. This Training comprises of all the basic concepts and the fundamentals of the popular public platforms Microsoft Azure and Amazon Web Services with terms such as S3, CloudWatch, IAM, RD5, SNS, etc. At last, you would be able to figure out the principle usage of a Cloud in business and how to deploy the business on it.

MODULE 1: Cloud Computing Essentials Training

| Courses | No. of Hours | Certificates | Details |
| --- | --- | --- | --- |
| Amazon Web Services (AWS) Certified 2023 | 8h 59m | ✔ | |
| Solutions Architect Associate - AWS Certified | 9h 4m | ✔ | |
| AWS Certified Cloud Practitioner Case Study - Hosting an ASP.NET Website on Amazon EC2 | 7h 24m | ✔ | |
| AWS Certified Developer Associate 2023 | 7h 01m | ✔ | |
| AWS Case Study - Simple Email Service AWS SES | 2h 3m | ✔ | |
| AWS Certified DevOps Engineer Professional 2023 | 4h 39m | ✔ | |
| AWS Certified SysOps Administrator - Associate | 8h 8m | ✔ | |
| Virtualization and Cloud Computing | 58m | ✔ | |
| Cloud Migration | 3h 4m | ✔ | |
| Cloud Computing for Business Users | 1h 57m | ✔ | |
| EXIN Cloud Computing Tutorials | 2h 36m | ✔ | |
| Cloud Computing | 2h 46m | ✔ | |
| Cloud Computing Fundamentals | 2h 05m | ✔ | |
| AWS Services Case Study - Build Server less Web Application | 58m | ✔ | |

MODULE 2: Microsoft Azure Cloud Computing

| Courses | No. of Hours | Certificates | Details |
| --- | --- | --- | --- |
| Microsoft Azure - Basics | 10h 53m | ✔ | |
| Microsoft Azure - Essentials | 6h 39m | ✔ | |
| Microsoft Azure - Data Lake | 6h 13m | ✔ | |
| Microsoft Azure - Data Factory | 4h 6m | ✔ | |

MODULE 3: Learning from Practicals & Case Studies

| Courses | No. of Hours | Certificates | Details |
| --- | --- | --- | --- |
| Microsoft Azure - PAAS Overview | 1h 52m | ✔ | |
| Azure Practical - Developing Your Applications | 4h 19m | ✔ | |
| Azure Practical - Migration of Websites and Databases to Azure | 2h 37m | ✔ | |
| Azure Practical - Migrating .NET-based web applications to Azure PAAS | 1h 43m | ✔ | |
| Chef Devops Essentials | 2h 21m | ✔ | |
Cloud Computing Training – Certificate of Completion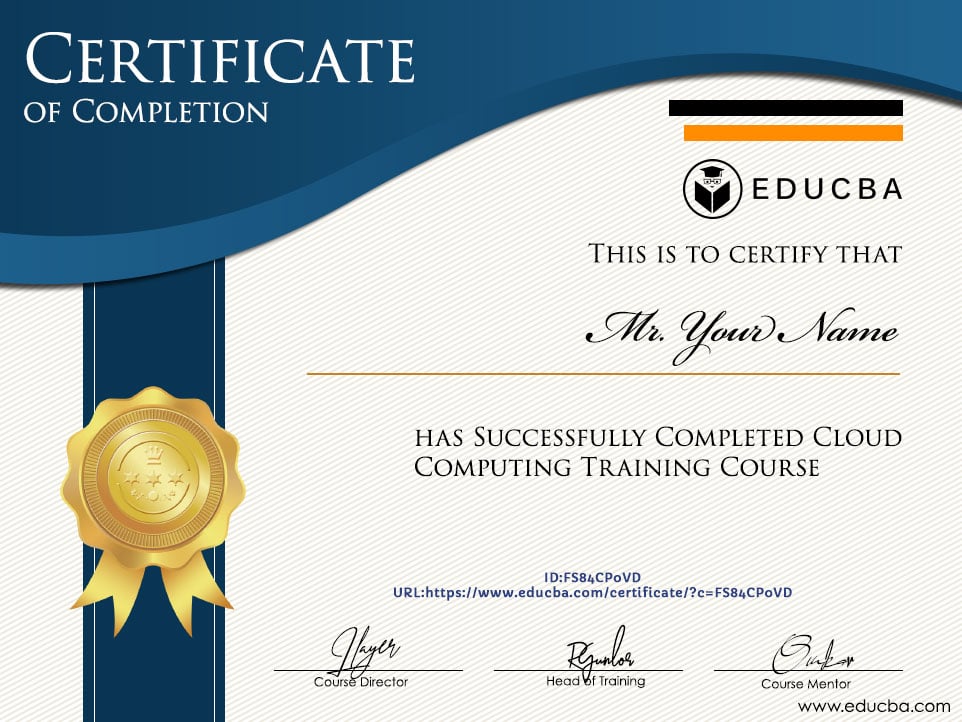 What is Cloud Computing?
Cloud Computing offers services such as computing, database, storage, applications, etc. without having a physical machine at your end in the space known as Cloud over the Internet. It provides safe and easy access to all these services without worrying about the maintenance of the hardware needed for such applications. It works on the principle of the pay-as-you-go concept. It is of three types:
Infrastructure as a Service (IAAS) – IAAS involves providing services such as operating systems, servers, databases, etc. as on-demand services through IP-based connectivity. Popular examples for IAAS are Microsoft Azure and Amazon Web Services.
Platform as a Service (PAAS) – PAAS provides you the necessary environment for the development and management of your application without worrying about the Infrastructure need for it (i.e. Operating system, hardware, etc.). Examples for PAAS are Force.com, Heroku, etc.
Software as a Service (SAAS) – SAAS provide you a product with all its feature attached without worrying about how this service is maintained or maintaining the underlying infrastructure. All of it is taken care of by the service provider. For Example Microsoft Office's 365.
Industry Growth Trend
The global cloud computing market size is expected to grow from USD 272.0 billion in 2018 to USD 623.3 billion by 2023, at a Compound Annual Growth Rate (CAGR) of 18.0% during the forecast period.
[Source - MarketsandMarkets]
Average Salary
Average Salary
$118,459 per year
The average salary for a Cloud Engineer is $118,459 per year in the United States.
[Source - Indeed]
Which Skills will you Learn in this Training
?
This Cloud Computing will teach you the following skills:
Getting an Overview of a cloud in an enterprise.
It will focus on the manageability and scalability of a resource and how it is moved within this environment.
It will also focus on building, testing, deploying, and managing the applications and services on the cloud network.
Infrastructure as a Service and Platform as a Service in terms of Microsoft Azure and AWS.
This training sets up knowledge of how-to architect & deploy a strong and secure application using AWS cloud services.
This training includes how to utilize VPC and its components, to create presentations for supporting commercial cloud services.
Projects such as Simple Email Service in AWS, Developing an Azure Application, Moving your Database to cloud, etc.
Pre-requisites
Suitable Learners for this Cloud Computing Training in Mumbai are focused individuals inheriting below skills:
Before going through the training, one should know the basics of Operating systems such as Windows, Linux, etc. (i.e. how they operate and work at a high level).
Once you have a working knowledge of Operating Systems, you should learn Virtualization Technique as it teaches us how to run multiple Operating Systems on a single physical machine
And good knowledge of Networking as it is a necessary part of every application of cloud computing. To start with learning about IP addresses, public and private networks, etc.
Apart from this, a strong interest in learning cloud computing services.
The need for asking questions out of their curiosity.
Restless minds to think of new and exciting ways to resolve a business problem and to kill priority problems swiftly.
Having profound communicating skills which will help him able to list his findings of the result in the right manner.
Target Audience
A Student undergoing his graduation, or diploma in the field of Cloud Computing and would like to have a proper sight in the fundamentals of Cloud Computing, can go for this training.
A professional who wants to work in Cloud Computing, an IT professional looking for a career switch into the field of Cloud Computing, a research scientist, individuals involved in Information Technology, new technologies learner, IT specialists and marketing managers, Startup founders, Lecturers, and Teachers. Also, some of the full-stack developers need to learn an efficient way to store data at the cloud.
A Beginner who has a keen interest in gaining knowledge about Cloud Computing and wants to become data experts can opt for this training which will provide some hands-on training as well. Anyone who has a fascination for public cloud services and how it works is also welcome.
Cloud Computing Training in Mumbai – FAQ's
---
Why one should go for learning Cloud Computing?
Cloud Computing is one of the fastest-growing technology and it is in huge demand between big MNC's for its secure and cost-effective methods. Hence, learning such technology (that is in-demand in the market) will give a great kick start to your career.
What roles or jobs are offered to people knowing Cloud Computing?
Anyone knowing Cloud Computing is going to have a great number of opportunities before them. So, individuals taking Cloud Computing have the following roles to move in – Infrastructure engineer, Software developer, Software consultant, Systems architect, Technical support, SaaS Developer, Cloud Security Engineers, Web Services Systems Engineer, DevOps Engineers, etc.
Why one should go for an online Cloud Computing course?
As the need for Cloud Architect, DevOps Engineer, etc. are higher nowadays in the market. It has created a scarcity of Cloud Professionals in the industry due to a lack of experienced associates in this technology. This online training in Cloud Computing will ascertain you with the skills required to be molded into a Cloud Computing Specialist.
Name the top MNC's which are gearing towards hiring a Cloud Computing professional?
Companies like Samsung, Netflix, Unilever, Kellogs, GE, etc, or IT giants like IBM, Infosys, TCS, Deloitte, Google, Facebook, and other growing firms require Cloud experts who can take care of their large chunks of data.
Is it necessary to have prior experience in Cloud Computing for getting into a job as a Cloud Engineer?
The key to becoming a Cloud Architect is the need to learn and know. Nowadays Business is perceiving the significance of data and gaining inclination towards knowledge over to having experience.
Sample Preview
---
Career Benefits
Among the various career benefits of Cloud Computing Training, part of them are enlisted below:
Cloud Computing as an important IT Service: Since 2015, there has been seen a huge demand increase in using public cloud services which is up to 20% increase in the total IT services share worldwide and as per reports Internation Data Corporation has said that about 14 million jobs will be created between 2019 to 2022. All of this shows that cloud services have become a need of the day.
AWS is one of the most demanded technology: Cloud Services can provide computing, database, storage, applications all at one place with no hardware needed (i.e. everything on the cloud and accessed via internet) all securely and easily which makes it a need for every MNC today. Hence learning such a skill increases your employability significantly.
AWS offers a high paid career: Due to its simplicity and security with pay for what you use policy the technology is in huge demand, because of which it comes baring fruits such as a high paid career with it.
Why should you take up the Cloud Computing Training in Mumbai?
With cloud computing, we don't need to think of making large investments in hardware and spend a lot of time and resources on managing that hardware. Instead, with the help of Cloud Computing services, we can provide only the limited computing resources needed for our business or a firm. With these many advantages of Cloud computing in Today's world, many MNC's are switching towards cloud services to maintain and organize their organizations. The basic advantage for opting for this Cloud Computing Training in Mumbai is due to highly paid career, abundance in positions, huge career growth, etc. which is a result of competition between big tech giants for the Cloud services in the city.
What is the Cloud Computing market trend in Mumbai?
Being the capital city of the state Maharashtra and called the financial capital of India, Mumbai is a leading center in education, culture, economy, and commerce. Apart from this, Mumbai also clubs with it many industries such as Entertainment Industry, IT Industry, Share Market, BPO's, etc. All the admired multinational companies such as Capgemini, TCS, Infosys, Barclays, etc. have their offices in Mumbai. This city provides an opulent opening for professionals to pile up their skills across these industries. One such skill is learning Cloud Computing. Professionals trained in Cloud Computing help their companies stack up to their data on the cloud and make the best use of it. Learning Cloud Computing can provide the spark needed by individuals to kick off their careers.
Reviews
---
Cloud Computing Course Review
The Cloud Computing course manages to deliver an excellent introduction to the cloud systems. The presentations are optimal and manage to cover in detail fundamental use cases like AWS/OpenStack. As I work in these fields I feel like I've upgraded my cloud knowledge a lot and managed to achieve some key skills at AWS/OpenStack administration.
Stefan Yordanov Angelov
Virtualization and Cloud Computing – Review
I came around this course while looking for the best ways to validate personal experiences. Although the recording quality for some of the modules was not as good as other modules within the same course, I enjoyed it. Very helpful. Very In-depth knowledge given by the instructors. In short, a wonderful course and was great learning !!!
Linked
Frederic Harmignies
Informative course
The Cloud Computing course starts from scratch and thus helps the students to learn all the concepts from basic to advanced levels. I have enrolled for two courses through educba. Very informative and enjoyable sessions. The tutor has a good knowledge of the subject and he made the session interesting. Thank you educba.
Linked
Martin Fritzsche
CLOUD COMPUTING
This was nice for an instance in cloud computing very educational material.
I like that all the basics fields were covered from how to use private to Public clouds, for instance, we have the Amazon Web Services that I would so much like to explore in detail and hopefully get a cloud certification. Then there was also a public cloud that one can lease and in turn lease out several applications and services.
Linked
Terence Chisenga
Cloud Computing Review
The best Cloud Computing course so far. The instructor was excellent. As an introduction to Cloud Computing it was incredibly educational. The future of Enterprise computing lies within the cloud. I learned a lot of new things. The instructor expanded on the things I already knew, therefore, making the learning more valuable. Thank you.
Richard H. Rihm