Learn from Home Offer TAKE THIS BUNDLE
CLOUD COMPUTING Course Bundle - 23 Courses in 1
97+ Hours of HD Videos
23 Courses
Verifiable Certificate of Completion
Lifetime Access
TAKE THIS BUNDLE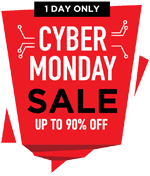 * One Time Payment & Get Lifetime Access
What you get in this CLOUD COMPUTING Course Bundle - 23 Courses in 1?
97+ Hours
23 Courses
Course Completion Certificates
Lifetime Access
Self-paced Courses
Technical Support
Mobile App Access
Case Studies
About Cloud Computing Training in India
| | |
| --- | --- |
| Course Name | Cloud Computing Training in India |
| Deal | You get access to all videos for the lifetime |
| Hours | 97+ Video Hours |
| Core Coverage | Virtualization and Cloud Computing, AWS Amazon Web Services, Microsoft Azure, Amazon Cloud Computing, Azure Data Lake, Azure Data Factory, and such others to learn technical delivery of Cloud software development capabilities, including analytics and infrastructure concepts. |
| Course Validity | Lifetime Access |
| Eligibility | Anyone serious about learning data science and wants to make a career in analytics |
| Pre-Requisites | Basic knowledge of data and analytics |
| What do you get? | Certificate of Completion for the course |
| Certification Type | Course Completion Certificates |
| Verifiable Certificates? | Yes, you get verifiable certificates for each23 course, Projects with a unique link. These link can be included in your resume/Linkedin profile to showcase your enhanced skills |
| Type of Training | Video Course – Self Paced Learning |
| Software Required | None |
| System Requirement | 1 GB RAM or higher |
| Other Requirement | Speaker / Headphone |
Cloud Computing Training in India Curriculum
---
Cloud Computing Training in India is wisely conceptualized via a 100-hour rule that "For most disciplines, it only takes one hundred hours of active learning to become much more competent than an absolute beginner." Going by the saying we target to provide a high-class training that contains 18 modules having around 4 projects. You can spend more than 100 hours on improving or adding a new skill to your knowledge bank along with certifications on successful completion of training which you can use as an asset in CV while seeking or switching jobs.
Cloud Computing Training in India covers topics like cloud computing, AWS, Microsoft Azure, and much more. There are different projects designed for so that you get hands-on experience. Advance topics are explained in with the help of user-friendly online content so that it becomes easy for a newbie to understand the topics easily. Hand-on sessions are designed with pinpointed details to foster the environment where all the doubts and confusion on the topic can be mitigated. Learners will get insights about real-life business scenarios and issues. They will get knowledge on how cloud computing is used to solve such scenarios. This training gives a broad business perspective along with technical knowledge which will help you prepare yourself for the competitive IT industry.
MODULE 1: Cloud Computing Essentials Training

| Courses | No. of Hours | Certificates | Details |
| --- | --- | --- | --- |
| Amazon Web Services (AWS) Certified 2023 | 8h 59m | ✔ | |
| Solutions Architect Associate - AWS Certified | 9h 4m | ✔ | |
| AWS Certified Cloud Practitioner Case Study - Hosting an ASP.NET Website on Amazon EC2 | 7h 24m | ✔ | |
| AWS Certified Developer Associate 2023 | 7h 01m | ✔ | |
| AWS Case Study - Simple Email Service AWS SES | 2h 3m | ✔ | |
| AWS Certified DevOps Engineer Professional 2023 | 4h 39m | ✔ | |
| AWS Certified SysOps Administrator - Associate | 8h 8m | ✔ | |
| Virtualization and Cloud Computing | 58m | ✔ | |
| Cloud Migration | 3h 4m | ✔ | |
| Cloud Computing for Business Users | 1h 57m | ✔ | |
| EXIN Cloud Computing Tutorials | 2h 36m | ✔ | |
| Cloud Computing | 2h 46m | ✔ | |
| Cloud Computing Fundamentals | 2h 05m | ✔ | |
| AWS Services Case Study - Build Server less Web Application | 58m | ✔ | |

MODULE 2: Microsoft Azure Cloud Computing

| Courses | No. of Hours | Certificates | Details |
| --- | --- | --- | --- |
| Microsoft Azure - Basics | 10h 53m | ✔ | |
| Microsoft Azure - Essentials | 6h 39m | ✔ | |
| Microsoft Azure - Data Lake | 6h 13m | ✔ | |
| Microsoft Azure - Data Factory | 4h 6m | ✔ | |

MODULE 3: Learning from Practicals & Case Studies

| Courses | No. of Hours | Certificates | Details |
| --- | --- | --- | --- |
| Microsoft Azure - PAAS Overview | 1h 52m | ✔ | |
| Azure Practical - Developing Your Applications | 4h 19m | ✔ | |
| Azure Practical - Migration of Websites and Databases to Azure | 2h 37m | ✔ | |
| Azure Practical - Migrating .NET-based web applications to Azure PAAS | 1h 43m | ✔ | |
| Chef Devops Essentials | 2h 21m | ✔ | |
Cloud Computing Training – Certificate of Completion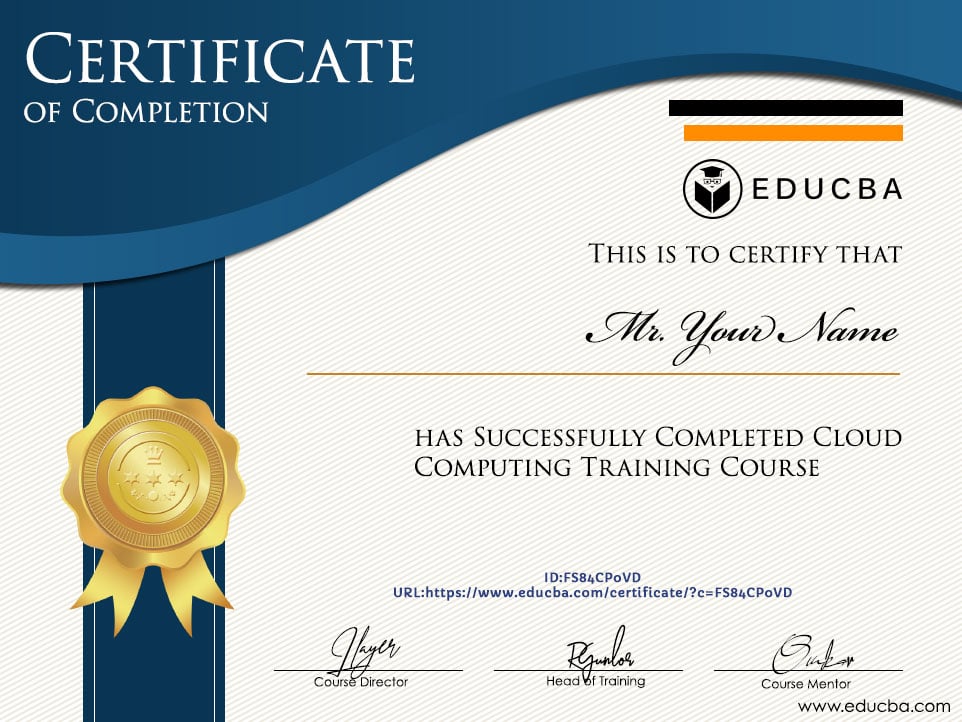 What is Cloud Computing?
Cloud computing can be summarized as using the collective power of different hardware distributed over a network working collectively to produce a certain output. For example, when we type "cloud computing" over google search then multiple servers sitting over California, India, China, or anywhere will be targeted to get the relevant results. To get the output quickly the nearest cluster should be contacted first. It can be majorly divided into three categories:
PAAS: In Platform as a service model, the service provider will host and deliver the hardware and software tools that are required for software development.
SAAS: In software as a service model, the provider hosts applications, and customers can use them over a net under license period. SAAS applications can be accessed via a web browser.
IAAS: In Infrastructure as a service model, online services will help with APIs which will have details like security, physical setup, and much more. A hypervisor such as an oracle, Xen, Hyper-V runs the virtual machines.
Industry Growth Trend
The global cloud computing market size is expected to grow from USD 272.0 billion in 2018 to USD 623.3 billion by 2023, at a Compound Annual Growth Rate (CAGR) of 18.0% during the forecast period.
[Source - MarketsandMarkets]
Average Salary
Average Salary
$118,459 per year
The average salary for a Cloud Engineer is $118,459 per year in the United States.
[Source - Indeed]
Which Skills will you learn in this Training
?
Cloud Computing Training in India will enrich your skillset with one of the most hyped and trending technologies which are becoming crucial every passing day to big businesses. The market demand for these technologies has grown manifold due to the humongous amount of data generating every day. The below-listed courses are covered in detail as part of this training:
AWS Amazon Web Services Cloud 2019
AWS Technical Essentials Training
Microsoft Azure Essentials
Microsoft Azure PAAS Overview
Chef DevOps Essentials
Virtualization and Cloud Computing
EXIN Cloud Computing Tutorials
Cloud Migration
Cloud Computing Fundamentals and essentials
Taking up this training will help you in visualizing how the scalability, manageability of huge data, data migration to cloud happens and how the whole application works on real-time catering all security demands over the network widespread across the globe.
Pre-requisites
Below mentioned are the prerequisites for Cloud Computing Training in India:
Good internet connectivity since it is online training.
A system with 1 GB RAM or higher configuration with Microsoft azure and amazon AWS login credentials.
Comfortable with the English language since the course is designed in the English language.
Basic understanding of operating systems, servers, and Networking.
The ability to code using Python scripts or any programming language will be very helpful.
Target Audience
Students: Enthusiastic students who want to pursue their careers in the challenging fields of cloud computing can enroll in this course to derive maximum learning out of it. These concepts than can be nurtured further with the help of practical sessions.
Experienced professionals: IT Professionals who seek to switch their technology to Cloud computing can enroll in this course. Cloud Computing Training in India is accessible online with relevant material delivered in a crisp format making it useful for professionals. This training comes as a full package containing online content along with certification which can be used to showcase in their CVs during interviews.
Beginners: Beginners who are seeking jobs in the IT industry can have a kick start from cloud computing itself. The high demand for employees in this field makes this course one of the most sought after.
Tech enthusiasts: This training is a holy call to all coders on the floor who wanted to learn something challenging in this era and aspire for good-paying, high-end technical jobs. As all the businesses are migrating towards the cloud, the demand for techies with cloud computing skills has spiked up the graph. All the technical enthusiasts can grab this opportunity to add this skill to their folder and enjoy the benefit later.
Cloud Computing Training in India – FAQ's
---
Why should one take up Cloud computing training?
This training comes with a great opportunity for learners who seek to build their career in cloud computing. One can have a good salary, job satisfaction, a good quality work environment along with a chance to play with the latest tools and technologies which are responsible for shaping the industry benchmarks in today's world. To gear up your career and seek these opportunities one should be ready.
Is it tough for someone working in other technology to get into cloud computing?
It is a bit challenging if someone is coming from a non-technical or no – CS background as this technology requires a lot of background on operating systems, programming languages. To level the ground for all the learners we focused to maintain the course structure in a way that this training starts with the basics covering advanced concepts like python, C, etc. If one is dedicated to learning then he/she can get a good grasp on cloud computing in less time.
I am currently working as a developer how beneficial it is for me to switch my technology to cloud computing?
If you are trained in some outdated technology and wish to have a marked shift in your career then you should not leave this opportunity to learn cloud computing. Traditional standalone hardware and devices in this transitional era do not match up to cloud computing in its storage capacity as well as efficiency. One can have a change, salary hike, get more interesting work, and add colors to your daily routine job by working on some trendsetter tools like VMWare, Microsoft azure.
Sample Preview
---
Career Benefits
Career growth and opportunities: Salary hikes and numerous job opportunities as this is still a niche skill set and is in demand by big organizations. As per market trends, this demand will spike up more shortly too.
Training has a comprehensive structured education program: This training will help you in learning something new and this course structure will help in registering the content in your minds for a longer period. The certification obtained after this training will help in getting more weight to your CV in comparison to others.
Get a chance to apply theoretical concepts to solve real-time business problems and if you show up your interest in learning cloud computing, then it also verifies your adaptability and interest to learn new technology in the market.
Opportunity to interact with other technical experts in the field: You will get exposure to tech leads from various leading companies will be able to provide you real-life business scenarios and issues they handled while working in cloud computing. This exposure is very useful when you start working on it.
It is beneficial for those who are trying to switch into cloud technology-based jobs who are coming from different technical backgrounds.
Why should you take up the Cloud Computing Training in India?
India is the hot seat for all IT companies across the world is attracting a wide pool of organizations from the US, Canada, Europe, and Australia because of smart manpower. We can put in use this smartness to earn the skills which are beneficial for us. If we list the benefits of this training then this article will never end but we can summarize the most important one:
An increasing number of job opportunities for new joiners and skilled professionals too.
Job satisfaction as one gets to solve challenging and interesting challenges.
Get to work with big organizations.
Get to work with knowledgeable experienced IT professionals experiencing a collaborative environment.
Get to work with the latest tools and technologies which will keep you industry-relevant.
What is the Cloud Computing market trend in India?
"The worldwide public cloud services market is projected to grow 17.5 percent in 2019 to total $214.3 billion, up from $182.4 billion in 2018" according to Gartner, Inc. The above statement by Gartner very well justifies that cloud computing is on the rise as all big companies are moving towards deploying their servers over the cloud as data requirements by the clients are on the rise. There will be a good rise in opportunities and the number of innovations in the field.
Reviews
---
Cloud Computing Course Review
The Cloud Computing course manages to deliver an excellent introduction to the cloud systems. The presentations are optimal and manage to cover in detail fundamental use cases like AWS/OpenStack. As I work in these fields I feel like I've upgraded my cloud knowledge a lot and managed to achieve some key skills at AWS/OpenStack administration.
Stefan Yordanov Angelov
Virtualization and Cloud Computing – Review
I came around this course while looking for the best ways to validate personal experiences. Although the recording quality for some of the modules was not as good as other modules within the same course, I enjoyed it. Very helpful. Very In-depth knowledge given by the instructors. In short, a wonderful course and was great learning !!!
Linked
Frederic Harmignies
Informative course
The Cloud Computing course starts from scratch and thus helps the students to learn all the concepts from basic to advanced levels. I have enrolled for two courses through educba. Very informative and enjoyable sessions. The tutor has a good knowledge of the subject and he made the session interesting. Thank you educba.
Linked
Martin Fritzsche
CLOUD COMPUTING
This was nice for an instance in cloud computing very educational material.
I like that all the basics fields were covered from how to use private to Public clouds, for instance, we have the Amazon Web Services that I would so much like to explore in detail and hopefully get a cloud certification. Then there was also a public cloud that one can lease and in turn lease out several applications and services.
Linked
Terence Chisenga
Cloud Computing Review
The best Cloud Computing course so far. The instructor was excellent. As an introduction to Cloud Computing it was incredibly educational. The future of Enterprise computing lies within the cloud. I learned a lot of new things. The instructor expanded on the things I already knew, therefore, making the learning more valuable. Thank you.
Richard H. Rihm