Updated March 28, 2023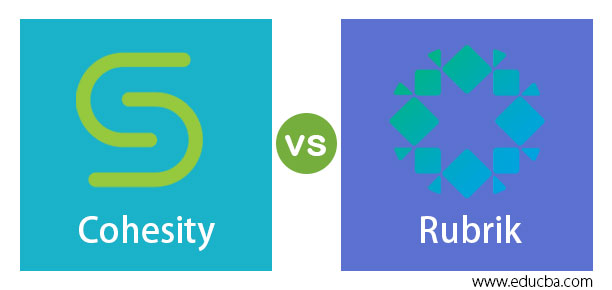 Difference Between Cohesity vs Rubrik
Both Cohesity and Rubrik have been built by individuals who have been ex-colleagues at one point in time. Currently, they have one of the hottest competition in the rarefied market of Data management and recovery. This competition and rivalry are sure to heat up further where Rubrik accuses Cohesity of undercutting it. If we look at the specifications of both the software systems and their respective appliances, we find that both are quite similar systems, barring minor differences, which are quite acceptable. Both Rubrik and Cohesity are the tech world's rising stars, having taken the market for data management and data recovery by storm. Both being easy to use and highly scalable, enables organizations to create massive backups in no time. In critical scenarios, this differentiates between failure and success. The two most reviewed software in the field of Data Recovery and back up is Cohesity and Rubrik.
What are Cohesity and Rubrik?
Following is a detailed explanation of Cohesity and Rubrik:
1. Cohesity
Cohesity is a data management vendor that specializes in data management and recovery and offers a host of software and devices for the same. One of the proprietary systems that Cohesity has built is DataProtect. It is data protection and recovery software using Cohesity's proprietary DataPlatform. DataPlatform is a solution that helps an organization to consolidate its data productively.
Features of Cohesity:
DataProtect comes with a host of features like:
Rapid Points of Recovery
Proxy Servers
Media Servers
Cloud Gateways
Instant Recovery
Hyperconverged Backup
The models C3000, C4000 and C6000, is able to store large files and documents.
2. Rubrik
Rubrik arrives on the data management and recovery scene with its flagship, "Rubrik Cloud Data Management". This solution allows the client to store data anywhere it wants. It provides a unified platform for ease of use. Rubrik supports a wide range of storage options. They can be virtual, NoSQL, physical and cloud storage. It comes with its proprietary Rubrik Polaris and Rubrik Mosaic. Polaris is a multi-unified system that helps clients get their data, no matter wherever it is stored. Rubrik Mosaic is a platform created specifically for NoSQL. The Rubrik Cloud Management System is built of three layers. Infinity, Cerebro and Atlas. These three layers provide a certain guarantee against data management and recovery failure. There are a host of features which it has:
Features of Rubrik:
Instant recovery
Controls based on policies
Analytics
Search
Compliance
Data Management Copy
Reporting
Security
These features can be used across all platforms, data centers, and the cloud. With Rubrik, you will never fail your SLAs since it works across all storage environments.
Head to Head Comparison between Cohesity vs Rubrik (Infographics)
Below are the top 6 comparisons between Cohesity vs Rubrik:

Key differences between Cohesity vs Rubrik
Let us discuss some key differences between Cohesity vs Rubrik in the following points:
Rubrik provides a real-time global search option, allowing users to look for data, no matter its location. Cohesity does the same.  However, what differentiates them here is that Rubrik provides DR Orchestration. However, Cohesity's search option far more seamless.
Rubrik's interface is one of the easiest to use. While Cohesity uses an intuitive interface for the web, its ease of use, though good, is a tad less than Rubrik
Both Cohesity and Rubrik are hardware-based systems. Both provide appliances that range from the ones to be used for smaller organizations to the larger ones.
The Rubrik architecture allows infinity scalability, while the Cohesity architecture, while allowing linear scalability, allows up to 256 nodes.
Rubric has a single point of failure, while Cohesity, given the design of its architecture, has none.
Cohesity backups have far more immutability when compared to Rubrik. Also, they are more seamless than that of Rubrick.
Cohesity is high on automation and low on professional maintenance services. This allows it to cost less than Rubrik.
Comparison Table of Cohesity vs Rubrik
The table below summarizes the comparisons between Cohesity vs Rubrik:
| | |
| --- | --- |
| Cohesity | Rubrik |
| Extremely easy to use. | The web interface is an absolute delight to use because of its ease of usage. |
| Varied option for data recovery. | It also comes with the option of multiple recovery options. |
| Highly scalable. | Highly scalable. |
| It comes with options that are multi-tenant. This option allows multiple users to operate the platform at the same time and have control over their own backups. | It also has multi-tenant options with similar features available to Cohesity. |
| It is known for its smooth back up options. | Known for its ease of backup and recovery process. |
| The pricing is where Cohesity comes to a trump since it is highly automated. The more automated the system, the lesser is the need for support. | Rubrik provides its price only on demand. However, it is not as highly automates as Cohesity and needs a good amount of support. As a result of which it is costlier than Cohesity. |
Conclusion
The only difference that may arise between these two tech companies is in the domain of pricing. Despite that, they both have garnered enough clients to be among the top 5 in data management and data recovery. And that is a great task being new entrants.
Recommended Articles
This is a guide to Cohesity vs Rubrik. Here we discuss the Cohesity vs Rubrik top key differences with infographics and comparison table. You may also have a look at the following articles to learn more –