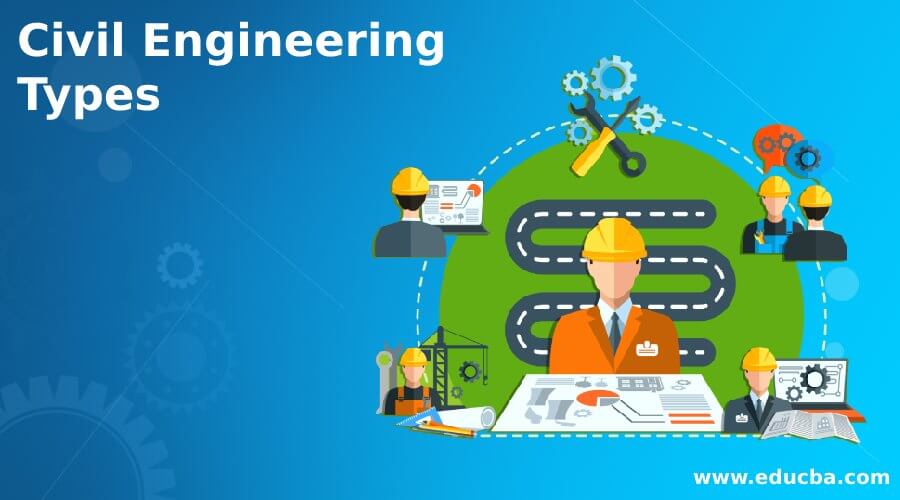 Introduction to Civil Engineering
The following article provides an outline for Civil Engineering Types. Worldwide, civil engineering is regarded as being one of the most important fields of engineering. Designing, managing, building and maintaining infrastructure that plays a vital role in a country's development & supports modern society are all part of this industry's mission. A long list of construction projects is included in this category. As innovators in our societies, civil engineers are at the forefront. You can see that civil engineering is not solely concerned with the construction of physical structures.
Types of Civil Engineering
Given below are the various civil engineering types:
1. Environmental Engineering
This sub-discipline focuses on finding ways to conserve densely populated areas and prevent pollution from affecting the natural world. Environmental engineers analyse and develop solutions to a wide range of environmental problems. Solid waste treatment and management, water source purification, air quality improvement and other tasks fall under their purview. A solid understanding of atmospheric sciences and hydrology is required to succeed in this field.
2. Geotechnical Engineering
Geotechnical Engineering is another important civil engineering branch. They examine the rock and soil in an area where a civil structure is either already standing or is planned to be built in the future, and they perform analyses. To design structures and buildings safely, these engineers must be well-versed in soil science, material science, and the mechanics and hydraulics involved.
3. Transportation Engineering
As a civil engineering discipline, transportation engineering continues to be one of the most influential. They design, build and maintain all types of public transportation systems around the world, including roads, rail lines (including commuter trains), and ports and airports.
Their goals are to improve overall traffic flow, reduce traffic congestion, and reduce the risk of accidents occurring as much as possible through these initiatives. Alternatively, a new system can be designed or an existing system modified. As a result, engineers must consider a variety of factors, such as the economic, political, and ethical impact of the new system.
4. Structural Engineering
Study and analysis of the bridge, marine, flyover and other building designs are part of structural engineering. In addition to being aesthetically pleasing, engineers must also ensure that the buildings are safe, durable and serviceable. For this, it is necessary to identify the loads, forces and stresses that may act on a structure. When engineers are designing a building, they must take into account a number of factors. Cost and constructability, for example, as well as strength and stability, are all factors to consider. This includes earthquakes, floods and aggressive winds.
5. Construction Engineering
Managing and supervising a construction project is the primary responsibility of a construction engineer. Planning and construction are only part of the process, materials transportation and site development are also included. In addition to evaluating logistical operations, they are likely to be responsible for reviewing contracts and coordinating contractors on a daily basis. They must also ensure that projects are completed in a timely and efficient manner. A construction engineer is needed for any civil engineering project, whether it involves laying a new road or constructing a new building.
6. Mining Engineer
Oil, metals and gas are just some of the natural resources that a mining engineer is responsible for evaluating. In order to determine whether it is safe to complete extraction at that site, they weigh these risk factors. In addition, mining engineers must determine the commercial value of a particular site.
7. Water Engineering
Water engineering is the study of how water interacts with infrastructure and how we can use it to our advantage. It focuses on ways to re-direct water flow in flood-like situations, how to properly store water by building and using dams, and how to use engineering techniques to transmit groundwater and construct necessary waterways that can be of use to both rural and urban settings.
8. Marine Engineering
Design, construction, and repair of ships, and other aquatic equipment are the primary duties of marine engineers. An in-depth understanding of physics is required for this position in order to create durable modes of transportation. This person could design and build a naval ship, yacht or deep-sea drilling equipment with the help of a marine engineer.
9. Planning Engineer
A planning engineer is responsible for recommending the best construction tactics. By calculating the potential cost of a project and comparing it to the materials, manpower, and time required to complete it, they are able to make this determination. While maintaining a keen eye on safety standards, the planning engineer's job involves finding and implementing cost-effective measures for a project's implementation.
Conclusion
In this article, we have seen various types of civil engineering.
Recommended Articles
This is a guide to Civil Engineering Types. Here we discuss the introduction and various civil engineering types respectively. You may also have a look at the following articles to learn more –