Updated July 7, 2023
Definition
The circular economy is a sustainable economic model that focuses on reusing and recycling materials in order to reduce the consumption of natural resources and avoid the creation of waste. 
Many businesses have adopted this economic model. For example, Adidas introduced a fully recyclable shoe that can be returned to the company at the end of its life and turned into a brand-new pair of shoes. This was made possible by the use of novel materials and manufacturing techniques.
Goods are produced, used by consumers, and then disposed of, resulting in waste in a traditional economy. On the other hand, the circular economy eliminates the creation of waste and answers issues like pollution, climate change, and the depletion of natural resources. It also ensures that what we produce today has less impact on natural resources for future generations.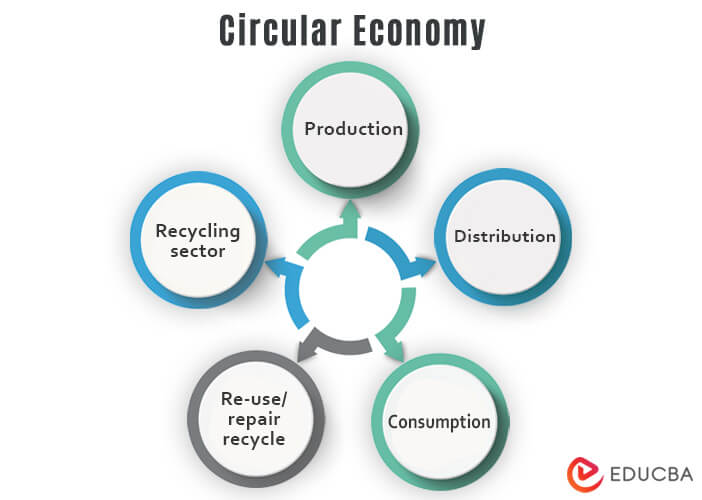 Key Highlights
The circular economy helps efficiently use the available resources and offers a solution to the issue of a raw material shortage
It also helps reduce the effects on the environment. Being resource-wise helps produce less waste. In turn, this will result in a 2–4% reduction in emissions, which will lessen the greenhouse effect
It also helps reduce the impact of plastic as it recycles, reuses plastic products, and uses more sustainable materials
Innovation enhances an organization's capacity to capture market share, create new markets or niches, or become a leader in a particular industry.
Explanation
A circular economy aims to produce and consume goods while generating as little waste as possible through reuse, recycling, or repair. It is based on the idea that natural resources should be used for as long as possible and extracted in a way that allows them to be regenerated.
This means that companies must design products and manufacturing processes so that materials can be reused, recycled, or composted. It also means moving away from linear models of take-make-dispose and instead investing in new technologies that make recycling easier.
Most importantly, this economy reduces pollution and waste by keeping valuable natural resources out of landfills.
How Does the Circular Economy Work?
To keep materials in circulation for as long as possible, the circular economy encourages designing products for durability, reuse, remanufacturing, and recycling
It restores valuable nutrients to the soil to support regeneration and helps the environment by preserving and enhancing renewable resources
It imitates the circular systems found in nature on Earth. Accordingly, all waste is converted into raw materials for other products by using innovative materials and processes
The technical cycles of the circular economy enable products to be recycled and used repeatedly to create new products, making them an integral part of the process. Consumables that decompose naturally, such as food, cotton, and wood, also benefit the system by replenishing the soil's essential nutrients
This economy seeks to improve the environment by lowering waste and emissions.
Real-World Examples
Example #1
Ikea opened the first-ever second-hand store in an effort to meet its 2030 climate goals. The store will sell already-used IKEA furnishings
In addition, the business has just launched a buy-back scheme for clients, offering coupons in exchange for discarded furniture and other goods.
Example #2
Burger King has revealed reusable packaging as a remedy to lessen the volume of waste it produces. Burgers and beverages will be sold to customers in different parts of the world in reusable packaging.
The technique charges a modest deposit upfront and returns it to the consumer after they return the boxes and cups that have been removed for washing and processing.
Principles of Circular Economy
Reducing waste: We can reduce our environmental footprint by using fewer resources and producing less waste
Reusing materials: Materials that are still in good condition can be reused. This means we don't have to produce new materials from scratch every time we need them
Recycling materials: When a material reaches the end of its useful life, it can be recycled into new products or raw materials for other industries
Renewable energy: We should use renewable energy sources because they do not pollute or deplete natural resources like fossil fuels.
Circular Economy vs. Linear Economy
| | |
| --- | --- |
| Circular Economy  | Linear Economy |
| The core principle of a circular economy is to reuse and recycle things that have already decomposed in order to create new products or to repair existing products/materials so that they can be used again. | A linear economy typically begins with acquiring raw materials, producing the final product, utilizing the production to its fullest potential, and then decomposing the product. |
| A closed loop characterizes a circular economy. | A closed loop does not exist in a linear economy. |
| The goal of the circular economy is sustainability. | The linear economy prioritizes profitability, regardless of the product's life cycle. |
Benefits of Circular Economy
The circular economy has many benefits for our environment, including limited energy consumption, cutting back on waste production, and using fewer natural resources
It reduces carbon emissions and saves natural resources such as water, land, and forests
As a result of reducing reliance on external and unreliable supplies, it enables the acquisition of competitive advantage in the context of globalization
Moreover, this economy is a promising concept that can reduce the environmental impacts of the linear economy.
Disadvantages of Circular Economy
For business owners who are not as financially secure, the cost of implementing this kind of system can be high
Measuring how much waste is being produced can be challenging.
Determining what should be considered "waste" can be challenging
In many situations, recycling and reusing everything might not be possible.
Frequently Asked Questions(FAQs)
Q1. What is the circular economy?
Answer: The circular economy is a system where there is no waste, as everything we make can be reused, recycled, or repurposed.
Q2. Will businesses integrate circular economy projects with environmental objectives?
Answer: Due to the novelty of these programs and the difficulty of calculating the carbon impacts of new models, it is likely that only a small number of businesses (and nations) have significantly synchronized their circular strategies and climate commitments.
Companies expect to increase their attention towards utilizing circular strategies to meet climate goals and to increase research, monitoring, and reporting on the environmental effects of circular business models such as resale, repair, rental, and product-as-a-service.
Q3. What is the primary issue with the circular economy?
Answer: A circular economy plan may also involve challenging trade-offs. The principles may eliminate items that are not totally recyclable when choosing resources for a production process.
Q4. What distinguishes the circular economy from sustainability?
Answer: While sustainability is more widely related to people, the environment, and the economy, circularity primarily focuses on resource cycles.
Q5. What are the three principles of a circular economy?
Answer: The circular model is based on three principles: reducing waste and pollution, circulating products and materials (at their best value), and regenerating nature.
Recommended Articles
This was a guide to a circular economy. To learn more, please read the following articles: