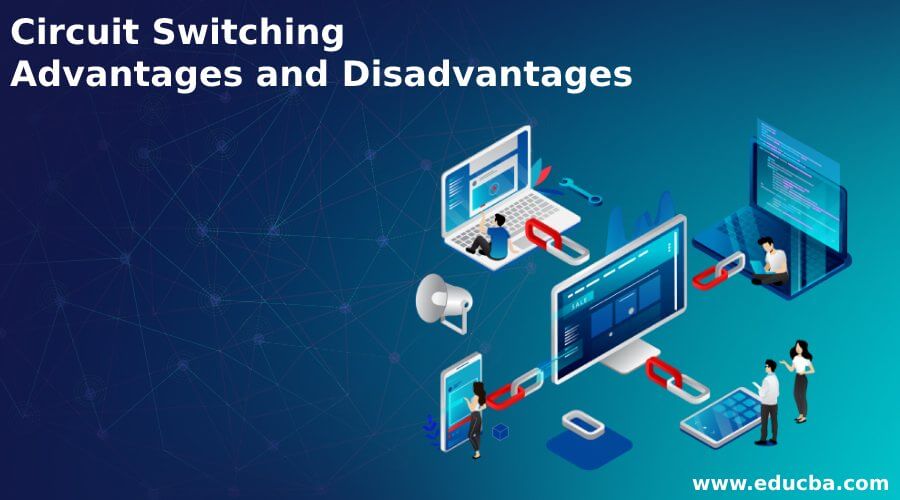 Introduction to Circuit switching advantages and disadvantages
When two networks wish to communicate, they create a connection between the telecommunications network, and this is called circuit switching. A network path is established between two networks during circuit switching and the network responds only through this path where this path cannot be used for any other connections. This path can be used to transfer data as it is most secure for both channels and once the communication is completed, the connection can be removed. The networks are detached from the connection and then this path can be used for other channels or other communications.
Advantages of Circuit Switching
Dedicated Communication Channel: Circuit switching offers a dedicated communication channel for the transfer of data between two networks. This channel helps in dedicating the entire bandwidth to the communication and ensures that there are no discrepancies in the channel. The quality of data transfer is drastically improved with this channel and the data transfer incurs only a fixed rate. This helps in establishing long-distance communication with no discrepancies and a known data transfer rate during data transfer. Since there is a dedicated physical path, there is no waiting time for circuit switching communication and this helps to ensure the security of the data being transferred during the communication.
Good Bandwidth: Mostly seen in telephone systems, a specific bandwidth is assigned to the network and this makes the system work efficiently to provide undisrupted connectivity between the channels. Circuit switching is set up at the physical layer of the communication network and the message is transferred to the entire channel as the channel is dedicated for this purpose. This helps in voice communication as it offers a seamless transfer of data from one channel to other.
Data packets: Data packets are offered in the communication channel incorrect order that makes the users make proper communication with the users. Consistent rate of data and data packets make the communication continuous and helps the users to make the communication proper with any channel. This results in continuous calls without any delay in data transmission from one channel to other. Ideal for telephone systems and voice communications that have a high volume in voice transmission, it can be set up for systems that require high security in the channel. Single clear channels can be set up easily with circuit switching with fewer interruptions in the same communication network. Performance of the network can be drastically increased with circuit switching and dedicated channels.
Connection: If the data is digital or voice, circuit switching can be used to transfer data. Electrical current can be transferred along with voice communication resulting in faster transfer of messages. This is mostly used in public networks like landline phones and government-approved voice messages where the dedicated channel is assigned for the transfer of data. It is mainly based on the connection where the path is established initially and then data is transferred. The amount of data to be transferred is already known and hence the network is set accordingly in the channels. Crossbar switches can be used to increase the number of connections.
Voice services: It is highly preferred for voice communication with less delay and a fixed rate for the channel allocation. Security and specific channel allotment is another added advantage for assigning voice communication over circuit switching. Specific slots can be assigned for data transmission to reduce the idle time of communication networks resulting in the utilization of resources in the system. The header is not required for voice transmission as slots are used.
Disadvantages of Circuit Switching
The main problem with the dedicated channel is that other data communications cannot be done even if the channel is free to use and has a good bandwidth. This makes other networks create new channels and hence there can be numerous channels with dedicated networks. This creates disruptions in the networking path due to the networking traffic in the channel. Underutilization of resources makes the communication network sit idle most of the time and the capital investment will be in loss. Users need to terminate the circuit switching and there is a chance for the switching to remain idle for a long time if there is no communication happening between the channels resulting in resource and money loss.
Initial setup requires time and money. If the bandwidth is not good, it takes time to establish a connection and this is the case for long-distance connections. Separate connections are set up between different networks which create occasional disruptions in the channel while doing the communication and takes more time to set up physical connections in the system. Dedicated channels make circuit switching expensive and users cannot share the channel with others to reduce the cost.
Circuit switching is not good for data communication. Data communication is done in packets and streams which does not offer continuous communication flow. This makes the network remain idle when the data transmission is not done resulting in a waste of resources.
If there is heavy traffic, circuit switching cannot do the communication properly resulting in disruption of messages. Circuit switching is incapable of maintaining the traffic resulting in fewer networks using this right now. Usage of mobile phones and hence the communication through mobile phones is high nowadays where people wish to make communication at a faster rate without any delay and no traffic at all. Hence, packet switching is used in 4G and 5G devices and circuit switching is almost not used in mobile phones.
There can be call drops if the circuit cannot make connections on time. This can be due to the unavailability of channels or due to high traffic in the network. It takes time to make a connection and this also results in call drops in the channel.
Conclusion
Circuit switching calls are less nowadays. Landline telephone calls that connect via exchange still uses circuit calls. Also, 2G or 3G telephone calls are using circuit switching in their voice calls. If the voice calls are through data like Skype or WhatsApp calls, then circuit switching is no longer used.
Recommended Articles
This is a guide to Circuit Switching Advantages and Disadvantages. Here we discuss the Advantages and Disadvantages of Circuit Switching in detail. You may also have a look at the following articles to learn more