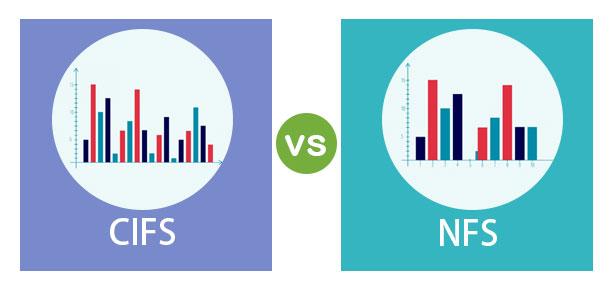 Difference Between CIFS vs NFS
CIFS stands for Common Internet File System, and NFS stands for Network File System, which are the protocols used for enabling remote communication system. The main difference between these two types of communication systems are CIFS can used only in Windows operating system, whereas NFS can be used in UNIX and LINUX based systems. In terms of security, CIFS provides better network security than NFS. On the other hand, NFS offers higher scalability features than CIFS.
Head to Head Comparison between CIFS vs NFS (Infographics)
Below are the top 13  comparisons between CIFS vs NFS:

Key Differences Between CIFS vs NFS
Let us discuss some key differences between CIFS vs NFS in the following points:
 Applications of CIFS and NFS
The essential variations at most of NFS's real-time applications are to be deployed in mission-critical business applications like Oracle database and VMware software. Since it enables the clients to non-distractingly load after a reboot for server maintenance or any failure. CIFS is developed to share the file and print any services and applications applied in small local area networks. Microsoft doesn't help for translucent reconnect until the development of SMB protocol's third version. Microsoft also offers version 2 of NFS, and the protocol of NFSv3 to clients is available to support different Windows versions, and NFSv4.1 servers are deployed at the beginning of windows server 2012. Similarly, Linux also supports SMB client, and Samba is available as open-source software to enable CIFS in Linux and Unix. Apple MAC OS generally works on SMB and also uses NFS. But many commercial enterprises use storage systems to support both NFS and SMB for file transportation and file sharing.
Sun Microsystems developed the NFS protocol as a free source as a request for comments in 1989 that is available from the IETF (Internet Engineering Task Force). The company commercially accredited a reference execution of the NFS source code to a huge number of clients at the beginning of 1985. Special vendors executed their unique version of the Networking File System as a request for comments 1094 policy. The NFS as an open-source version first started in FreeBSD and later deployed in Linux, which is presently predominant for the NFS application. The protocol was first deployed in DOS and an early version of the Windows system by Barry Feigenbaum. The vendors who worked for the improvement of protocols include Microsoft, Intel, and 3Com. Notably, Microsoft was the one who started to define CIFS as a form of SMB protocol that is applied in Windows NT server 3.51 and 4, Windows NT workstation 4 and the Operating system of Windows 98 and Windows NT server 4 is also used to indicates all the attributes of SMB protocol. CIFS was developed to not only services to managed clients, continuos file access and directories deployed on the server system that controls the print queue access and intercommunication services over a wide range of the network. But NFS fails to provide that broad range of access in file-sharing services.
Versions of the Protocols
CIFS tends to be more messy and chatty in communication and often requires file protocol optimization. SMB 2 and SMB 3 overcome this problem and provided more security features to the users, operating at a modern data center over a wide scale. Overtime, NFS showed a major evolution with an advanced version of file locks, access controls, and enhanced improvement.
CIFS vs NFS Comparison Table
The table below summarizes the comparisons between CIFS vs NFS:
| | | |
| --- | --- | --- |
| Behavioral Attributes | CIFS | NFS |
| Definition | CIFS is expanded as a common internet file system used to take remote access in windows operating systems. | The network file system is abbreviated as NFS and mostly used on UNIX or LINUX operating systems. |
| Port Protocols | It works on TCP ports of 139 and 445 and UDP ports on 138 and 137. | NFS server uses port 111 for both TCP and UDP. It operates on the 2049 port for UDP and TCP. To view the cluster and client status, it accesses to port 1110 TCP and UDP. The NFS lock manager is accessed by port 4045 of TCP and UDP. |
| Communication Features | It makes communication chaos. | It makes mess communication but not as poor as CIFS. |
| Utility | Most of the customers uses the Windows operating system; then, it is best to opt for CIFS. | If most of the user's clients are UNIX and LINUX operators, then NFS is the preferred option. |
| Requirement of Sessions | CIFS provides requirement sessions. | NFS doesn't provide requirement sessions. |
| Security | It has many advanced security features and reliable than NFS. | NFS is not a reliable protocol and doesn't provide any special security features. |
| Scalable | It has low scalability features. | It is highly scalable than CIFS. |
| Speed | The communication speed of CIFS is moderate than NFS. | NFS offers a high communication speed. |
| Implementation | It has a complicated configuration, and very difficult to diagnose any faults. | It is a simple and easy installation. NFS is user-friendly with its simple executing commands. |
| File Naming | The file name conversions and enabling the file characters are completely dependent on the user and file-sharing protocol CIFS. CHARMAP is used in CIFS. | The file naming and characterizing is not as easy as CIFS. The legacy file names that comprise certain characters are not valid in operating systems. |
| LDAP Services | It can enable LDAP services to store and access the database. | The configuration system adapted for storage is used to view the information by LDAP servers in NFS. |
| Transportation | CIFS is generally used for direct hosting and NetBIOS dependent transport over IP and TCP protocols. | NFS is a transport dependent protocol and offers a high rate of communication speed. |
| History | Microsoft began to use the term CIFS to define the version of the SMB protocol. It is applicable in Windows NT server 4.0 and 3.78. Occasionally, it denotes all features and versions of the SMB protocol as CIFS. | Sun Microsystems invented NFS around the 1980s to achieve file sharing focus over different networks at a moderate communication speed. |
Recommended Articles
This is a guide to the top difference between CIFS vs NFS. Here we discuss the CIFS vs NFS key differences with infographics and comparison table. You may also have a look at the following articles to learn more –