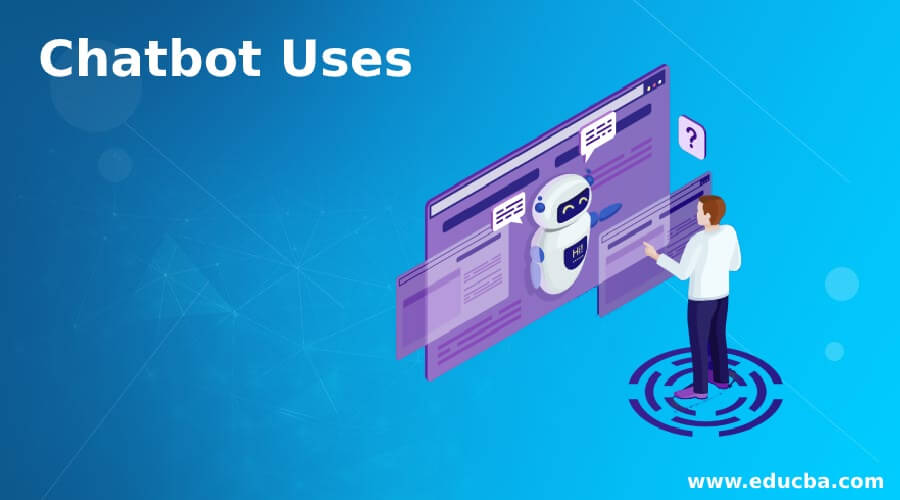 Introduction to Chatbot Uses
We can define chatbot uses as the benefits of having chatbots which can lead our life towards an easier manner by providing 24/7 support through the mode of speech-to-text or only text. The chatbot uses are like they reduce the manpower, can work on any time 24/7, and 365 days of the year without taking any leaves or weekly offs, generate more leads (due to their 24/7 availability), a benefit to the customer of having service irrespective of time-zones, and besides this, their uses also lie in reducing the cost to the company while increasing service speed for the customer.
Different Chatbot Uses
Can you imagine the sectors where chatbots are not in? They are almost everywhere to make your day to day life easy. For customers, a chatbot is something that provides a quick response, faster after or pre-sales services, feeling of being connected to the company personally. For companies, the chatbots benefit by lowering the support cost, generating more leads, and therefore achieving more customers, increasing customer conversion ratio, etc.
The following are some of the industries which are acquired by chatbot support:
1. E-Commerce Industry
The first and foremost impacted industry with the rise of chatbots is the E-Commerce industry. The e-commerce market was valued at USD 9.09 trillion in the past year, 2019. This market value is supposed to reach 10.36 trillion by the year 2020, which specifies the global trend of people buying goods from e-commerce platforms. This increasing, rather increased customers was the biggest headache for them. Why?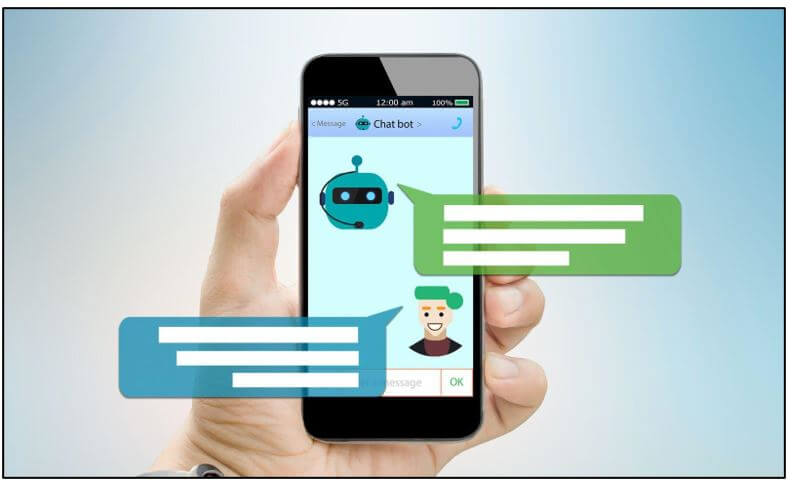 Imagine a situation where you are the owner of an e-commerce platform and doesn't have enough manpower to provide the after-sales services to your customers. Or you don't have enough salesmen to generate leads for you on customer buying preferences. Due to this, they have opted for chatbots, and right now, nothing can be more useful for them than a polite and humble chatbot who can be available there 24/7 for the customers. They help the e-commerce industry in making more money, saving manpower, increasing sales cycle, higher customer satisfaction ratio in after-sales services.
2. Healthcare/Medicine Industry
Doctors have emerged as angels through this COVID-19 era, haven't they? It remains their top priority to be focused on the patients, and that gets affected when they have administrational work to do. It has appeared as a result of research that almost one-sixth of the US physicians working hours are consumed by administrational work.
As per a study conducted in the US, physicians are in favor of using chatbots for scheduling doctor's appointments, locating the closest health centers, providing medical information; as it appears in the current pandemic situation, chatbots are even helping to conduct basic user information.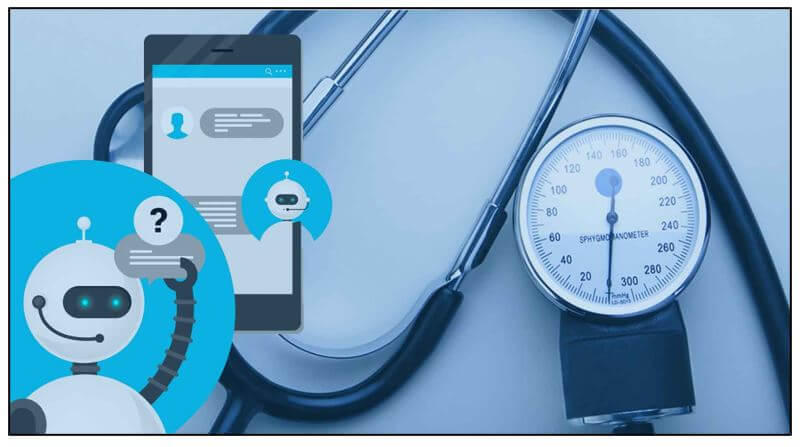 WhatsApp has recently tied up with WHO and launched a chatbot service that can answer users' questions/concerns regarding COVID-19. The government of India has also launched the My Gov Corona Helpdesk in association with WhatsApp, which helps people access countrywide and global information about the pandemic.
3. Banking Industry
This industry should have been at the second position if not the COVID-19 going on. This sector has used chatbots to reduce human traffic in banks. Imagine you could have a personal banker, relationship manager, loan agent, etc., at your fingertips. Forget about going to the bank every day. This is the reason; nowadays, if you travel towards the bank, you will not have a long queue to follow.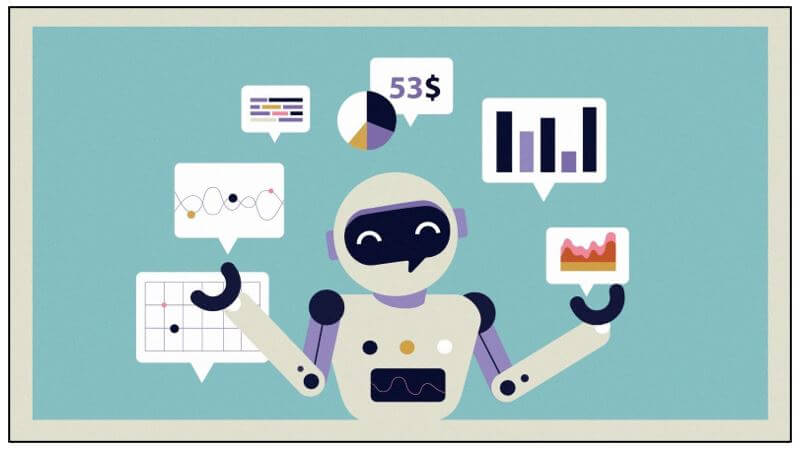 They are also helping banks in making data-driven decisions. Such as what should be the interest rate for the fixed deposit for particular customers, if a customer spends a certain amount of money through transactions in a month, he or she will be eligible for a certain gift-voucher, etc.
4. Traveling Industry
The travel industry has adopted the chatbot system as any of the above three has. The core reason behind it is the fact that a human is only working for eight hours, and traveling agencies should always get customers across the globe according to their time zones. A chatbot allows you to generate customer leads associated with traveling with 24/7 and 365 days of year assistance (It never takes an off-day, you know!) for your business which is similar to choosing a trip, making reservations, accommodation services, etc.
5. B2B Industry
A B2B company usually looks for the three important data points that give information about the customer and their approach. These three data points are Name, Mobile Number, and E-mail ID. These three data points are of high importance for the B2B industry to generate leads. It is nice to have an assistant chatbot instead of a human salesperson who can manage 24/7 the platform through where the leads are coming (Ex. Linkedin, Facebook, etc.). Chatbots will help you get leads from every corner of the globe irrespective of the time zones and without human power being involved.
Limitations of Chatbots
Given below are the limitations mentioned:
The first limitation is the response limit. Since the chatbots are developed based on the behavioral database, it has limited scope to the questions you ask and may sometimes not able to assist you at all.
You can ask one question at a time, and your first response will be considered by chatbots. That's why in case you are asking multiple questions or just trying to correct the previous answer given, you are done.
Chatbot and its efficiency are highly dependent on language processing, due to which it fails sometimes as language processing has limited scope due to different accents, spellings, and mistakes, etc.
Conclusion
Chatbot has acquired almost every other industry due to its 24/7 availability and companies urge towards reducing manpower. E-commerce industries are one of the pioneers in using chatbots for lead generation, customer support, increasing sales cycle, and what not. The healthcare industry has seen a recent increase in using chatbots to help patients fix meetings with doctors, access basic health conditions, guide people towards the nearest health centers, etc. Banking has used chatbots to reduce human trafficking in banks. You can have your personal manager, wealth manager, loan manager, nearest atm locator all at your fingertips. The traveling industry has adopted chatbots to help them manage the global customers 24/7 without taking leave in generating leads, customizing bookings, hotel rooms for customers, tour details, etc.
Recommended Articles
This is a guide to Chatbot Uses. Here we discuss the introduction, the different chatbot uses along with limitations, respectively. You may also have a look at the following articles to learn more –