Updated February 17, 2023
What is the Full Form of CGPA?
The Full form of CGPA is Cumulative Grade Point Average. In schools and universities, CGPA assesses a student's academic success by assigning A, B, C, D, or F grades. Also, the CGPA considers the average grade point in all subjects except those listed in the study plan. In India, the basis of the grading system is the percentage obtained, which varies per country, depending on ideals and institutional approaches.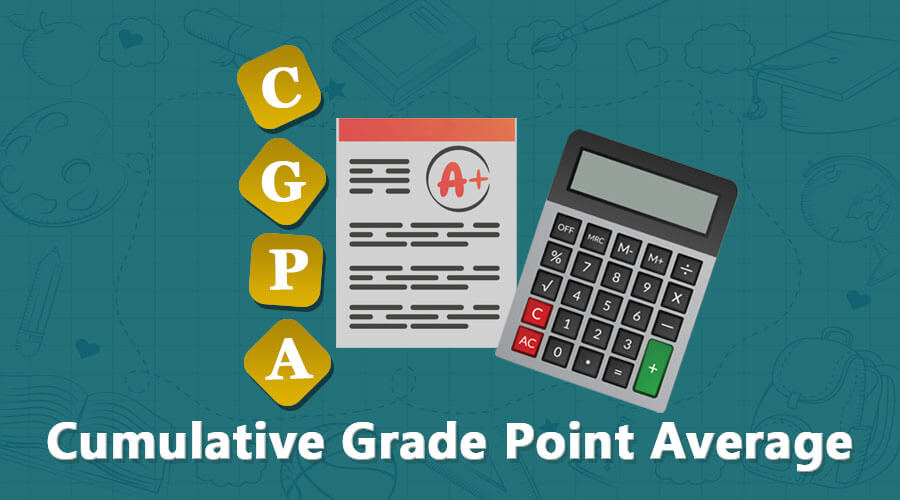 What exactly is a Grade Point Average (GPA)?
To understand the cumulative grade point average concept, we must first understand GPA. GPA is the basis of calculating CGPA.
Grade Point Average (GPA) is a term that refers to grades for a single subject or semester. GPA is linked/associated with CGPA because a student must have a good GPA in each course to have a good CGPA overall. In short, a student's GPA must be consistently high to get a high CGPA.
Difference Between GPA and CGPA
| | |
| --- | --- |
| GPA | CGPA |
| The CGPA is the average of the combined GPA scores in all subjects. | A student gets a final score at the end of the year, a final CGPA score based on the average of all their grade points. |
Steps to Calculate the CGPA
Let us look at the example below to see how one can calculate the CGPA score and how to use it to calculate the final percentage.
Assume you have the following grades in your five major subjects to calculate the CGPA:
| | |
| --- | --- |
| Subjects | Marks obtained |
| Subject 1 | 8 |
| Subject 2 | 9 |
| Subject 3 | 7 |
| Subject 4 | 8 |
| Subject 5 | 8 |
Add the marks obtained – 8+9+7+8+8 = 40.
Divide the sum of marks obtained by the total number of subjects, i.e., 5
40 divided by 5 = 8.
The CGPA is 8.
How to Convert CGPA to Percentages
Continuing with the preceding example, if one wants to calculate their percentage based on their CGPA score, they can use the following formula:
Multiply the CGPA score by 9.5 to get the percentage.
In the above case, the CGPA was 8.
As a result, the total percentage is – 8 x 9.5 = 76%.
Reason for 9.5
Different universities and boards looked at the results from the last five years and found the mean score of all candidates, which ranged from 91 to 100.
That average was about 95 points. Because the Grade Point for the group of marks of 91-100 is 10, the average score of 95 was divided by 10. The final result was 9.5. Hence, one uses 9.5 to calculate and convert CGPA to a percentage.
Formula to Convert CGPA to Percentage:
Overall Percentage of Marks = 9.5 x CGPA
Conversion Table to Help Students
Students can easily calculate their percentages by looking at the table below without having to do any calculations:
| | | | |
| --- | --- | --- | --- |
| CGPA | Equivalent Percentage (%) | CGPA | Equivalent Percentage (%) |
| 10 | 95 | 7 | 66.5 |
| 9.9 | 94.05 | 6.9 | 65.55 |
| 9.8 | 93.1 | 6.8 | 64.6 |
| 9.7 | 92.15 | 6.7 | 63.65 |
| 9.6 | 91.2 | 6.6 | 62.7 |
| 9.5 | 90.25 | 6.5 | 61.75 |
| 9.4 | 89.3 | 6.4 | 60.8 |
| 9.3 | 88.35 | 6.3 | 59.85 |
| 9.2 | 87.4 | 6.2 | 58.9 |
| 9.1 | 86.45 | 6.1 | 57.95 |
| 9 | 85.5 | 6 | 57 |
| 8.9 | 84.55 | 5.9 | 56.05 |
| 8.8 | 83.6 | 5.8 | 55.1 |
| 8.7 | 82.65 | 5.7 | 54.15 |
| 8.6 | 81.7 | 5.6 | 53.2 |
| 8.5 | 80.75 | 5.5 | 52.25 |
| 8.4 | 79.8 | 5.4 | 51.3 |
| 8.3 | 78.85 | 5.3 | 50.35 |
| 8.2 | 77.9 | 5.2 | 49.4 |
| 8.1 | 76.95 | 5.1 | 48.45 |
| 8 | 76 | 5 | 47.5 |
| 7.9 | 75.05 | 4.9 | 46.55 |
| 7.8 | 74.1 | 4.8 | 45.6 |
| 7.7 | 73.15 | 4.7 | 44.65 |
| 7.6 | 72.2 | 4.6 | 43.7 |
| 7.5 | 71.25 | 4.5 | 42.75 |
| 7.4 | 70.3 | 4.4 | 41.8 |
| 7.3 | 69.35 | 4.3 | 40.85 |
| 7.2 | 68.4 | 4.2 | 39.9 |
| 7.1 | 67.45 | 4.1 | 38.95 |
| – | – | 4 | 38 |
Recommended Articles
We hope that this EDUCBA information on "CGPA Full Form" was beneficial to you. You can view EDUCBA's recommended articles for more information,