What is Cartel?
A cartel is an agreement among businesses to restrict competition in goods/services they provide to control product prices, mostly illegally.
For example, one legal cartel is OPEC (Organization of Petroleum Exporting Countries). It oversees the petroleum price changes worldwide. The countries Iran, Kuwait, Iraq, Venezuela, and Saudi Arabia started it in 1960. Later on, a lot of countries all over the world joined this agreement.
This behavior can take many forms, such as price fixing, market sharing, bid rigging, or limiting the output of goods and services. Due to such behavior, consumers may experience higher costs, fewer options, and lower quality. Businesses and people participating in or seeking to participate in it may be subject to significant fines under the Commerce Act.
Key Highlights
A cartel is a kind of agreement adopted by firms to avoid monopolies among themselves.
Members of the cartel can agree upon prices, products released in the market, shares, customer allocation, and profit-sharing.
The producers/manufacturers work in a group that regulates the prices of commodities per the market's demand.
A cartel is powerful when its members dominate the market and can control the prices irrespective of the demand and supply ratio.
How does Cartel Work?
Cartel form to manage the prices of goods and services. According to The Organization for Economic Cooperation and Development (OECD), they fix the prices, restrict the required output, bid rigging, and allow market allocation.
It is when a group of companies signs a contract stating they will follow uncompetitiveness in the market. It may benefit businesses, but it negatively affects consumers as they restrict the supply by not meeting the demands. They also contribute to an increase in prices.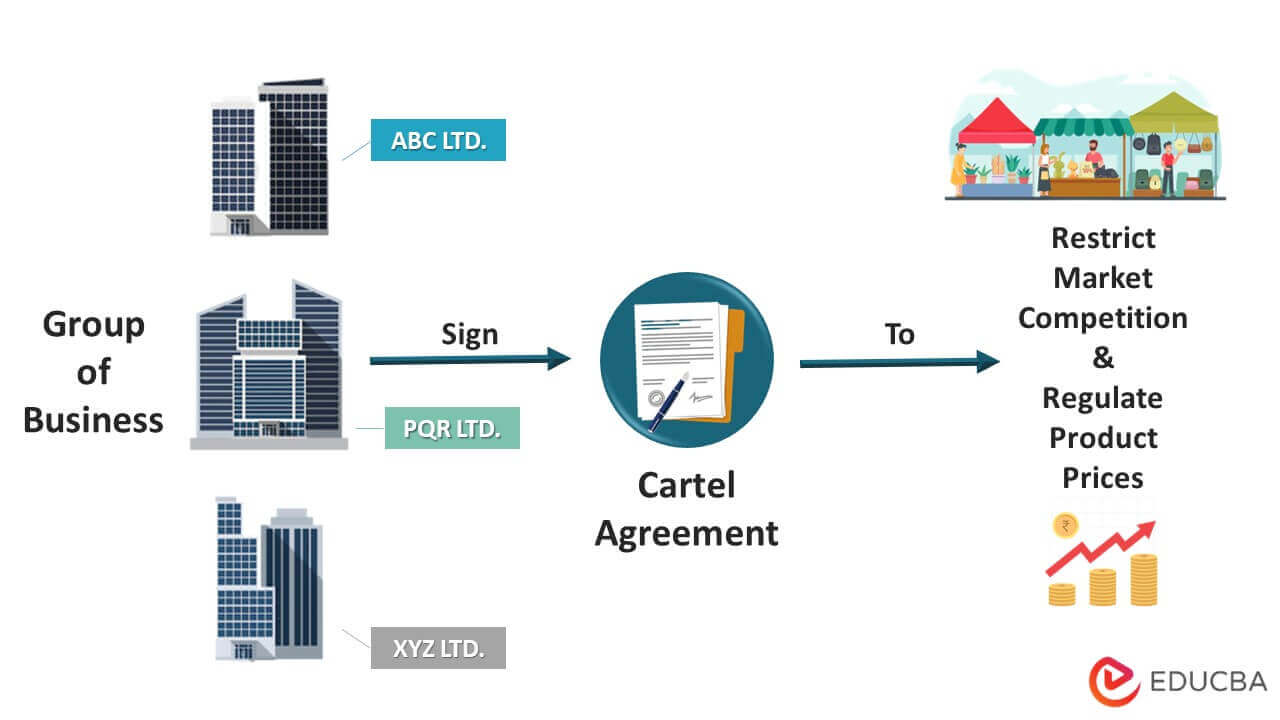 Examples of Cartel
Example #1:
The Spanish Competition Authority has fined ten large dairy companies for violating the cartel rules where these companies exchanged information regarding purchases, prices, and milk surpluses. Hence coordinated with each other and restricted the farmers from obtaining high prices for the milk.
Example #2:
The Qteq, mining equipment, and technology services company has been filed under civil cartel proceedings by the Australian Competition and Consumer Commission(ACCC). There was an allegation on Qteq for involving the competitive oil and gas service industry in the cartel arrangements, which was entirely against their rule.
Why does the Cartel Form?
Only some companies have some market power. This market power makes them counterattack when one of the competitors chooses a detrimental strategy.
For example, if a company announces a sale, then this strategy is followed by other methods, leading to a price war. To conclude, they choose cartels.
If a few companies are the major shareholders in the market, then they can control the market supply by forming such an agreement.
When new companies enter the market, they use this strategy to build their brand, which benefits the company. Thus they can control the monopoly of power and have higher profits.
It forms when business firms cooperate to manage the prices. Thus all the companies that have an extensive network to know about their competitors make them share their strategies.
Is Cartel Good for the Economy?
A cartel is a kind of formal agreement of collaboration. All its members can make the decision together and lead the prices in the market.
It makes the policies in such a way that those policies should avoid losses in the market.
It has monopoly power over the quality, quantity, and price of the products in the market.
Thus, the members fix the supply of the goods by maintaining the high prices and quality of the product.
Hence work on the consumer surplus to improve their profit by maintaining the barriers of the market.
Advantages and Disadvantages of Cartel
| | |
| --- | --- |
| Advantages | Disadvantages |
| The member units receive monopoly-style authority from it. | Individual monopolies have an impact on consumers' disposable income. |
| They can increase product margins to increase gross earnings. | Cartel causes market inefficiencies that could impact the final product's quality. |
| Advertising expenses are less, and clients may quickly learn about the goods. | It might have complete control over the individual, making other members unstable. |
| The participant's responses to the business cycle were unaffected. | There is no incentive for the market to become more efficient. As a result, goods prices continue to be high. |
| They can readily control production efficiency by supply limitations. | According to consumer needs and other economies of scale, demand will change. That, however, is unable to control the market. |
Final Thoughts
Cartel is most effective when consumer spending for the product is not highly price-sensitive. Due to consumers finding less expensive alternatives to the product, prices frequently become elastic over time, which is why they are more effective in the short run.
Additionally, fluctuations in demand often result in disputes among members over restrictions on capacity and output. Additionally, there is frequently a strong incentive for equity fund participants to violate their commitments, which can result in other disputes and make it challenging to maintain cohesion.
Frequently Asked Questions (FAQs)
Q1. What constitutes a cartel's primary issue?
Answer: Cartel is a barrier to entry by discouraging new participants from the market. Competition brought on by price-fixing agreements causes a need for more innovation. Companies would look to enhance their production or product to acquire a competitive edge under non-collusive agreements.
Q2. What causes the cartel to be unsteady?
Answer: A successful agreement can provide incentives to members, which can lead them to cheat. It is a popular reason for their instability. Retaliation after cheating makes them more likely to fail.
Q3. Why does the cartel disband so quickly?
Answer: Many collusive arrangements between firms in an oligopoly eventually fall apart, perhaps due to a breakdown in cooperation between firms, cheating on production agreements, disclosure by the competition authorities, or the effects of a recession.
Recommended Articles
This article taught you about cartels, a few examples, and their advantages and disadvantages. To learn more about this topic, you can refer to these articles,