Updated July 29, 2023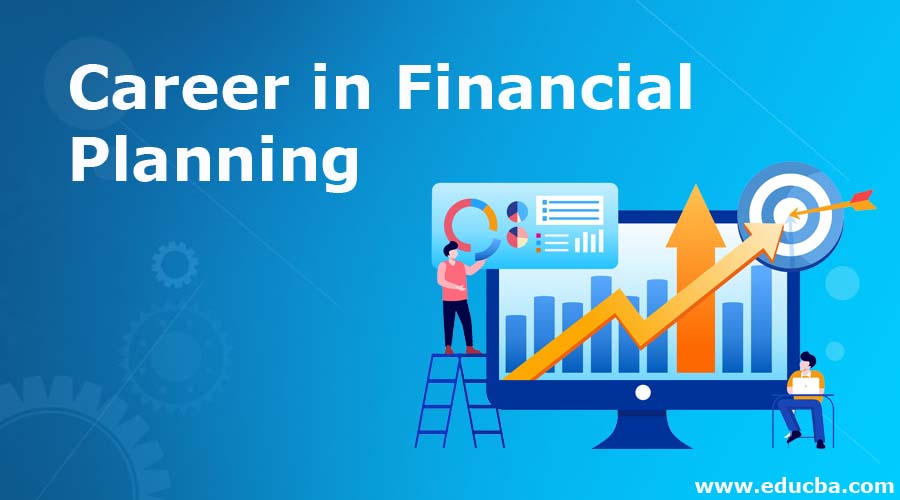 Career in Financial Planning
The Career in Financial Planning could be super-rewarding if one naturally dreams of being self-employed. A Financial Planner would not just make a difference in others' lives; what flows through him would always stick with him so well. It will be like the teacher can learn more than the students. If chosen to work for corporates, a Financial Planning Analyst will make Operational, Financial, and Strategic decisions for the senior management. In addition, they will work with the Treasury team to discuss the cash flows and expenditures directly with the development of any venture.
Educational Requirements for a Career in Financial Planning
The basic qualification is a Bachelor's degree in the streams such as Accounting, Finance, Economics, Business, Mathematics, or Law.
A strong fundamental in accounting and understanding the financial statements are a must. Taking courses in Financial Planning is the best to achieve it. Being skilled in Excel and its shortcuts, formulae, and functions is expected. There are Excel courses to sharpen. Further, Performing valuation and financial modeling should be learned through Advanced Financial Planning courses. Good knowledge of cash flow modeling is also appreciated.
Students with the above qualifications have numerous opportunities in several sectors due to flooding. One must obtain CFP (Certified Financial Planning) certification, which is accepted and respected by the Global Financial Community, as companies also prioritize professionals with certifications. This option is ideal for commerce graduates who have completed their graduation.
Career Path in Financial Planning
The remuneration levels differ in the market for the areas where Financial Planners are needed. Therefore, one should be in constant touch with the market changes in Financial Planning Strategies, Products, and Trends to provide the best advice to clients.
A career in Financial Planning would benefit anyone in the following ways:
With the advent of the internet everywhere, many people want Financial Advice from professionals for their Financial decisions and investments.
Certified in Financial Planning would be recognized across the Globe.
Providing advice and services to individuals can empower students.
Not just gratification, it could also give one the most important work satisfaction which many other fields lack.
Even as an individual, it helps one get hold of Financial Planning for himself.
The competition is very low as there are only fewer people in the field.
Job Positions or Application Areas for Career in Financial Planning
One could expect opportunities in sectors like:
Banking and Finance
Wealth and Money Management
Income Tax Planning
Funds Management
Portfolio Management
Investment Banking and Consultancy
Retirement Planning
Insurance Products and Investments
General Insurances
Financial Advisory Services
Real-Estate Planning
Financial Products Designing
Financial Products Marketing
Salary Perspectives
The National average salary for an entry-level Financial Planning analyst would be around 4.61 Lakhs per annum, referenced from Glassdoor.com.

In addition to the salary, a Financial Planning Analyst could also expect Profit sharing from any company and also the commissions.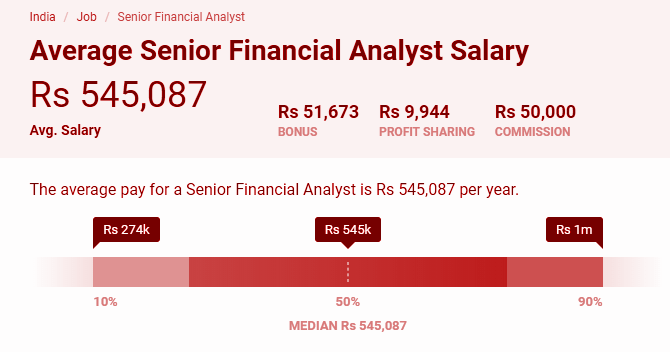 Concerning the information provided on Payscale.com, a Financial Analyst earns up to 1 million per year.
Career Outlook in Financial Planning
The important factor that could make one a successful Financial Planning Analyst is high proficiency in analyzing accounts-related data. One must also possess the skills to determine economic, statistical, and financial risks and organize real-world solutions in every project he involves. A Financial Planning analyst with years of expertise will be expected to mentor a team of analysts, actively assigning tasks, reviewing them, determining risks and their rewards, and motivating others to develop and enhance their existing skills.
Any small-big-sized company would require a financial planning analyst. The size of the company and the work environment shall vary, but the important task includes providing support to various areas of the company importance that the position holds doesn't. The roles and responsibilities could include traveling between officers or even globally. However, the role that any financial analyst needs to fulfill will vary according to the complexities of the work in different companies, the nature of the business, and the management's crucial deadline for funds.
The roles and responsibilities include providing financial analysis and support to various areas of the company; Preparing detailed annual financial budget and monthly financial forecast for the company and the management; assisting with the preparation of weekly, monthly, and quarterly financial analysis schedules of the actual vs budget variances of the company and its management. The proof of becoming a financial advisor or a financial planning analyst is that the role will provide a range of opportunities that is not widely available in many career fields. In addition to offering valuable advice to the clients, the financial planning advisors will also have unlimited earning potential and flexibility in work schedules. They would also have control over the practice.
In a world of consumers, anyone must choose the most rewarding career. Consumers frequently feel overwhelmed and confused when choosing their investments or the insurance they should select. So here comes the financial advisor, who has the privilege of playing a pivotal role by educating the client in making suitable decisions to succeed in financial life. The success of any client will equate to the success of a client's financial advisor.
Finding a balance between work and financial life would be challenging for any professional. Still, for someone who would choose to be a financial advisor, it is easy to have the privilege of limiting his working hours. And he could also choose to be a seasonal advisor and take advantage of scheduling the client meeting based on his personal calendar.
Conclusion
The projected growth rate would be around 15% by the end of 2024, significantly higher than the average job outlook, around 7 percentage according to the Bureau of labor statistics.
Recommended Articles
This has been a guide to Career in Financial Planning. Here we have discussed education, career path in financial planning, job position, salary, and career outlook in financial planning. You may also look at the following articles to learn more –