Updated August 14, 2023
What is a Capitalist Economy?
Capitalist economy or capitalism refers to an economic system where private firms control and govern factors of production such as capital goods, labor, natural resources, and entrepreneurship. The government in such an economy has less or no control over the system.
For example, Singapore is No. 1 on the list of top capitalist countries. It proves that the country has better financial freedom and successfully handles global trade, revenue collection, and other issues. Although the state owns 90% of the land, they invest the income from those lands for the public, making the economy capitalist.
The main motive or goal is to earn profit. There is no such governing body that controls the flow of money. It solely depends on the businesses that own or control the venture.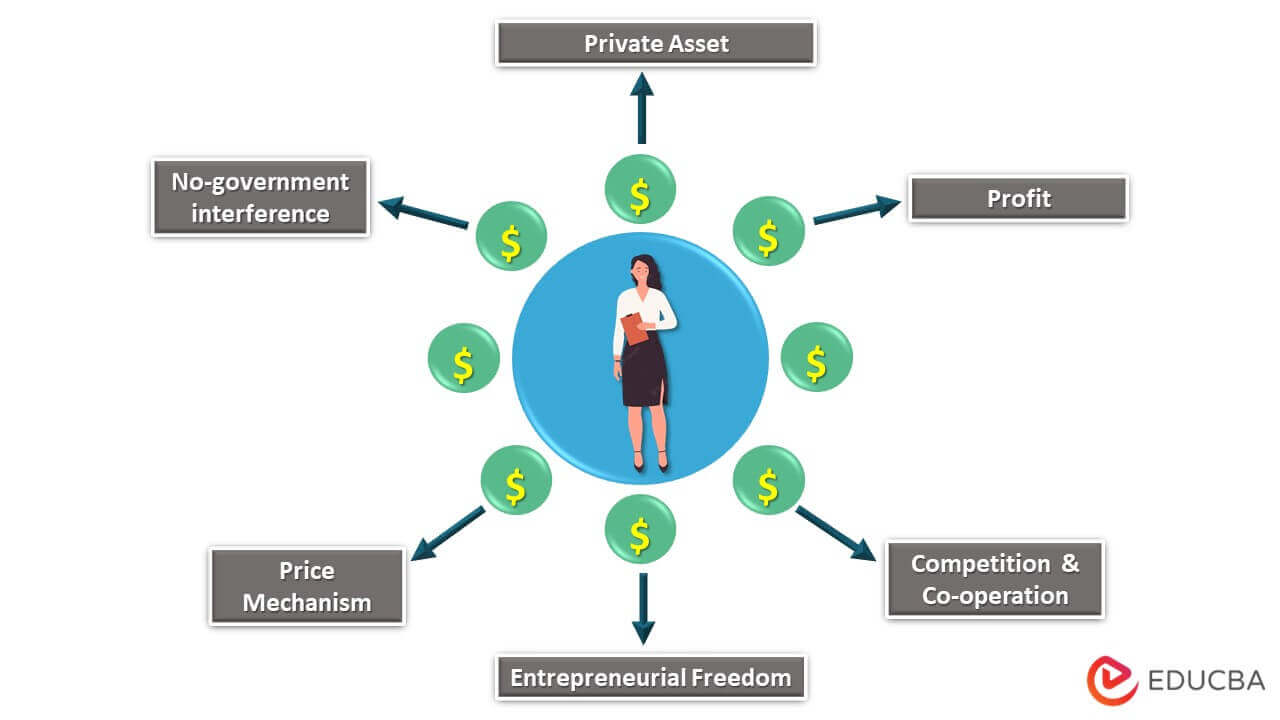 Key Highlights
A condition where a business completely owns the factors of production is known as a capitalist economy.
People and corporations are encouraged under capitalism to maximize their profits through competition in the market.
The two-class system, private ownership, profit motivation, minimum government intervention, and competition are only a few of the many distinctive characteristics of capitalism.
Incentivizing businesses and individuals to work hard and be innovative produces an environment of innovation and economic growth. Greater real GDP and higher living standards are a result of this.
How Does it Work?
Under capitalism, supply and demand determine how much things cost and how much people get paid. The goal of a capitalist is to maximize value (profit) while minimizing expenses. Customers seek out high-quality products and services at competitive pricing. Producers are compelled by competition to satisfy consumer wants.
Therefore, rather than regulating the free market, the government's job is to uphold the legal rights of all participants (producers and consumers). This implies that profitable businesses generate the most value at the lowest expense under capitalism. When consumers learn they can get the same value for less money, businesses that fail to produce value effectively will be driven out of the market.
Examples
Example #1:
New Zealand is recognized as a highly developed free-market economy, which makes it a capitalist economy. In New Zealand's economy, the exports of goods and services contribute one-third of the actual expenditure of Gross Domestic Product or GDP. Also, they have a low-inflation environment that keeps their economy stabilized.
Example #2:
The United Kingdom has been on the verge of following a capitalist economy since the 16th century. In the general market, the production of goods and services is entirely based on the concept of supply and demand rather than following central planning; that's how it's been for centuries.
Features
Entrepreneurial Freedom
In a capitalist economy, people can pursue any profession they want. According to the idea of enterprise freedom, commercial enterprises can acquire resources and use them to create goods or services.
Additionally, businesses are free to sell their goods in any market they choose. An employee has the choice of which employer to work for.
Price Mechanism
It implies that the forces of supply and demand freely determine the price. The price established in this manner directs producers and consumers to make their respective choices.
This price mechanism controls all economic activity, including consumption, production, saving, investment, etc.
Competition and Cooperation
No restrictions exist on how or when businesses can enter or leave a capitalist economy. No business can earn more than a respectable profit since many manufacturers are available to provide a certain good or service.
The capitalist system depends on competition; therefore, it's important to safeguard customers from being taken advantage of.
Profit
Self-interest is the guiding principle of capitalism. Entrepreneurs know they will be responsible for the profit or loss once all other manufacturing costs have been paid.
As a result, they constantly receive urging to boost their residual profit by lowering expenses and raising prices. The result is a self-regulatory and efficient capitalist economy.
No Government Interference
The pricing structure acts as a coordinating agent in a free-market or capitalist economy. Government intervention or support is not necessary.
The role of the government is to promote the open and effective functioning of markets.
Private Assets
In a capitalist society, people have the right to own property. A person can buy the property and use it to benefit their family.
There are no limitations on earning money and acquiring wealth or on owning property, equipment, mining, or businesses. After a person's death, property or money is transferred to their legitimate heirs.
Advantages & Disadvantages
| | |
| --- | --- |
| Advantages | Disadvantages |
| As people put in a lot of effort, they can keep a sizable portion of their money and use it to purchase various items they desire or need for themselves. | Capitalism may potentially widen the wealth divide as the increased income will widen the wealth gap between wealthy and middle-class families. |
| People are also permitted to amass substantial quantities of wealth in capitalist nations. | Capitalism actively promotes the idea that everyone should purchase as many material goods as possible. |
| The degree of rivalry in an economy can also increase due to capitalism. | Capitalism can promote the growth of private monopolies. |
Final Thoughts
In a capitalist society, individual business owners control the production of goods and services instead of a governing body. These businesses compete with one another for clients. Nowadays, economists concur that a free market economy has several flaws that must be fixed. The government must step in and enforce regulations to ensure that the economic engine doesn't occasionally break down.
Frequently Asked Questions (FAQs)
Q1. What are the characteristics of a Capitalist Economy?
Answer: Competition, private property, intention to be profitable, and minimal government intervention are the key characteristics of a capitalist economy. These factors control the overall concept of it.
Q2. What does it mean to be a capitalist?
Answer: Individual capitalists are often wealthy individuals with significant capital (cash or other financial assets) invested in their businesses. They gain profit from capitalism by increasing their wealth through increased profits.
Q3. What is a capitalist economy example?
Answer: In a capitalist economy, there is no direct government interference apart from controlling monopolistic economic activities. Some of the classic examples of capitalist economies are the United States of America, Japan, Germany, the United Kingdom, and Singapore.
Q4. What are the types of capitalism?
Answer: There are five types of capitalism. The first one is Turbo Capitalism, where capitalism is not regulated. The second one is Advanced Capitalism, where the economy is stable with high living standards. The third one is Crony Capitalism, a monopolistic economy, and the influence of organized business or crime. The fourth one is Responsible Capitalism which is highly regulated. The last one is State Capitalism with strong political control, such as in China.
Recommended Articles
This was a complete guide on the topic of capitalist economy. It covers its definition, advantages & disadvantages, examples, and much more. You can learn about similar topics from the following articles.