Updated July 13, 2023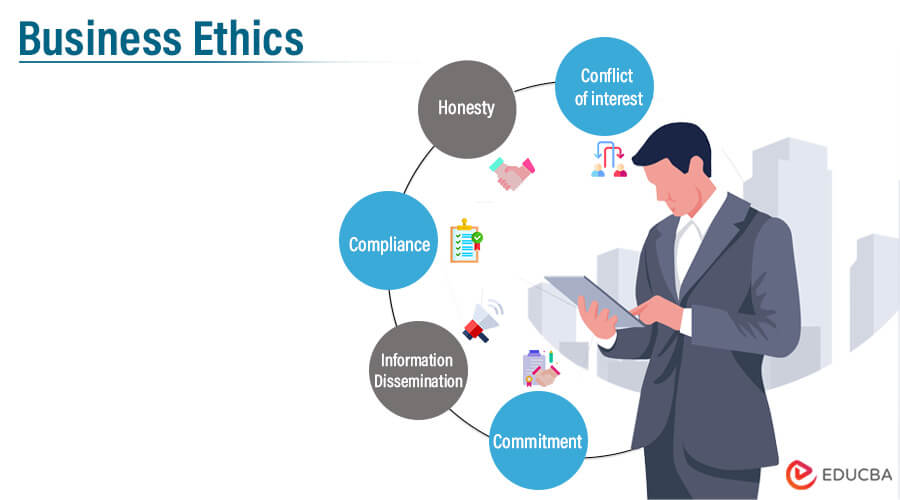 Definition of Business Ethics
The term "Business Ethics" refers to a set of ideologies a company intends to follow while conducting business transactions. These ideologies act as the guiding principles for a company to conduct itself acceptably in a professional setting.
In addition, it is a set of appropriate business policies followed during potentially controversial situations, including bribery, insider trading, discrimination, corporate governance, fiduciary responsibilities, etc.
Key Takeaways
Some of the key takeaways of the article are:
It is the implementation of appropriate policies and practices to guide actions in arguably controversial situations.

Some issues in the purview of business ethics include bribery, insider trading, discrimination, corporate governance, fiduciary responsibilities, etc.

Some of the most common underlying principles that drive it include honesty, conflict of interest, compliance, information dissemination, commitment, etc.
Examples of Business Ethics
Now, let us look at some of the most common examples of Business Ethics:
Put Customer's Needs First:

 Most companies prefer building a customer-centric culture by hiring people who engage with the customers and put their needs first. For instance, let us assume that a customer enters a store for a product with particular requirements. A customer-centric company would provide the product that best suits the specific needs instead of upselling or encouraging the customer to purchase a product that doesn't meet the requirements.

Maintain Transparency:

From the perspective of an ethical workplace, transparency and clear communication are paramount. Companies following such business ethics believe that employees and consumers should never be lied to as it adversely impacts the trust within the business. For instance, if such companies face any public relations crisis, they prefer to address the issue directly with the stakeholders by truthfully describing the events unfolding and humbly accepting the criticism.

Uphold Workplace Diversity:

Nowadays, companies focus on workplace diversity and intend to offer equal employment opportunities to everyone. Although there is much debate on how to uphold workplace fairness, there is no doubt that it is one of the most important ethical standards that businesses follow. For instance, companies involve employees from different backgrounds in the hiring process to bring diverse perspectives to the recruitment process and ensure that different types of applicants are selected. In this way, these companies can uphold the business ethic of workplace diversity.
Principles of Business Ethics
Various underlying principles drive the development of different business ethics among companies. Let us look at some of the most common underlying principles.
Honesty:

Any business involves various financial matters, making dealing with honesty and integrity essential.

Conflict of interest:

All companies emphasize their operations to ensure that they are not involved in any situations that pave the way for any kind of conflict of interest.

Compliance:

 The companies must ensure that all their business transactions and operations comply with all the relevant rules and regulations governing the industry.

Information dissemination:

It is very important to convey accurate and reasonable information to employees and customers, whether positive or negative.

Commitment:

 One of the mantras of successful businesses is their ability to fulfill their obligations. Stakeholders trust companies that keep their promises not just in the letters but also in the spirit.
Importance
The importance of business ethics for any company can be broadly divided into two major categories – Internal organization and External perception.
Internal organization:

 It is difficult for companies to control each employee's actions individually, so it is better to provide the employees with organizational guidelines that they should follow in case of any ethical conundrum pertaining to the business. In this way, the companies can guide values, implement a code of conduct, and foster a culture of compliance.

External perception:

A company's business ethics can impact its reputation and public perception. A company with strong ethics can build consumer trust and avoid expensive legal actions. In contrast, a company with low ethical standards is more prone to public resentment and costly legal violations.
Advantages
Some of the major advantages are as follows:
Companies with high ethical standards can attract customers and command more loyalty.

Strong business ethics can be a company's unique selling point, boosting its reputation and revenue.

Typically, employees are more comfortable working for companies that ethically do business.

Strong business ethics build trust among the investor communities. In other words, investors are likelier to invest in companies that follow strong business ethics.
Disadvantages
Some of the major disadvantages are as follows:
Ethical business practices may sometimes limit a company's ability to maximize profit. As such, small businesses might find it challenging to follow strong business ethics as they can't afford to lower their gain beyond a certain extent.

Development, implementation, and maintenance of business ethics are time-consuming. The ethical practices must be updated regularly to align with the changing laws and regulations.
Conclusion
So, it can be seen that business ethics are a critical aspect of any organization. They help businesses trade, interact honestly and fairly, and keep employees committed to the organization's goals and objectives. Moreover, in the current competitive scenario, business ethics can be a distinguishing factor for companies as consumers are more aware and prefer to deal with honest, ethical, and fair companies. However, ethical standards can vary across companies, and each company should determine its business ethics based on its goals.
Recommended Articles
This is a guide to Business Ethics. Here we discuss the definitions, principles, importance, and examples of Business Ethics, along with the advantages and disadvantages. You may also have a look at the following articles to learn more –