Updated July 13, 2023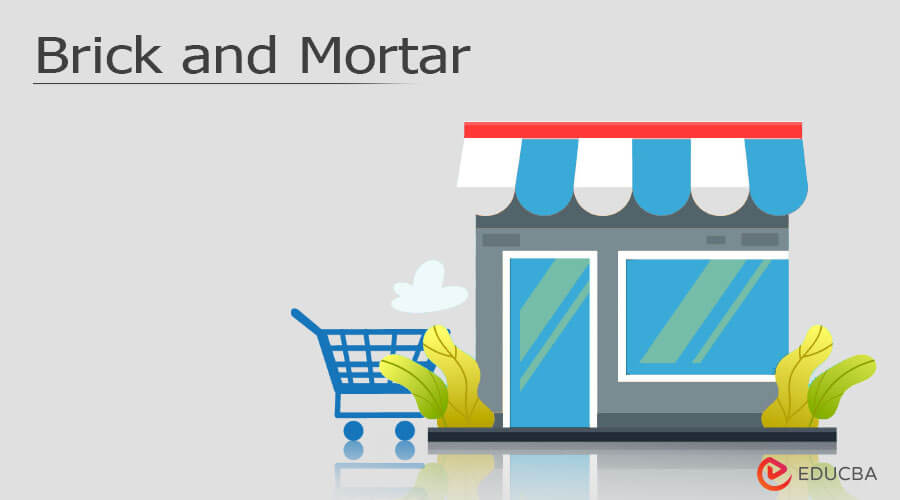 Definition of Brick and Mortar
Brick and Mortar refers to the business model where the business stores have a physical presence, and the customers have face-to-face experience. The products and services are offered to customers who visit the shop/stores in person. It works in opposition to the e-commerce business system.
How Does it Work?
Brick and Mortar is the traditional way of running a business where they have any store or outlet in one physical location, such as office buildings or shops where customers come in person to buy the products or experience the service. It is more of a retail shop where a customer visits the stores and interacts with the store executives, experiences a demo or trial, and gets more satisfaction in the purchase. Still, some customers prefer visiting shops in person rather than online, where they feel it is more trustworthy and can experience better customer service.
Example of Brick and Mortar
Walmart is the best example of a brick-and-mortar store where customers can go and buy the products directly from the store, and they have their store at multiple locations and have made it accessible to the customers. Simultaneously they have their online business, and it is growing at a rapid scale. Business models which operate in both ways can attract customers of all segments.
Challenges of Brick and Mortar
Brick and Mortar stores have a tough time with more e-commerce participation in the later years, online retailers like eBay, Amazon, etc., have gained more popularity and customer population as the products are offered at a cost lower than the Physical retail stores. With more customers moving towards online shopping, considering the price efficiency, the physical stores are forced to reduce the price of the goods to compete with the digital players and end up with less or no profits. Therefore, many stores are parallel creating their digital presence to sustain the market and offer more facilities to the customers.
E-commerce vs Brick and Mortar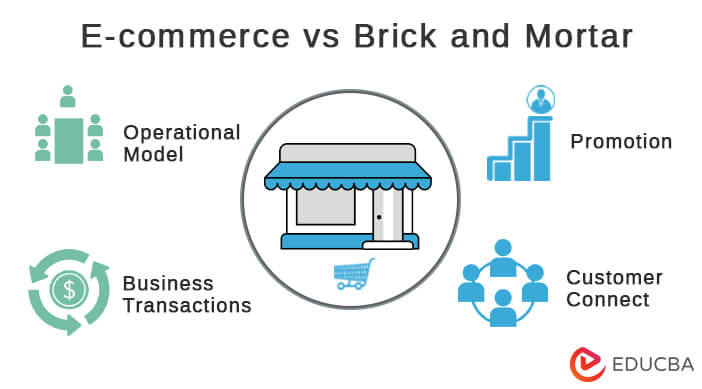 E-commerce and Brick & Mortar consider retail stores; they vary greatly in how they operate.
1. Operational Model
The Brick and Mortar business model operates via physical stores; they have at least one physical location in the form of store/ outlets where the customers can visit and purchase the products, whereas e-commerce is a digital medium where they purchase the products through the vendor's website. The products will be delivered to the home/ required location of the customer. Running physical stores comes with more cost than e-commerce, as the operational expenses of running a store would cost more, and it would be tough to match the price of e-commerce players.
2. Business Transactions
The payment for transactions is made in cash or online via debit cards, credit cards, Net banking, UPI, etc. Most online shopping transactions are done online, whereas, in brick-and-mortar stores, both cash and digital payments are accepted. However, some customers still don't prefer online payments through websites as there is always a chance for fraudsters and scams happening in online transactions.
3. Promotion
Promoting and marketing vary a lot regarding e-commerce and brick and Mortar. E-commerce prefers advertising through online and digital marketing like paid search, social media, e-mail marketing, etc. In contrast, brick and mortar prefer their marketing through customary techniques like brochures, television, newspapers, billboards, and radio. They also prefer digital marketing when they operate simultaneously through digital means.
4. Customer Connect
Brick and Mortar stores physically interact with their customers when they visit the stores and help them with their selection and answer all their queries, whereas, in e-commerce, the customer support representative can be reached only for specific cases; otherwise, most are virtual assistants. And also, the customer can try the products and experience the demo in the case of brick-and-mortar stores; the same is not possible with e-commerce, but in e-commerce, you can return any defective goods within a specific period.
Benefits
Customers have a better shopping experience as they can purchase the products instantly instead of waiting for delivery. Also, they can speak directly to customer representatives and get answers to all their questions. Taking guidance from a person rather than virtual assistance is very convincing.

Customers have the option to try the products before buying (E.g.) Apparel. They can touch and feel the products and experience the trial and demo. (E.g.) TV, music players, etc.

Customers better trust payment processes in physical stores, as some fraudulent activities happen in online shopping.

Better customer relationships and trust can build with the operation of physical stores as they meet in person and the representative's connections with the customers.

Shipping products come with a high cost, and also, in case of return of goods, it includes a double charge. Also, there are chances for goods getting stolen during shipping and materially different products as sales returns; all of these can avoid in a brick-and-mortar store. The returns can avoid mostly in brick and mortar as the customers try the products, and returns come at no cost as they directly visit the stores.
Disadvantages
With more e-commerce participation, there is a shift in customer base; customers save traveling time to stores through online shopping.

Brick and Mortar has more operating costs than a physical store; it comes with rental costs, maintenance costs, staff costs, etc. Therefore, it may impact the price of the goods as they have to cover the operating cost.

Building and running a brick-and-mortar store takes more time and comes with more competition.

E-commerce stores operate 24×7, and all 365 days a, customers can place an order anytime, whereas brick and mortar store has limitations with respect to the timing of running the stores.

Scalability is limited with brick-and-mortar stores as the physical stores are set up in a particular location. However, expanding the stores in multiple locations means more investment and time is needed, restricting business growth. Also, the customer experience is limited to the people near the stores.
Conclusion
Brick and Mortar stores have advantages in doing business; they provide a better customer experience and make it easier to earn customers' trust. Moreover, with a growing digital presence, it is good to accompany the physical store with an e-commerce store as now the customers can both visit the store and buy online.
Recommended Articles
This is a guide to Brick and Mortar. Here we also discuss the definitions, working, examples, and challenges of Brick and Mortar along with its benefits and disadvantages. You may also have a look at the following articles to learn more –