Updated June 2, 2023
Introduction to Big Data Techniques
Long ago, men lead a nomadic life before gradually turning to agriculture. The invention of the wheel, fire, and steam engine are often turning points in the evolution of humanity towards mechanization and greater life comforts.
Likewise, Newton's Law of Motion and Gravity, Einstein's Theory of Relativity, and Law of Thermodynamics have all revolutionized science and influenced applied science. The invention of the computer, the arrival of the personal computer, and the graphical user interface (GUI) are all milestones in the development of the digital era. The binary numbers, zeroes, and ones are at the heart of assembly-level languages.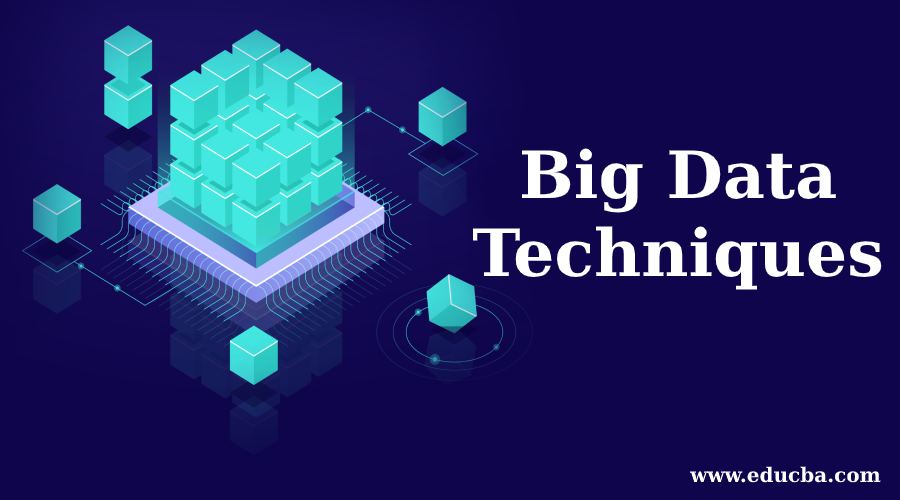 Binary to Big Data Techniques
At the hardware level, zeroes and ones power the circuits in a computer. At the business level, Big Data techniques are making a sea change in how companies devise marketing strategies to stay competitive. It can consist of anything from single digits and multiple digits, all containing vital information about the market, the functioning of a machine, the human body, e-commerce transactions, or just about any day-to-day activity that may or may not have anything to do with buying or selling.
It is usual for businesses and accounting professionals to talk about assets and liabilities. Conventionally assets denoted the machinery, technology, know-how, human resources, infrastructure, and also financial assets.
Now a paradigm shift is happening. Along with these tangible assets, some pieces of single and multiple digits or data have become the most invaluable asset as organizations and markets grow in size. From the marketing and big data strategy point of view, data has become the most important asset.
Businesses are growing in size and scale. No longer is small beautiful or viable. Multi-country operations, big malls, and large-volume e-commerce businesses have set a new trend across the globe. To succeed in this big business, data and data analysis have become critical. Businesses are after Big Data Hadoop to utilize it to gain market intelligence and understand customer requirements.
The confluence of technology and data analysis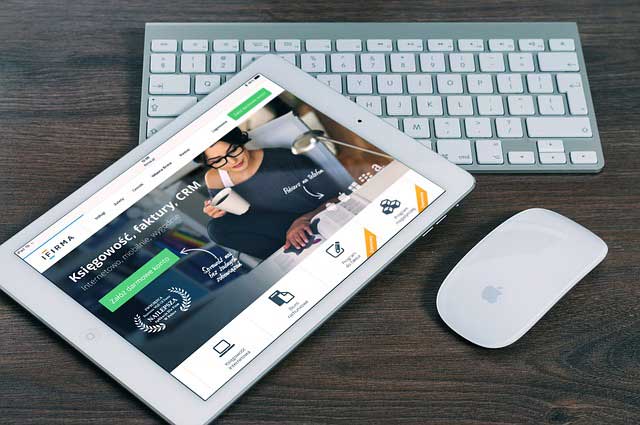 Image Source: pixabay.com
Organizations' big data techniques will be meaningless unless there is a supporting technology to mine data, process and organize it for businesses to use this vital asset. Bernard Marr, a renowned writer and analyst, has said that companies, irrespective of their size, be it a Fortune 500 company or a small mom-and-pop store, would require the use of Hadoop Big Data to witness the change it brings to businesses.
Big data techniques are a collection of large datasets. They are in huge numbers and require complex programs to analyze and create meaningful information from them. It could be buying habits, the frequency of going to movies, login frequency websites, online purchasing, ordering groceries, changing mobile handsets, etc.
Various tools, frameworks, and techniques are necessary to analyze large data sets, and they have become common in the industry. According to experts, it is not the data that is important but what the company does with those data.
Although Hadoop has emerged as the most popular among various technologies and platforms, it may have drawbacks. It is an open-source development platform in C, C++, and Java language. Hadoop helps organizations analyze a huge amount of data in real-time.
Big data techniques in Real Time
Collecting, storing, moving, and analyzing is not a static activity but also a dynamic one involving real-time environments. Data is continuously collected for airplanes, automobile engines, monitors connected to patients in hospitals, credit or debit card transactions. All of them require sophisticated algorithms, programs, big data architecture, and a robust in-memory processing capability.
John Schroeder, CEO of MapR said they have Big Data applications that protect millions of American Express cardholders from fraudulent transactions. Further, they are working towards improving treatment procedures for cancer patients in healthcare.
Global IT majors such as Microsoft, Oracle, SAP, and IBM are all on the cloud platform and enabling big data technique solutions.
Big Data Techniques and the Internet of Things
Rapid changes in the web and embedded technology have enabled many devices to be interconnected to each other. This makes them capable of sending data in real-time. An internet made of 'things' rather than people and computers has emerged.
Every device we wear or use is capable of ending data which would have wide-ranging applications in big data marketing, design, and healthcare, among others.
Data Mining
Now, powerful supercomputers come into use to mine data from relational databases and help statisticians and analysts create models. Several innovators have come up with tools for developing models for predictive big data analysis for better decision-making by businesses. They also provide an easy graphical user interface (GUI) and are very user-friendly.

Career
Naturally, the revolution in big data techniques has spawned a whole new breed of experts associated with specific areas of this big data analytics and technology. Among the technology skills hot in demand are Apache Hadoop, Apache Spark, NoSQL, machine learning and data mining, statistical and quantitative analysis, SQL, data visualization, data scientists, and general-purpose programming language skills. According to analysts, opportunities will increase in the next decade, thanks to rapid developments in this area.
There is indeed a huge demand for big data techniques-related expertise in 2015, with IBM having advertised 2,307 positions in the past twelve months in June, Forbes magazine said in a mid-year appraisal. The advertised salary for technical professionals with Big data training is $104,850. The most sought-after skills were VMWare expertise, application development, open source technology, data warehousing, and Python programming skills.
Industry-wise, the topper in availing Big Data techniques and services are Professional, Scientific, and Technical Services, accounting for 25% of the demand. Among other leading categories, Information Technologies account for 17%, Manufacturing 15%, Finance and Insurance 9%, and Retail Trade 8%.
Advantages
The following are the advantages of big data analytics:
1) Storage, mining, and analysis of data
Big data technologies have enabled the deployment of both stored and real-time data for a variety of business and mission-critical applications
2) Market prediction & forecasting
In the pre-big data techniques era, companies were constrained to do meaningful data analysis real-time or do predictive analysis in the absence of technology. Sample surveys and customer feedback offered the only solution for strategists to innovate with new offerings to the market.
3)A large amount of data is generated by businesses, and in previous years, with insufficient big data tools to collect and analyze them, businesses failed to use an important asset with them.
4) In a real-time big data business environment, hacking and data theft can critically impact the working of an organization. This can affect the confidence of its customers and make it vulnerable to further attacks down the line. Big data and Hadoop have provably come to help for organizations in detecting data theft. Data theft methodologies are evolving faster than anti-theft methodologies or prevention activities.
Are Big data techniques the only requirement to succeed
The hype created by big data hasn't gone off well. Some critics have pointed out the problems associated with its deployment in the industry. Some analysts question whether there is a positive return on investment (RoI) and worth the time and effort to implement. The second is with respect to the large volume of data and analysis which may not explain 'why' such consumer behavior is taking place.
Big data analysis can be effectively used in conjunction with traditional survey methodologies (thick data) that map the demographic patterns in saving, investment, buying, and spending behavior across regions, giving a broader understanding of the market. Big Data tools may give a picture of what happened and how but 'why' it happens can only be understood by a broad understanding of the particular consumers or region based on demographic profile, lifestyle preferences, and spending habits, among others, according to skeptics of Big Data tools.
Major trends in Big Data technology
John Schroeder, CEO and Co-Founder of MapR, the company that delivers solutions on Big Data, had predicted the emerging trends for 2015, most of which have appeared to be true.
Data Hubs to Data Lakes: Data lakes with scalable infrastructure seem to be favored as they are economically attractive with a reduced per-terabyte cost).
Self-Service: Self-service big data tools will empower developers, data scientists, and data analysts to conduct data exploration directly.
Data Agility
As the database expands and faster processing becomes necessary, the legacy systems seem to slow down the process. Legacy databases and warehouses are too slow; hence, organizations are looking at how agile their data processing is.
Hadoop remains in the innovation phase. Shroeder believes a more nuanced model of open-source software combined with deep innovation and community development is taking place.
Security Challenge
Big data storage and processing are increasingly becoming vulnerable to security threats in the open-source Hadoop system. However, the security features are yet to match up with such threats. This is especially in comparison to more secure Enterprise Resource Planning (ERP) systems and relational databases.
Cloud Computing
The rapid advances in cloud computing are enabling even small and medium enterprises to make use of SaaS (software as a Service), Platform as a Service (PaaS) and other platforms from vendors. These enable them to utilize big data services at a lower cost, whereby costly licensing fees and installations are unnecessary.
According to Bernard Marr, renowned author and analyst, sophisticated algorithms are deployed in the cloud space through SaaS, giving a more accurate picture of when, how, and why a product is sold. Quoting Charlie Crocker of AutoDesk, he points out that until the arrival of Big Data customer feedback was quite difficult. However, with sophisticated algorithms, big data companies can better understand consumer behavior and create products for them.
The future of Big Data tools is Bright
International Data Corp predicts the big data market to grow at a compounded annual growth rate of 23% through 2019. Its annual spending may reach upto $48.6 bn in 2019. IDC believes the three major submarkets: infrastructure, software, and services will grow substantially over the next five years. Software domains such as information management, discovery, analytics, and application software will lead the charge with a CAGR of 26%.
IDC predicts services, including professional and support services for infrastructure and software, will grow at a CAGR of 22.7 percent. It forecasts that infrastructure — consisting of computing, networking, storage infrastructure, and other data center infrastructure-like security — will grow at a CAGR of 21.7 percent and will account for roughly half of all spending through 2019.
"The ability to leverage big data and analytics to develop an integrated view of customer activities and business operations will provide competitive differentiation to companies across industries," Jessica, Goepfert, program director for IDC's Global Technology and Industry Research Organization, said recently. "However, in addition to the huge opportunities, big data presents some significant risks. Digital transformation (DX) will drive "everything that matters in IT" over the next several years. Succeeding in what IDC calls the DX economy means using technologies such as mobile, cloud, big data analytics tools, IoT, AI, and robotics to "create competitive advantage through new offerings, new business models, and new customer, supplier, and distributor relationships," according to Frank Gens, IDC's chief analyst.
Key Takeaways from IDC's Predictions
By 2020, almost 50% of IT budgets will be tied into DX (digital transformation) initiatives.
By 2018, Line of Business (LOB) executives will control 45%+ of all IT spending worldwide. This would be over 60% in the U.S.
By 2017, over 50% of IT spending will be on new technologies (mobile, cloud, big data tools, etc.).
Even with rapidly evolving technologies and platforms, it is doubtful if all of the available data can undergo analysis, nor would it be necessary, as per some experts. What is important is whether the relevant data is identified and analyzed for the benefit of stakeholders.
Recommended Articles
Here are some further related articles for expanding understanding: