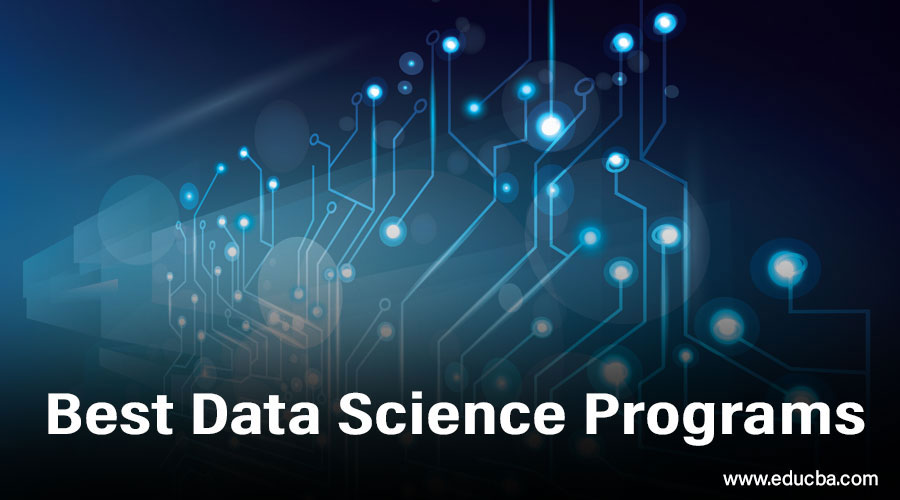 Overview of Best Data Science Programs
All believe that data scientists have a glamorous future with lots of money and a happy and interesting job. Is that true? Yes, indeed. But how to become a data scientist? Going through the stuff available online and YouTube videos will make me a data scientist or not. Which are the courses to be enrolled in to become a data scientist? Will I be able to manage my current job and to learn together? Well, this article is a look through to all these questions. Let's check the best data science programs available for data science enthusiasts.
Top 10 University for Best Data Science Programs
Let's look at the top university for Best Data Science Programs:
1. Syracuse University
University situated in New York provides a Master's in Data Science online with a time span of 18 months. Interactive course work, learner-centred curriculum, better opportunities to network with people in different areas, and an interdisciplinary online teaching method make this course stand out from others. The course will help you advance your programming skills in Python and R and be a master in Excel and other visualization skills. You can start this course with absolutely zero knowledge and become a master through their in-depth analytical skills and project work. GRE waivers are available for this course.
2. University of California, Berkeley
The University offers the program Master of Information and Data Science online for those who want to excel in the field. Face facing online program to prepare experts good in data science and leadership makes this program different from others. The alumni network is so good that students get placed through alumni connections of the college. The University is ranked as No.1 by US public news. University allows excelling in the data science field without relocating to the place. TOEFL score is needed for international students.
3. University of Denver
University situated in Denver provides a master's in data science with 18 months, and the course is offered online. Those who are not from a computer science background have three bridge courses to teach computer science students. Exposures to different scholars and peers from different companies make the course more interesting. Those who have no background in data science are taken special care to make them master in the field.
4. University of Dayton
What makes a course more interesting rather than a short span? Here is the course of masters in data science with 12 months and all the more business-oriented. Business analytics is given equal importance as with programming languages, all with 12 months duration. GRE/GMAT waivers are available for this university. You will be a master of data science and business analytics after 12 months.
5. Stanford University
The University offers a master's in data science in collaboration with the Department of Statistics and the Institute for Computational and Mathematical Engineering (ICME). The course work is in mathematics, statistics, programming and data sciences. A notable point over here is that the program is not offered online. The thesis submission is not required for this program.
6. Praxis Business School, Kolkata, and Bangalore
The business school is known for its data science course with Machine Learning and Artificial Intelligence with a duration of 1 year. The campuses at Kolkata and Bangalore offer the course. Placement is provided once the course is completed. The course tries to explain all the concepts of business intelligence and data science with proper faculties and visiting professors. The alumni network is so strong in the college. There is industry support for this course from ICICI and PwC.
7. IIIT Bangalore
PG Diploma online provided by IIIT Bangalore and UpGrad is a course with a duration of 11 months. Interactive lectures and 3 months to complete the project makes the course all the more efficient. The institute provides placement support. It helps the learners master the data science curriculum with no base in computer science engineering.
8. Manipal ProLearn
Part-time course offered in PG Diploma in Data Science Certification Training is with 8 months of classroom training and 3 months of internship. Any graduates with 50% marks can apply for the course. Placement assistance is offered even after the program ends up to 3 months. Experts with vast experience teach the program. The course exposure with experts and with an internship is so great, and since it is part-time, you can do it from anywhere you stay.
9. IIT Kharagpur, IIM Kolkata, and ISI Kolkata
PG Diploma in Business Analytics offered by India's three best institutes is a 2-year course with 1 semester of internship. This is a full-time program, and no backing out. Placements are offered to all students, and the fee is comparatively high when compared with other institutes. There is a written test and personal interview to shortlist the candidates who apply for the program.
10. Great Lakes Institute of Management
PG Program in Business Analytics and Business Intelligence is a 1-year classroom and online program with the best faculty, international exposure, and relevant curriculum. The syllabus covers all the basics to in-depth knowledge of data science and business analytics, making the course different from others. Students are made to work on a project that exposes them to data science problems and solve them. The course is offered in six cities of India, and the delivery mode is part-time.
Many other institutes offer data science programs such as IBM in collaboration with MISB, Bocconi, Certificate program by ISB, PGDM in Business Analytics by Reva University and many other YouTube channels like Udemy, Simplilearn, and others. All the courses are good in one way or another.
While some programs focus on data science related to business, other courses focus on data science related to statistics. It is good to know before which industry you would like to work in and select the course accordingly. Analytics and statistics go hand in hand. Select the proper course needed for you and become an expert.
Recommended Articles
This has been a guide to Best Data Science Programs. Here we have discussed the basic meaning and the top 10 University for Best Data Science Programs. You can also go through our other suggested articles to learn more –