Updated March 20, 2023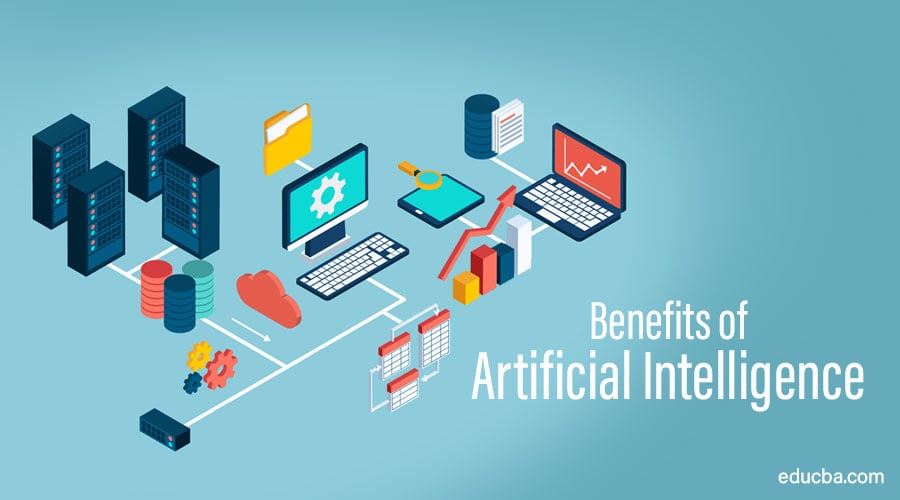 Overviews Artificial Intelligence
Artificial Intelligence is no longer restricted to the realms of Science Fiction and Research Labs. Its mainstream adoption has started reaping fruits. It contributed more than $ 2 Trillion to the economy last year and as per the PWC report, this number is set to reach $ 15.7 trillion by 2030. Artificial Intelligence touches millions of lives daily where it interacts with us through Smart Phone, Personal Computer, and other Smart Devices, It yields immense benefits across all the sectors ranging from Healthcare, Manufacturing, Transportation, Retail, Education, Information Technology, Marketing among several others.
Key Benefits of Artificial Intelligence
Below are the benefits of Artificial Intelligence:
1. Reducing Human Intensive Labour
AI has been instrumental in reducing human-intensive labour by leveraging on Smart Automation. As per the Oxford Economics Report in June 2019, more than 2.25 million Robots are deployed worldwide (Threefold increase from last decade). Now in many factories, all the heavy lifting, carrying, transporting and other mundane activities are carried out by AI-enabled robots. This saves a lot of human efforts which can be better utilized in more productive activities.
Example: Amazon deploys more than 100,000 AI-based Kiva robots in their fulfilment centre. The use of AI-enabled robots not only reduces human efforts in performing physically intensive work like carrying large inventory quantities from one shelf to another but also enhances safety at the workplace. These Cyborgs can load and unload one full trailer of stocks in less than 30 minutes which took more than a couple of hours for human workers.
2. Increasing Efficiency in Pharma Industry
AI has been a boon to the Pharma and Healthcare Industry. As per the study by MIT, merely 13% of the drugs pass the clinical trial stages, further, it costs Pharma companies millions of dollars for any of its drugs to pass the clinical trials. Therefore Pharma companies in order to ensure better utilization of their R&D Budget deploy AI to increase the chances of their drugs clearing the clinical trials. Different Machine Learning algorithms aid scientists in finding the right composition of different salts in the drugs by analysing historical data related to Genes, chemical reactions, and other attributes.
Example: Novartis, A leading Pharma Company, has been using Machine Learning Algorithm to find out which compound is best at fighting the diseased cells under examination. Previously, this procedure involved the manual microscopic investigation for each sample which was both time consuming and prone to human errors. With Machine Learning based algorithms, they can run real-time simulations and get more accurate results sooner.
3. Transforming the Financial Sector
Most of the Financial Applications revolve around analysing past data to get better results. There is no surprise that Artificial Intelligence whose USP is analysing past data enjoys huge success in Finance Sector. AI has wide-ranging applications in the Finance Industry ranging from Risk Assessment, Fraud Detection, Algorithm based Trading, Financial Advisory, and Finance Management among several others.
Example: Paypal has been using advanced Deep Learning Algorithm to detect fraudulent transactions. Paypal processes humongous amount of transaction data, it processed more than $235 billion in payments from 4 billion transactions done by more than 170 million users. Paypal uses Deep learning algorithm to analyse the large scale of data and compare transactions with fraud transaction pattern stored in their database. Based on this pattern comparison it can detect fraudulent transactions from normal transactions.
4. Quicker and Easier Customer Service using AI Chat-Bots
An earlier version of Chat-Bots interactions was very time consuming and frustrating. The bots used to run into loops and could assist only in pre-defined tasks. The AI-powered chat-bots using Natural Language Processing have a better understanding of human interactions and can learn on its own and hence are far more adept in providing an adequate response to the customers.
Example: Bank of America virtual assistant Erica is one such example of AI-enabled chat-bot. It has already helped 7 million clients since its roll out in June 2018. Erica uses Artificial Intelligence, Predictive Analytics and Artificial Neural Network to serve more than 50 million client requests it received last year. The request ranges from normal banking tasks like Bank balance information, Bill Payment to complex tasks like Investment planning and budgeting suggestions.
5. Enhancing Safety on Roads
As per World Health Organization Report, more than a million people die in road accidents every year. Artificial Intelligence is playing a major role in reducing such fatalities. Many companies have started using AI to record and analyse every minute details regarding the driving pattern of different drivers ranging from lane discipline, Traffic rules abidance, distance maintained with other vehicles on the road. The details so collected is used by AI applications to provide safety recommendations to the driver and help automobile companies to come up with safer vehicles.
Example: Microsoft has been experimenting with HAMS (Harnessing Auto-Mobiles for Safety) to enhance safety in Indian roads. It takes into account two factors- the driver's state and his/her vehicle's position relative to other vehicles. It makes use of Front and Rear camera mounted in front of Driver's seat. The front camera is used to gauge the driver's physical state like fatigue by detecting eye movement and yawning frequency. These are detected using Mouth Aspect Ratio. Rear camera analyses lane discipline and distance with other vehicles. All this data is analyzed using AI applications using Edge-based processing and safety based recommendation alerts are generated in real-time.
6. Predicting and Enabling Quicker Response to Disaster
Artificial Intelligence has turned out to be a silver lining for us in the face of calamity. Now-days, Artificial Intelligence applications are being deployed to pre-empt natural disasters using different pattern recognition algorithm. It is also being used to mitigate the losses after such disasters by aiding in disaster relief work. AIDR (Artificial Intelligence for Disaster Response) is widely used for this purpose.
Example: AIDR was deployed in rescue effort post the earthquake in Nepal (2015). Volunteers and rescue workers were able to reach out to the affected victims quickly with the help of AIDR. AIDR uses Social Media analytics to categorize all the tagged tweets. The insights from these tweets not only helped rescuers to reach the affected area quickly but also helped them in categorizing areas based on urgency to better channelize the rescue effort.
Conclusion
Artificial Intelligence has immense potential and it has started to show tangible results across all the sectors. In terms of utilizing potential, we have just scratched the surface and there is a long way to go before we harness the true power of AI.
Recommended Articles
This has been a guide to the Benefits of Artificial Intelligence. Here we have discussed the basic concept and Key Benefits of Artificial Intelligence with respective examples. You can also go through our given articles to learn more –