Updated June 7, 2023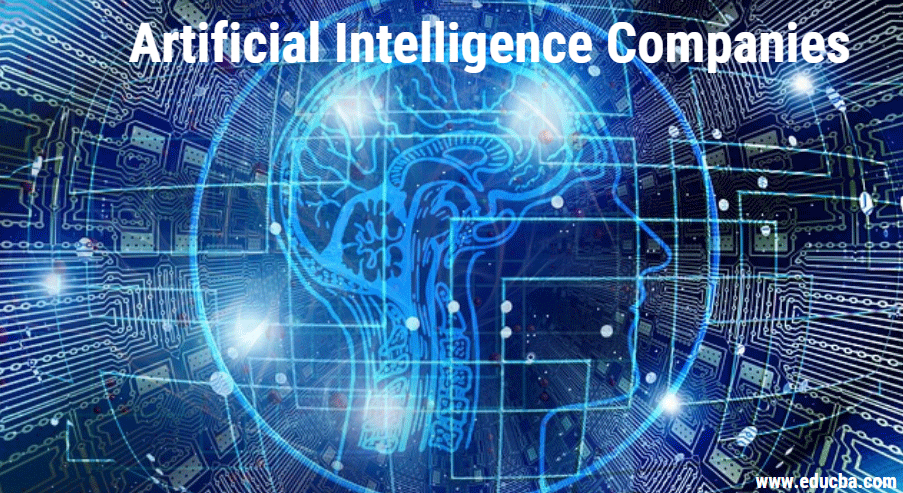 What are Artificial Intelligence Companies?
The artificial industry is one of the biggest innovations in today's era. Top artificial intelligence companies provide AI technology for numerous applications for many industries. Many industries, like automation, agriculture, manufacturing, finance, healthcare, education, etc, now use artificial intelligence. Many big companies are investing in AI and funding many AI start-ups because AI has many opportunities and scope for profit and growth.
Top Companies of Artificial Intelligence
Given below is the list of companies of Artificial Intelligence:
1. Amazon
Amazon is one of the biggest companies leading the Artificial intelligence revolution on both the backend or business-oriented applications and consumer-end. Amazon brings AI through a voice-activated intelligent assistant named Alexa. The company has primarily three services for AWS, i.e., Lex (it is a business version of the assistant Alexa), Polly (it converts text to speech), and Rekognition (it is an image recognition service).
2. Apple
Apple is another giant industry that has been taking steps in artificial intelligence and acquiring artificial intelligence start-ups. It is also working on improving its products, such as Siri.
3. Google
Google is one of the biggest multinational companies. It is famous worldwide for its search engine, android software, machine learning, and cloud computing. This company is also moving towards artificial intelligence and acquiring several artificial intelligence (AI) companies and start-ups. Google uses artificial intelligence to improve its services.
4. Anki
It is an artificial intelligence start-up that develops artificial intelligence technology for products used by children. It brought consumer robotics into the daily life of people through its Anki Overdrive and Cozmo products. Anki Overdrive is a car racing game, and Cozmo is its flagship robot. Because of its emotional responses, Cozmo is considered one of the best consumer robots for dating.
5. Facebook
Facebook is among the largest social media platforms. It works in machine learning, virtual reality, cloud computing, and other artificial intelligence software. Its research team is finding better communicating ways through artificial intelligence technology.
6. IBM (International Business Machines)
IBM is one of the oldest companies working with technology. Since 1911, it has been manufacturing device hardware, software, and middleware. It also provides consulting and hosting services in mainframe computing, predictive maintenance, and nanotechnology. Since the 1950s, it is working in the area of artificial intelligence. It has also purchased or acquired three artificial intelligence start-ups in the last few years.
7. Intel
Intel manufactures hardware and develops software for the computing industry. It is the inventor of the x86 chip series that is found in most personal computers. Apple and Dell, the greatest computer manufacturers, purchase processors from Intel. It is the highest-valued and second-largest semiconductor chip inventor based on revenue. Intel works on both software and hardware artificial intelligence initiatives. It also works on NLP (natural language processing) and deep learning.
8. Microsoft
Microsoft was founded in 1975, i.e., 44 years ago, by Bill Gates and Paul Allen. It works in software development, computer hardware, consumer electronics, social networking services, cloud computing, the internet, video games, and corporate venture capital. It also provides several data storage and protection services. It has a combination of both business/IT and consumer-facing artificial intelligence projects. It has a digital assistant, Cortana, available with Windows and is also provided to smartphones that are not Windows phones. It provides a Chabot named Zo that talks like a teenager.
9. NVIDIA
It designs GPUs (graphics processing units) for professional markets as well as for gaming markets. It also designs SoCs (systems on a chip unit) for mobile computing and automotive markets. For high-performance supercomputing applications, Nvidia Corporation provides parallel processing capabilities to scientists and researchers. It also provides processors for tablets, smartphones, entertainment systems, and vehicle navigation. For two decades. It is promoting its CUDA GPU (graphics processing units) programming language. Artificial intelligence developers use Nvidia GPUs for artificial intelligence and machine learning as they got impressed by the GPUs' massively parallel processing design.
10. AIBrain
It is an artificial intelligence company's solution is the company. It is one of the colonizing developers of artificial intelligence and automation software. Their main aim or goal is to develop an A.I. complete human-like learning, problem-solving, and memory capacity. It builds artificial intelligence solutions for robotics applications and smartphones. Their three main products are iRSP (it is an intelligent robot software platform), Futurable (an artificial intelligence game in which every character is an autonomous AI and AICoRE (it is an artificial intelligence agent).
11. Salesforce
It is one of the leading cloud computing companies. It mainly works in customer relations management products. It also sells and develops commercial artificial intelligence social networking applications. It has also acquired three artificial intelligence companies in the last two years. It has announced its artificial intelligence service, Salesforce Einstein. Einstein allows employees to perform their tasks efficiently and customers to build their applications.
Advantages
It helps to work 24/7.
It has become a part of our day-to-day life and has made them easy.
Human errors are reduced.
It can perform risky tasks for humans.
It helps to automate repetitive and boring jobs like sending thanking mail.
It can take faster and more rational decisions.
It is a base for many new inventions.
It handles information in a better way.
It helps to convert information into knowledge.
It has helped a lot in the medical industry.
It works selflessly and without any breaks.
It does not wear out quickly.
Conclusion
Artificial intelligence companies are revolutionary technology. It has shown a new aspect of technology to the world. Robotics has evolved to the next level due to artificial intelligence. Major industry giants are shifting towards artificial intelligence and trying to make the best use of it to develop, manufacture and provide excellent products and services to customers. Many companies are using artificial intelligence companies innovations, and the number is highly expected to increase in the near future.
Recommended Articles
This is a guide to Artificial Intelligence Companies. Here we discuss the introduction, advantages, and top companies of Artificial Intelligence. You can also go through our other suggested articles to learn more–