Updated May 26, 2023
French Republic
Moving to the west of Europe would introduce visitors to one of the best places in the world, France. This country is home to fashion, food, and wine. It symbolizes love and romance, giving you all the feelings right at the top of the Eiffel Tower. France makes you familiar with the world of glitz and glamour. Even its rural villages are so scenic that you'd want to stay there forever. Amidst all the beauty are the beaches in France. Did you know that this European country has over 30 beaches and a coastline as far as 5,800 km?
Top Beaches in France
For those new to the city or visiting France on vacation, there is a list of beaches in France that visitors should see. Bring one favorite book, sunscreen, and boundless energy to have a great time at Europe's Best Destinations.
#1 Palombaggia
Paloma Beach is a gem on the French Riviera and always sparkling amidst Cap Ferrat Peninsula. This beach is in the South of France and is a luxury destination for travelers. There are plenty of clubs, restaurants, bars, and eating joints to explore. You can sit and eat while gazing at the mountains or go for a swim and rejuvenate.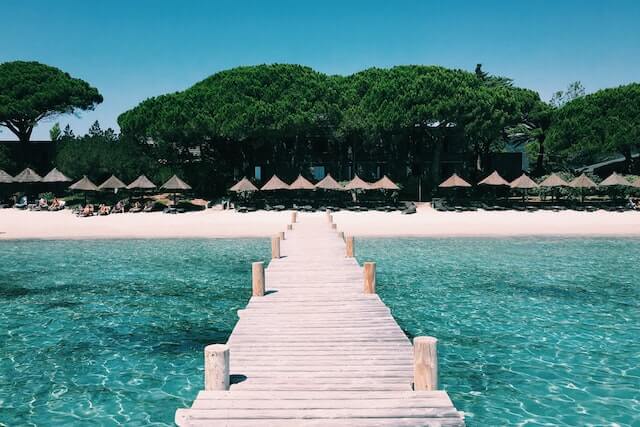 #2 Plage de Tahiti
Plage de Tahiti is one of the offbeat beaches in France. It can be easily accessed via Marseille and is on Frioul Island. It's a nice little vacation spot for everyone, with several fortresses and coves worth exploring. Enjoy full amenities here and spend the entire day. You might even get to meet a celebrity or two! Et Dieu… Créa La Femme, a movie of 1956, was also shot here.
#3 Prado Beach
This beach in the South of France is an excellent choice for family trips. You can enjoy kayaking, sailboarding, and snorkeling with your partner and kids. On your honeymoon, take a walk through the Mediterranean coast and soak in tranquillity. There are so many activities for everyone to enjoy on Prado Beach, like ParcBalnéaire, an open parkland. Every September, the Festival of the Wind is here to celebrate, which is one of the main attractions of this beach.
#4 Étretat
Étretat Beach is near Paris in Normandy. It is a 2-hour drive and is known for its natural beauty. The beach is by some impressive structures and white boulders, such as the Porte d'Aval Arch, which contribute to its medieval heritage. It is ideal for couples or families looking for a quiet outdoor vacation in Northern France. If you are an artist and love to indulge in photography, this is where you can explore your skills.
#5 Plage de L'île Saint-Nicolas
It is among the best beaches in France and is in Brittany. If you took a ferry from a local town, you'd reach here and visit the Glenan Islands. The turquoise water and white sand surround you with serenity, beauty, and a refreshing feeling. You can swim in those waters or go for a boat ride with the family to discover the uninhabited islands. All the Glenan Island beaches are only accessible in the summer and spring seasons, so check the dates before your trip.
#6 Deauville Beach
Deauville Beach is known for its walk, golden sand, and the setting sun. If you are exploring France's beaches, take advantage of this one. It is prettier than the images and gives you a forever experience. The beach has huts so visitors can kick back and relax in the refreshing weather. You can reach Deauville Beach with a 2.5-hour ride from Paris.
#7 Antibes Beaches
This group of beaches sits between Cannes and Nice and is no less than a dreamy land. Here you would find white sand beaches instead of pebble ones. The beaches include Plage Ponteil, Biot, Plage du Fort Carre, Juan-les-Pins Beach, and more. There are public places and private resorts for you to relax.