Updated July 28, 2023
Overview of Banks in USA
As per the US Federal Deposit Insurance Corporation statistics report dated 31st March 2022, there were 602 savings banks and 4,194 FDIC-insured commercial banks in the USA.
USA's central bank is the Federal Reserve Bank (also called the FED), which was incorporated in the year 1913 and which came into its presence after the enactment of the Federal Reserve Act. State governments and the Federal regulate the US banks and the entire banking system.
There are majorly four types of banks that are operating in the USA: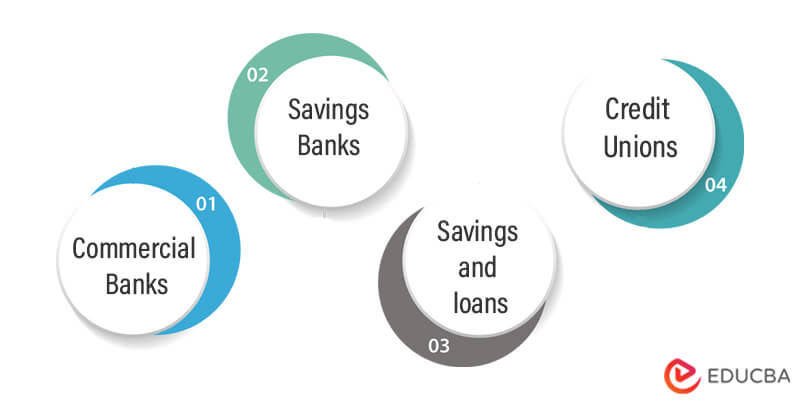 Commercial Banks: Mainly serve businesses and offer services like granting business loans, accepting deposits, and offering other basic investment products.
Savings Banks: These are for-profit businesses. These banks take deposits from individuals holding an account with them, and these banks invest the money collected. The person holding an account earns an interest rate out of the return that it has generated from the investments.
Savings and Loans: These banks are into retail banking services where the person depositing money earns interest on their deposits. These Banks then use the money deposited to provide various home loans, auto loans, etc.
Credit Unions: These types of banks are non-profit cooperative financial institutions. Credit unions are typically run and operated by individuals who share similar lifestyles, occupations, or other interests with their members. These unions do not work to earn profit but to empower the community.
Top 10 Banks in the USA
Here is a list of the top 10 Banks: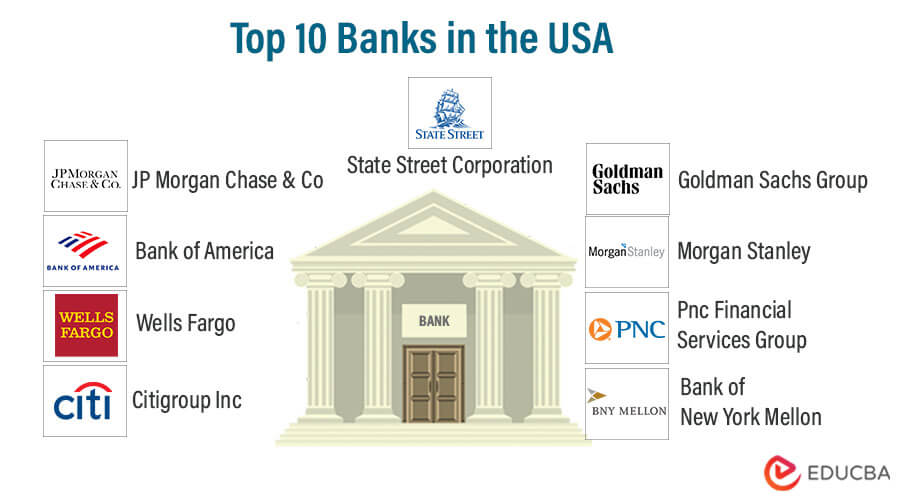 1. JP Morgan Chase & Co
JP Morgan Chase & Co was incorporated in the 19th century by John Pierpont Morgan and is one of the largest banks operating in the USA. Chase Manhattan Corporation and JP Morgan and Company merged to form this bank. The bank has its headquarters situated in New York. Under the brand name JP Morgan, it provides services like asset management, investment banking, private wealth management, private banking, treasury, and securities services. The group uses the brand name of JPMorgan Chase Bank NA as the actual trustee for fiduciary activity under its private wealth management and private banking segments. It has handled around US$2.5 trillion of the total assets. JP Morgan Chase & Co generated around US$ 127.202 bn in 2021. In the same year, the net income of JP Morgan Chase & Co was around US$46.503bn. It employs around 250,000+ employees.
2. Bank of America
In 1904, the Bank of America established itself as a small institution named the Bank of Italy. The bank has its headquarters situated in Charlotte, North Carolina. After the various mergers, the bank became Bank of America and now has more than 4500 branches. The bank serves in Global Wealth and Investment Management, Consumer Banking, and Global Banking. It has handled more than USD$3.23 trillion of the total assets for the year. It employs around 150,939+ employees.
3. Wells Fargo
Wells Fargo was founded in 1852 and is the 3rd largest bank on this list by assets. This bank is 2nd in terms of market capitalization. This bank's headquarters is in San Francisco, and operates in 3 major business segments: Wholesale Banking, Community Banking, and Wealth and Investment Management. This bank is privileged to receive a charter first from the US govt. Wells Fargo generated revenue of around US$81.189 billion in 2021. Approximately more than 260,000+ employees work here.
4. Citigroup Inc
Citigroup Inc was first incorporated in 1812 and is the 4th largest bank in asset control. The bank headquarters is in Manhattan, New York. Citigroup Inc offers financial products and services to corporations, consumers, institutions worldwide, and governments. The bank operates through two segments: Citi Holdings and Citicorp. The bank reported a US$20.758 bn net income for 2021. 219,000+ employees work here.
Related Courses
Investment Banking Course (123 Courses, 25+ Projects)Mergers & Acquisition Course (with M&A Projects)Financial Modeling Course (7 Courses, 14 Projects)
5. Goldman Sachs Group
Goldman Sachs Group incorporated in 1869.  The headquarter of the bank is situated in New York. It operates in securities and investment management worldwide and through institutional Client Services, Investment Banking, Investing & Lending, and Investment Management. The Bank handled more than US$2 trill total assets with a net income of around USD$21.64 billion in 2021. More than 35,000 employees work here.
6. Morgan Stanley
Morgan Stanley was established in 1935. The bank is headquartered in New York. The bank operates through 2 segments: Institutional Securities, which offers financial advisory services and capital raising, along with advice on mergers and acquisitions, restructurings, real estate, and project finance; and Wealth Management, which offers various financial solutions and services.  It has handled around US$14 trillion of the total assets in 2022 and a net profit of US$14.566 billion for 2021. It employs more than 56,000+ people.
7. US Bancorp
US Bancorp established itself after the merger of regional banks from the Midwest and West. And further, it is a holding company that provides financial and banking services through its subsidiary. The headquarter of this bank is in Minneapolis. This bank comes at number 7 in terms of total assets acquired. It employs more than 71,000 people. Net income reported as of 2021 was US$7.605 billion.
8. Pnc Financial Services Group
PNC Financial Services Group ranks at number 8 in total assets controlled. This bank was formed by the merger of 2 Pennsylvania banks, Providence National Corporation, and Pittsburgh National Corporation, after which they were renamed the merged company PNC. Services like Corporate and Institutional Banking, BlackRock, Retail Banking, Residential Mortgage Banking, Asset Management Group, and other Non-Strategic Assets Portfolio segments are offered. This bank employs 49,000+ employees. The bank reports US$5.012 billion for the year 2021 in terms of Net interest income and total assets of US$557.19 billion.
9. Bank of New York Mellon
This bank was founded in 1784. This bank was formed after the merger of Pittsburgh-based financial institutions Sons and T. Mellon. Bank of New York Mellon offers services to companies, institutional investors, banks, and other public sector banks. The financial institutions say that this bank is the world's largest custodian bank for all other banks. It has handled around US$1.9 trillion of the total assets under management and reported a net income of US$3.552 billion in 2021.
10. State Street Corporation
State Street Corporation is one of the largest asset managers in the entire world and stands ten on this list. Bank provides investment services to its customers along with trading and securities lending. For 2021 net profit stood above US$2.572 billion.
Recommended Articles
This is a guide to Top Banks in the USA. Here we have discussed the 10 topmost banks in the USA with their financial structure. You may also look at the following articles to learn more –