Updated June 2, 2023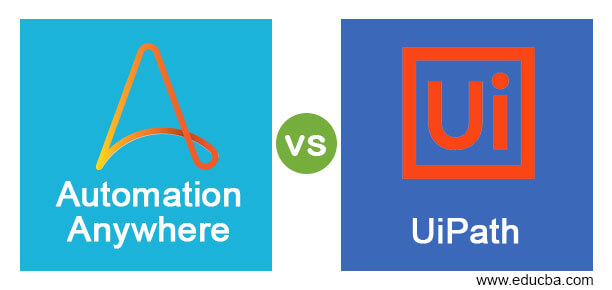 Introduction to Automation Anywhere vs UiPath
The processes and programs done manually by humans are automated using Automation Anywhere that has a control room with a Web-based management system so that automated tasks can be created. All the business needs of the companies can be managed using Automation Anywhere. Bot creator and Bot runner are available to report the error logs. A windows desktop automation tool that dos the robotic process of automating repetitive tasks is called UiPath. There are various editions available for UiPath that are meant to help a different group of users and their needs. We can have only one edition installed in the system.
Head to Head Comparison between Automation Anywhere vs UiPath (Infographics)
Below are the top 5 differences between Automation Anywhere vs UiPath:

Comparison Table of Automation Anywhere vs UiPath
| | |
| --- | --- |
| Automation Anywhere | UiPath |
| AI is combined so that any unstructured data can be analyzed and automated with the tool. Cognitive analytics can enhance the automation and improve the processing skills with the Bot that helps in further research in the product. | UiPath does not have AI combined within itself but we can make use of other tools to help in setting cognitive analytics within the workspace to help in automation. Both Robotic Process Automation and process mining can be done in UiPath. |
| Automation Anywhere package involves digital assistants, documents processing, attended or unattended automation, real-time and part-time operation analytics, and data processing. Hence, the installation of Automation Anywhere can be done by itself without involving third parties or any type of integration within the application. | We do not have any digital assistants or perfect documentation available for the installation of UiPath. Hence, the involvement of third parties is very much necessary to install UiPath in the system. Otherwise, integration with any other application is important to install UiPath in the system. UiPath installation is complex and hence third-party involvement is good than integrating with other applications. |
| Maintenance is reduced and containerization is available in the application with Java Microservices so that we can scale the application based on our needs.   This is a cloud platform so that the automation done in any application will be reflected directly in the cloud server. | We do not have a cloud-native platform as it was built based on a Windows workflow foundation. Scalability, on the other hand, is not easy as the application is not built to be in modular architecture. Scalability is possible but it is slow. |
| Training to new users is not needed as the UI is made to be easy to understand. We have a zero-install creator and hence IT administrators are also not required to manage the application. This helps in making scalability faster and hence the application can load a huge amount of data within no time. | Training is much needed for users with UiPath installed as there is no proper documentation and the UI is not easy to understand. IT administrators should be in place as there is no zero-install creator in the application. This results in increasing the cost by training and employing IT administrators. |
| Good security is provided by the application within itself so that customers need not bear the costs of the security. Role-based access control and privacy during deployment are some of the measures by the application to incorporate more security into the application. | UiPath provides security but does not satisfy the security standards. If security standards are to be improved, customer should employ their own security levels into the application and the cost must be taken by them. |
Key Differences of Automation Anywhere vs UiPath
We can call Automation Anywhere more script-based whereas UiPath is into providing more visual treats to customers by having all the functionalities in the UI itself. In order to do process mapping faster, both applications have micro recorders so that users can know the entire process without recording it manually. Security provided in both the applications is different. If we need to use Automation Anywhere, application-based access is available whereas both application and mobile access is provided in UiPath.
Any type of scaling can be done in the application be it horizontal or vertical in Automation Anywhere. Any type of documents or unstructured data can be scaled based on customer needs. This is not possible in UiPath so that only single-digit deployments can be done faster in the application. If we need to expand the application, we should duplicate the application itself.
Deployment cost is more in Automation Anywhere but in UiPath, everything is based on the level of usage. Debugging highlights is used in UiPath as there is no scaling efficiency in the application. This can be used in any type of project. High-scale deployments can be done easily in Automation Anywhere due to its scaling capacity.
The reporting feature is available in Automation Anywhere and this helps the users to know the performance of bots inside the application. We do not have reporting feature in UiPath but its centralized management server helps to manage the bots and perform the operations automatically within the application itself. this helps to get more productive responses for all the applications being controlled by UiPath.
Automation Anywhere has partnered with Microsoft, Workday, and Salesforce. Partnership with Microsoft has helped Automation Anywhere to collaborate with any kind of data and provide information about unstructured data in automation. This helps in reducing the operating costs of any data within the database of Microsoft Azure. Also, we can run automation in MS Excel or PowerPoint or any application of Microsoft. UiPath has a partnership with Sisense which is an analytics platform that helps to broaden customer's analytics needs with automation. Also, the partnership with ABBYY helps customers to increase the creation of the content so that documents can be automatically classified from which users can extract data. Operational efficiency can also be improved with its strategic partnerships. Thus, UiPath helps both digital professionals and analysts.
UiPath is more popular and its Robotic Automation is making wonders in the automation field. A program can be designed and modeled automatically using RPA. One does not surpass the other and it is always good to know the similarities and differences before selecting one for daily usage.
Recommended Articles
This is a guide to Automation Anywhere vs UiPath. Here we discuss key differences with infographics, comparison tables, and examples, respectively. You may also have a look at the following articles to learn more –