About Akshardham Mandir
Akshardham Mandir is a Hindu temple complex located in New Delhi, India. Bochasanwasi Shri Akshar Purushottam Swaminarayan Sanstha, a spiritual organization within the Swaminarayan branch of Hinduism, built the complex. The temple is one of the largest in India and features a blend of traditional Hindu and modern architecture. The temple complex includes a large central mandir, a garden, a museum, a large exhibition hall, and a food court. The Swaminarayan sect dedicated the temple to the founder Bhagwan Swaminarayan (1781-1830). A temple complex is a place of worship, contemplation, education, and celebration.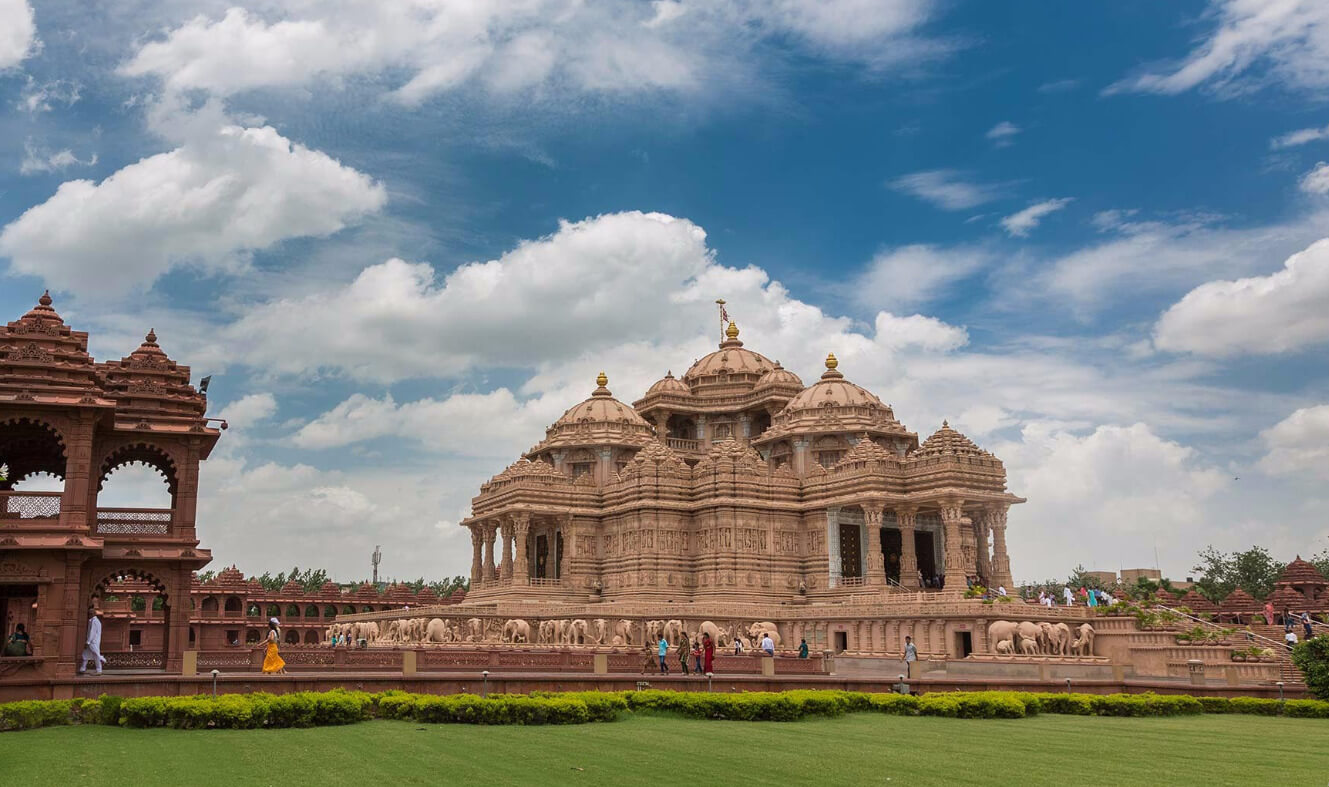 (Image Credit: Akshardham)
 Spiritual Significance of Akshardham Mandir
Akshardham Mandir is a Hindu temple complex located in New Delhi, India. It is considered one of the country's most important Hindu temples and symbolizes peace, harmony, and spiritual progress. Someone built the temple complex in 2005 and dedicated it to Swaminarayan, a 19th-century saint and spiritual leader. The temple is believed to represent the essence of Hinduism and serves as a spiritual center for the Hindu community.
The temple complex has several shrines and statues representing various aspects of Hinduism, including devotion, knowledge, and enlightenment. Believers say that at Akshardham Mandir, one can experience the divine presence of the Supreme Being and find inspiration to lead a more meaningful life. They also claim that a temple complex is a place of healing where one can find peace and harmony.
Abhishek Mandap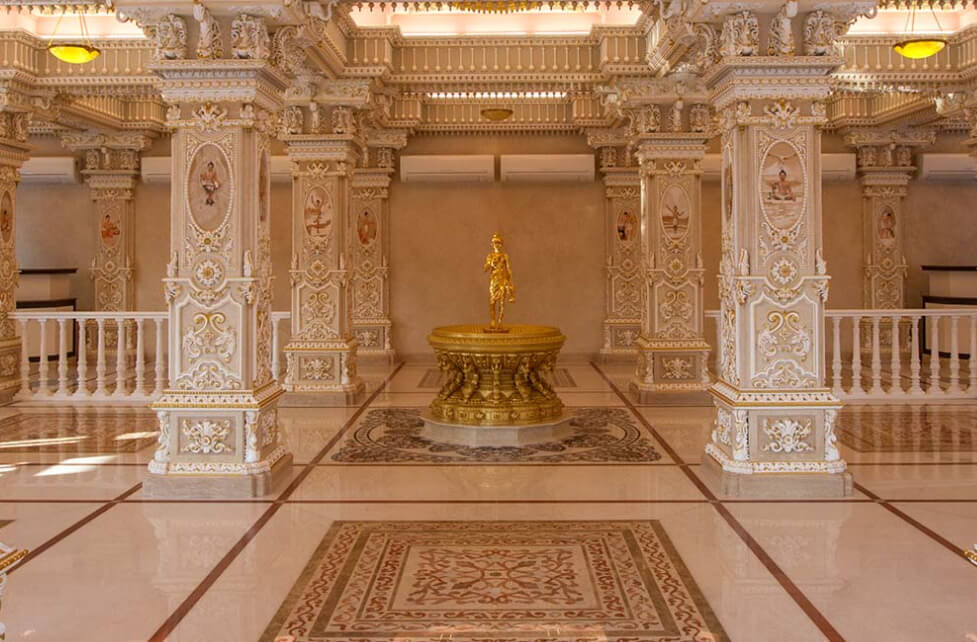 The Abhishek Mandap is a spectacular structure within the Akshardham Mandir complex in New Delhi. The mandap is a large, open-air hall with a beautiful, ornately carved ceiling, pillars, and walls. Various religious ceremonies, including the daily Abhishek, a Hindu prayer ritual, are performed in the Abhishek Mandap. The hall's design reflects the architectural style of traditional Hindu temples, although it is more modern in its construction and details. The mandap is a popular attraction for visitors to the Akshardham Mandir, as it features a variety of vibrant colors and intricate designs.
Facts of Akshardham Mandir
It is open to people of all religions and backgrounds and has become a popular tourist attraction in New Delhi.
It was opened in November 2005 by Pramukh Swami Maharaj, the sacred head of the Bochasanwasi Shri Akshar Purushottam Swaminarayan Sanstha (BAPS).
It is one of the largest Hindu temples in the world and features an abode of the supreme God, Swaminarayan, and a cultural campus dedicated to the Hindu way of life.
The mandir is built of Rajasthani pink sandstone and Italian Carrara marble.
The complex is spread over 100 acres (40 hectares) and includes an IMAX theater, a musical fountain, a large garden, and an information center.
The mandir is known for its intricate carvings, statues, and use of technology, such as its large IMAX theater and musical fountain.
Water Show
The Akshardham Mandir in New Delhi is home to a spectacular water show. This show is known as the "Yaad-e-Vasudhaiva." It is a multimedia spectacle of sound, light, and water that tells the story of India's glorious history, from its ancient past to the present. A voiceover narrates the show, accompanied by spectacular visuals. The show also features traditional and modern Indian music and choreography. The show is performed twice daily and lasts for about 30 minutes. The show is a must-see for any visitor to the Akshardham Mandir.
Exhibitions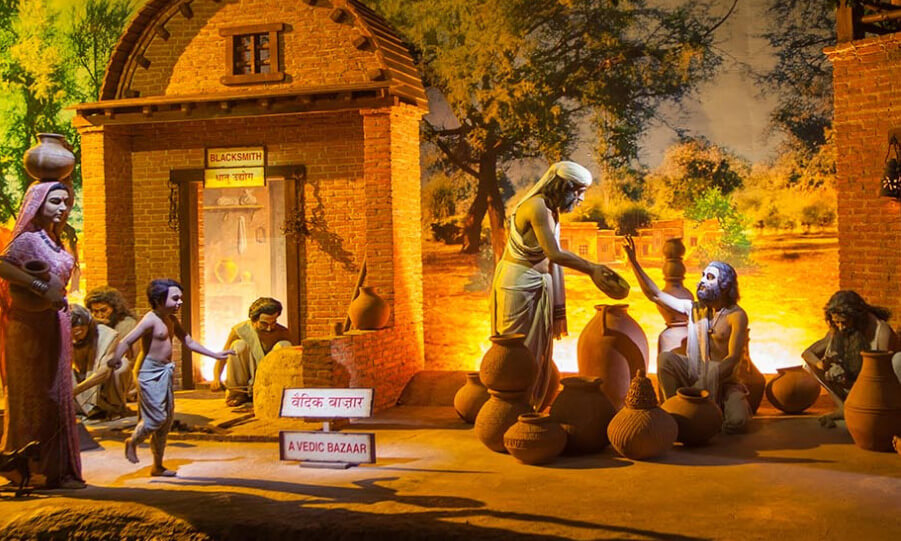 Akshardham Mandir in Delhi is home to several exhibitions and displays, including the Hall of Values, Neelkanth Darshan, Sahaj Anand Water Show, and the Akshardham Monumental Heritage Walk. The Hall of Values is a collection of sculptures and stories that teach values such as truth, peace, non-violence, and compassion. At the same time, Neelkanth Darshan is a multimedia show that tells the story of Swaminarayan. The Sahaj Anand Water Show is a spectacular water show set to traditional music. The Akshardham Monumental Heritage Walk is a guided tour of the temple's history, architecture, and sculpture.
Conclusion
Akshardham Mandir is a remarkable example of traditional Hindu architecture and is renowned for its intricate carvings and sculptures. It is one of India's most popular tourist attractions and draws millions of visitors annually. A mandir is a place of peace, tranquility, and beauty where visitors can experience the beauty of Hindu culture and art. A mandir is also a place of spiritual learning, offering numerous spiritual activities and lectures. The mandir is a beautiful example of India's rich culture and heritage and a must-see for anyone interested in learning more about Hinduism and Indian culture.