Updated July 7, 2023
What is Agribusiness?
Agribusiness is where farming meets business and involves any company associated with agriculture and its commercial operations. The words "agriculture" + "business" combine together to form the term "Agribusiness."
Primarily, agribusiness describes the business aspects of agriculture, including farming, ranching, processed food production, logistics, distribution, marketing, financing, and more. It's any business that grows or produces food or other agricultural products.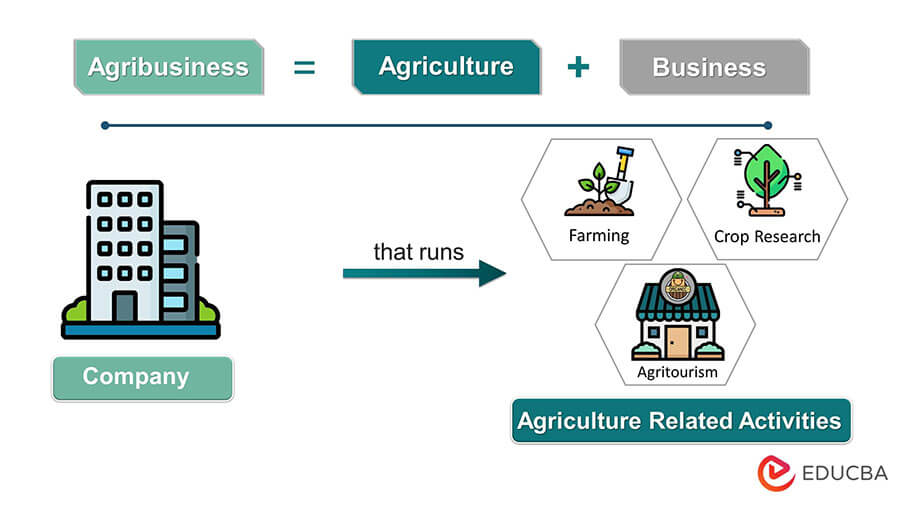 Origin
Its origins trace back to the early days of agriculture when farmers started producing crops for sale. It became prominent in the United States in the late 19th century when several large companies began to emerge that focused on producing and distributing agricultural products.
Today, it is a global industry encompassing various activities, from farming and food production to biotechnology and agrochemicals.
Agribusiness – How it Works?
Here are the steps depicting how agribusinesses work: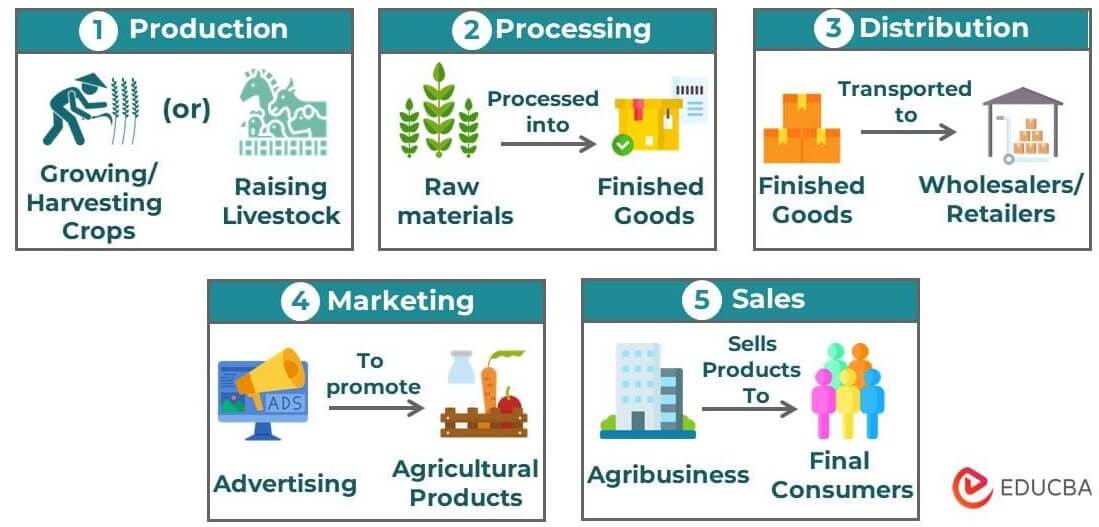 Step #1: Production
The agribusiness process begins with agricultural production, where you grow and harvest crops or raise livestock. Individual farmers can do this on a small scale, or agribusiness corporations can do this on a large scale.
Step #2: Processing
After harvesting crops and livestock, the producers must process them into finished goods. It can include milling grains into flour, canning fruits and vegetables, or processing livestock into meat products.
Step #3: Distribution
After processing the products, the individual or corporation will distribute them to the wholesalers or retailers for sale. It involves transportation and logistics to get the products from the processing plant to the point of sale.
Step #4: Marketing
The businesses must then market the products to promote them and build brand awareness. It includes advertising, promotions, and other marketing strategies to reach consumers and make product demand.
Step #5: Sales
Finally, the businesses will generate sales by selling their products to consumers or other companies. It may negotiate contracts and pricing, manage supply chains, and provide customer service.
Agribusiness Examples
The following examples illustrate how individuals participate in various agribusinesses:
1. Dairy Farm Manager
Thomas owns and operates a large-scale dairy farm, producing milk and other dairy products for sale to processors or distributors. He manages all aspects of the farm, including herd management, feed and nutrition, milking and processing, and marketing and sales.
He knows animal husbandry, business management, and marketing, as well as access to financing and other resources to ensure the success and sustainability of the operations.
2. Agricultural Equipment Manufacturer
Bethany owns Beth AgriTech Ltd., an agricultural equipment manufacturer that produces innovative farming machinery, including tractors, plows, and harvesters. They use advanced technologies such as GPS and precision farming to increase efficiency and reduce waste.
3. Crop Insurance Provider
Green Acres Insurance Company offers insurance policies to farmers to protect their crops from various risks, such as natural disasters, pest infestations, and crop failures.
They have a team of experts who assess the risks associated with different crops and regions and determine the appropriate premiums for coverage. In the event of a loss, the company could provide timely compensation to farmers to help them recover and continue their farming operations.
Components of Agribusiness
The main components of agribusiness include: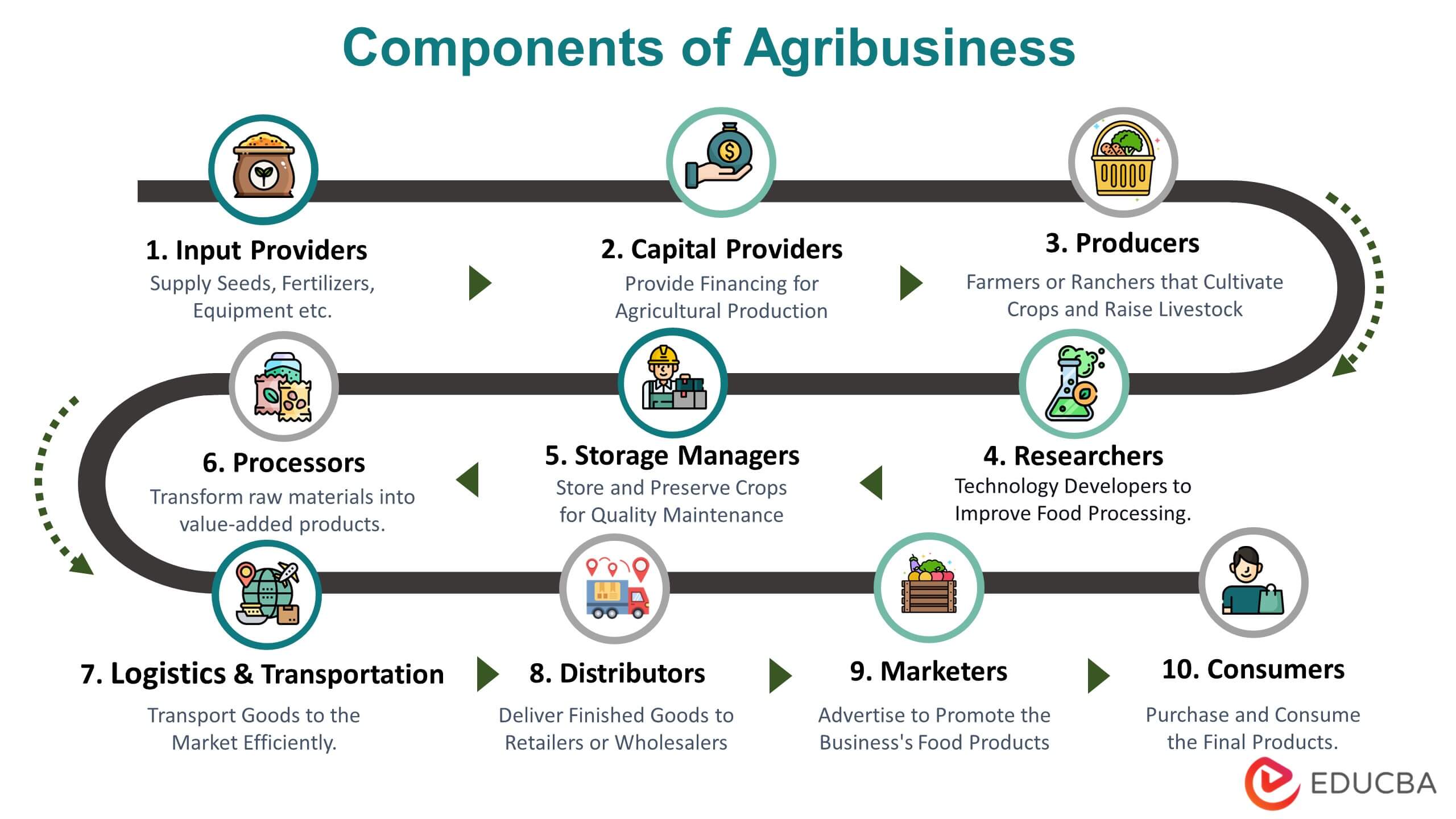 1. Input Providers:
They supply necessary inputs such as seeds, fertilizers, and equipment to growers.
They also provide consultation and technical advice on crop or livestock management.
2. Capital Providers:
They provide financing for agricultural production and agribusinesses, like loans to purchase inputs.
They ensure the business has the financial resources to support growth and innovation.
3. Producers:
They are farmers or ranchers who cultivate crops, raise livestock, and use advanced technologies to enhance productivity and profitability.
They must understand soil science, plant biology, etc., and manage risks that can impact their yield.
4. Researchers:
They are the ones to develop new technologies and solutions to improve agricultural production and food processing.
They work on improving crop yields, developing new varieties of crops, or improving the safety and quality of food products.
5. Storage Managers:
They are responsible for managing the storage and preservation of crops to maintain their quality until they are processed or sold.
They also play an important role in logistics, i.e., transporting the products to the correct location at the right time.
6. Processors:
They operate food processing plants where they transform raw materials into value-added products and package the agricultural products.
They must also ensure food safety and quality control, ensuring their products meet regulatory standards and consumer expectations.
7. Logistics and Transportation:
They move agricultural products from farms to processing facilities, markets, and consumers.
They also ensure that products deliver in a timely and efficient manner.
8. Distributors:
They deliver finished food products to retailers, wholesalers, or consumers.
They also need to maintain regulatory compliance and safety protocols.
9. Marketers:
They are responsible for marketing techniques like advertising, branding, etc., to promote and sell food products to consumers.
They also develop effective marketing campaigns based on consumer preferences and trends.
10. Consumers:
The people who buy food products are the real winners; their demand drives the development of new goods and innovations.
Consumers can also bring sustainable changes in the industry by making responsible shopping choices.
Types of Agribusiness
We can classify the types of agribusiness on the business's legal structure. Here are the three main types of agribusiness as per their legal structure:
1. Sole Proprietorship
It is when a single person owns the business, has complete control over it, and is responsible for all aspects of its operation.
A sole proprietorship is the simplest and most common form of business organization. Still, it can also be risky, as the owner is personally liable for the debts and obligations of the business.
2. Partnership
It is when two or more people own the business and share profits, losses, and decision-making responsibilities. It may be a general, limited, or limited liability partnership.
Partnerships are a popular choice for agribusinesses because they offer more resources and expertise than sole proprietorships but involve shared risks and liabilities.
3. Corporation
It is when the shareholders and board of directors run the business. A corporation is where the owners are not personally liable for the business's debts because the firm is a separate legal entity.
Corporations can raise capital by selling shares of stock, and they have the potential for unlimited growth. However, they also involve more complex legal and financial requirements than sole proprietorships or partnerships.
Agribusiness Ideas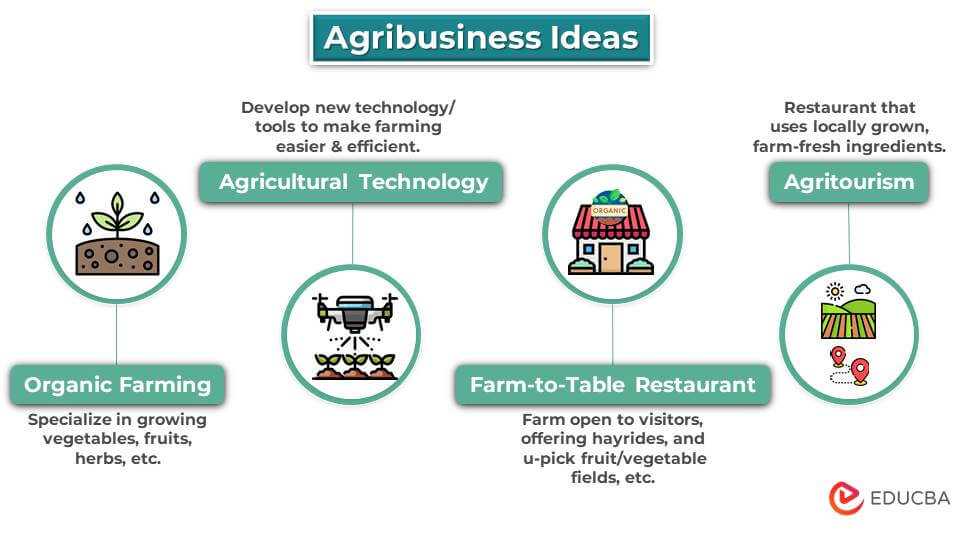 Here are four agribusiness ideas that you might find interesting:
1. Organic Farming: With the increasing demand for organic and locally grown food, starting an organic farming operation could be profitable. You could specialize in growing vegetables, fruits, herbs, or livestock.
2. Agricultural Technology: Develop new technology or tools that make farming easier or more efficient. It can include precision agriculture, drone technology, or soil sensors.
3. Farm-to-Table Restaurant: Open a restaurant that uses locally grown, farm-fresh ingredients. This business is becoming increasingly popular as consumers are more interested in the source and quality of their food.
4. Agritourism: Open your farm to visitors, offering experiences like hayrides, petting zoos, and u-pick fruit and vegetable fields. It is a great way to diversify income and increase revenue while promoting local agriculture.
Agribusiness Degrees
Students of agriculture can get various levels of education in agribusiness, starting from a two-year associate degree program to a five-year doctorate. Here are the top degrees you can pursue if you want to enter this field:
1. Bachelor of Science in Agricultural Business
This degree combines the study of agriculture with business and economics, preparing graduates for careers in agribusiness management and finance.
Duration is 4 years.
The fees may range from $20,000-$50,000.
Top Colleges: Purdue University, Texas A&M University, Agricultural College and Research Institute, and Dr. Panjabrao Deshmukh Krishi Vidyapeeth
2. Master of Science in Agricultural Economics
This degree explores the economic principles underlying agricultural goods' production, distribution, and consumption and prepares graduates for research and policy roles.
Duration is 1-2 years.
The fees range from $20,000-$50,000.
Top Colleges: University of California-Davis, Texas A&M University, Purdue University, and Amity University.
3. Master of Science in Agribusiness
This degree builds on a foundation in business principles to provide specialized knowledge in agribusiness management, finance, and marketing.
Duration is 1-2 years.
The fees range from $20,000-$50,000.
Top Colleges: Kansas State University, Purdue University, Texas A&M University, and Punjab Agricultural University.
4. Master of Business Administration with a Concentration in Agribusiness
This degree provides a general business education focusing on the unique challenges and opportunities of the agribusiness industry.
Duration is 1-2 years.
The fees range from $40,000-$100,000.
Top Colleges: Cornell University, Indian Institute of Management, Ahmedabad (IIMA), University of Illinois at Urbana-Champaign, Purdue University.
5. Doctor of Philosophy in Agricultural and Resource Economics
This degree prepares graduates for research and teaching roles in agricultural economics, focusing on agricultural policy, trade, and development topics.
Duration is 1-2 years.
The fees range from $20,000-$50,000.
Top Colleges: University of California-Berkeley, Michigan State University, Indian Agricultural Research Institute (IARI), Purdue University.
Jobs & Salaries
The following are the jobs in the agribusiness industry, job responsibilities, and average salary per annum. The source for this information is Comparably and Payscale.
Job Title

Job Responsibilities
Average Salary per year
Farm Manager

Manage farm operations and workers
Develop production plans
Manage finances and budgets

$51,818
Agronomist

Study plants and soil
Develop crop strategies
Research new plant varieties

$58,452
Agricultural Engineer

Design and develop farm equipment
Research and test new technologies
Improve agricultural productivity and efficiency

$72,323
Environmental Analyst

Analyze the environmental impact of ag. operations
Develop and implement management plans
Ensure regulatory compliance

$58,708
Food Processing Manager

Managing processing and packaging
Overseeing production schedules
Ensuring compliance with regulations

$99,191
Agricultural Sales Rep

Selling agricultural products
Maintaining customer relationships
Managing sales accounts

$83,422
Crop Consultant

Advising farmers on crop selection and production
Conducting soil and plant tests
Providing recommendations for improving crop yields

$58,219
Top Agribusiness Companies
The table below lists the top 10 agribusiness firms in the world. We also mention its revenue in the year 2022 and the segment it specializes in.
| | | | | |
| --- | --- | --- | --- | --- |
| Rank | Company Name | Type of Firm | Segment Specialization | Revenue (2022) |
| 1 | Cargill | Privately-held | Diversified Agriculture business | $165 billion |
| 2 | Godrej Agrovet Ltd. | Public | Animal feed and agri inputs | $10.11 billion |
| 3 | Jain Irrigation Systems Ltd. | Public | Irrigation and water management | $33.68 million |
| 4 | Archer Daniels Midland | Corporation | Diversified Agriculture business | $101.556 billion |
| 5 | John Deere | Corporation | Farm Equipment Manufacturers | $52.58 billion |
| 6 | Tyson Foods | Corporation | Meat Processing | $53.282 billion |
| 7 | Bayer AG | Corporation | Pesticides and Seeds | $52.1 billion |
| 8 | Bunge | Corporation | Agriculture business Trading | $67.232 billion |
| 9 | Syngenta AG | Corporation | Pesticides and Seeds | $33.4 billion |
| 10 | Olam International | Corporation | Agriculture business Trading | $41.333 billion |
Agribusiness Management
It is the process of planning, organizing, and controlling the activities of an agricultural business to achieve its goals efficiently and effectively. Here are some critical aspects of agribusiness management:
1. Strategic Planning: It involves setting long-term goals and developing a plan of action to achieve those goals. A strategic plan should consider market trends, consumer preferences, and technological advances.
2. Financial Management: It involves managing the business's finances, including budgeting, forecasting, and financial analysis. Financial management is critical to ensuring that the industry is profitable and sustainable.
3. Operations Management: It involves managing the day-to-day operations of the business, including production, processing, and distribution activities. Effective operations management helps to ensure that the company is efficient and effective in meeting its goals.
4. Marketing Management: It involves developing and implementing marketing strategies to promote the business's products and services. Effective marketing management helps the company reach its target market and generate sales.
5. Human Resource Management: It involves managing the people who work for the business, including recruitment, training, and performance management. Effective human resource management ensures the company has the talent and skills to succeed.
Purpose & Importance of Agribusiness
It aims to sustainably produce, process, and distribute agricultural products for profit. Here are some of the critical purposes of agribusiness:
1. Food Production:
It provides various food products, including grains, fruits, vegetables, dairy, meat, and poultry. It ensures people access the nutrients they need for good health and sustenance.
2. Job Creation & Economic Development:
It is a crucial contributor to economic growth, especially in rural areas, as it creates jobs and income for farmers, supporting local communities and improving living standards.
3. Innovation:
It is an innovative and constantly evolving industry that develops new technologies and techniques to improve productivity, reduce waste, and enhance sustainability.
4. Environmental Sustainability:
It promotes sustainability by managing natural resources responsibly, including soil, water, and biodiversity, and implements new technologies and techniques to improve productivity.
5. Trade and Globalization:
It is a global industry, with products and inputs traded across borders. By participating in international trade, it can access new markets and technologies, helping to promote economic development in other countries.
Frequently Asked Questions (FAQs)
Q1. How do I start agribusiness?
Answer: Here are 6 steps to starting an agribusiness:
Gain relevant education (not mandatory) or knowledge in agriculture or related fields
Conduct market research and identify your niche
Create a detailed business plan
Secure financing and necessary permits/licenses
Acquire land, equipment, and materials
Establish relationships with suppliers, distributors, and buyers.
Q2. Who is the father of agribusiness?
Answer: The term "agribusiness" was first coined by John Davis and Ray Goldberg at Harvard Business School in the 1950s. Therefore, they are often considered the fathers of agribusiness.
Q3. What are the four functions of an agribusiness?
Answer: Agribusinesses have several key functions: production, processing, marketing, and distribution.
Production: This involves cultivating, harvesting, and raising crops and animals for food and other products.
Processing: It involves transforming raw agricultural products into finished goods for sale and distribution.
Marketing: This involves identifying customer needs and promoting agricultural products to meet those needs.
Distribution: This involves getting products to customers through channels such as wholesalers, retailers, and online marketplaces.
Q4. What are the challenges in agribusiness?
Answer: Some challenges in agribusiness include:
Climate change and extreme weather events
Limited access to financing and credit
Inadequate infrastructure, especially in rural areas
Lack of access to markets and price volatility
Competition from larger and more established agribusinesses.
Recommended Articles
This is a guide to Agribusiness. Have a look at the following articles to learn more,