Updated May 25, 2023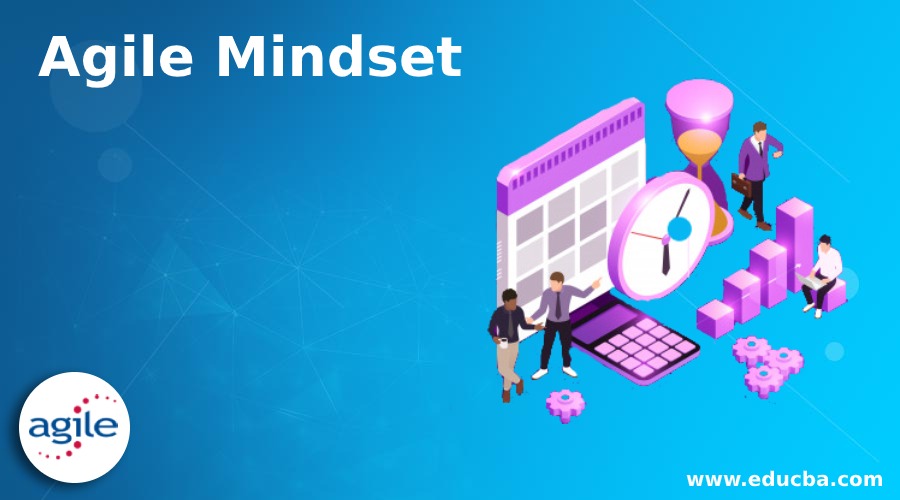 Introduction to Agile Mindset
It has been rightly said that Agile is not a process or a method but a 'mindset.' The set of assumptions or behaviors facilitating an agile working environment to enhance team performance is termed as having an 'Agile Mindset.'
What does it mean to have an 'Agile Mindset'?
An 'agile mindset' is about embracing a mentality or approach that believes in adapting to change, learning through failures, and encouraging feedback to bring consistent improvement. An agile attitude is all about learning and continual improvement to attain milestones in business.
The attributes contributing to the agile mindset are:
Collaborative efforts
Continual improvement and learning
Autonomy
Ability to deliver quality to customers
Acceptance and Adaption to change
Ability to convert failures into opportunities
There is a conceptual difference between 'Doing Agile' & 'Being Agile. Practicing agile is actually 'Doing Agile,'' and having an agile mindset is all about 'Being Agile. In today's competitive and highly volatile business environment, many organizations, predominantly in the IT sector, have adopted agile methodologies to bring phenomenal changes to boost business productivity. Harnessing an agile mindset enables professionals to forecast problems/issues, enhance productivity, and work in sprints, unlike the conventional approach to work.
How to Foster 'Agile Culture' Through an 'Agile Mindset'?
Fostering an agile culture in an organization is a continual and ongoing process of driving change in behavioral norms to develop an agile mindset.
Here are a few ways to nurture the agile mindset in the organization:
1. Facilitate a Flexible Approach
One of the key attributes of the agile approach is the ability to accept change and adapt the projects accordingly. A volatile business ecosystem that is certain to change requires a strategic and flexible approach to managing uncertainties. Therefore, a team with agile thinking would efficiently sustain and manage change to facilitate productivity.
2. Promote Team Co-ordination and Collaboration
Teams need to be 'cross-functional as the routine scrum discussions would enable them to generate a valuable transfer of information to the organization's advantage. What's the point in conducting a meeting between two teams who are functionally the same? If all are programmers, they will be well-versed in programming. It is essential to put in coders, testers, and other experts to add inputs to create value for a project as a whole. This promotes knowledge sharing between different teams, thus facilitating the agile thought process.
3. Focus on Delivering Value to the Customers
The key objective of being agile is all about delivering value and quality to the customers. Therefore, it becomes paramount to understand the customers' needs and encourage feedback. The project teams should be able to change and adapt quickly to the customers' feedback to improve and upgrade their products/services continuously. Thus, positive or negative feedback enables the organization to consistently deliver value or bring in continual improvisation to offer customers added value.
4. Aspire for Converting Failures to Opportunities
The backbone of agile behavior is all about thinking of 'failures' as 'opportunities' and bringing in positive change. The agile concept believes that a product has to evolve, upgrade, and develop gradually with time continually. Fundamentally, the agile ideology runs with the fact that if a sprint has not been completed successfully, it needs to be improved.
Getting Trained
The training courses conducted on Agile Mindset are created in such a way that they enhance and promote the learning process effectively.
All the training courses on Agile Mindset are based on 4C's: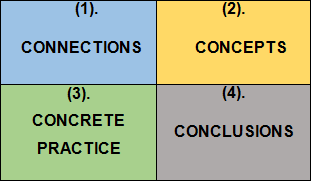 Connections: On a psychological level, it is always easy to learn when one feels connected to others, acquires new concepts, and connects them to what they have already learned. 'Connections' is about knowing what the trainee already knows ('particular topic').
Concepts: Pictorial descriptions, reading, engaging games, speaking, and writing explain the concepts of an agile mindset. It does not have to be necessarily conveyed through a conventional teaching method dictated by a tutor. So, 'Concepts' is about understanding what the trainee needs to acquire or learn about a particular topic.
Concrete Practice: The most effective way to understand a particular concept is to have an opportunity to either practice or preach it. 'Concrete Practice' is all about putting the learned concepts into implementation. If the trainee can apply the concepts on-job or coach them to others, it indicates that the trainee has understood them correctly. Thus, 'Concrete Practice' addresses the learner's ability to apply the studied concepts or mentor others.
Conclusion
The most important phase is connecting the learned concepts to routine or work life to make it relevant. So, 'Conclusions' is about how the learner has planned to use the gained concepts in real life to make them effective and worth learning. The above-mentioned '4C's Instructional model' imparts information in all the agile mindset training programs. It enables learning in a brain-based and engaging way based on two-way communication. Unlike conventional 'tutor-centered' approaches, agile mindset training courses center on the trainees. As a result, trainees can retain more information rather than engage in 'superficial learning.
So, saying that 'doing agile is impossible without 'being agile makes sense. Researchers also claim that individuals can acquire 80% of agile through training or learning. So, bringing in effective agile transformation is about changing and adopting the 'mindset.' Thus, creating efficient, agile teams to attain milestones starts with fostering agile mindsets¸ and propagating the same. Ultimately, without an agile mindset, there cannot be an agile team! 'If you want to do agile, train yourself to be agile first'! Get yourself enrolled for a training course and discover the 'agile you.'
Recommended Articles
This has been a guide to Agile Mindset. Here we discussed the concept of getting trained, fostering agile culture, and what it means to have an Agile Mindset. You can also go through our other suggested articles to learn more –