Updated May 29, 2023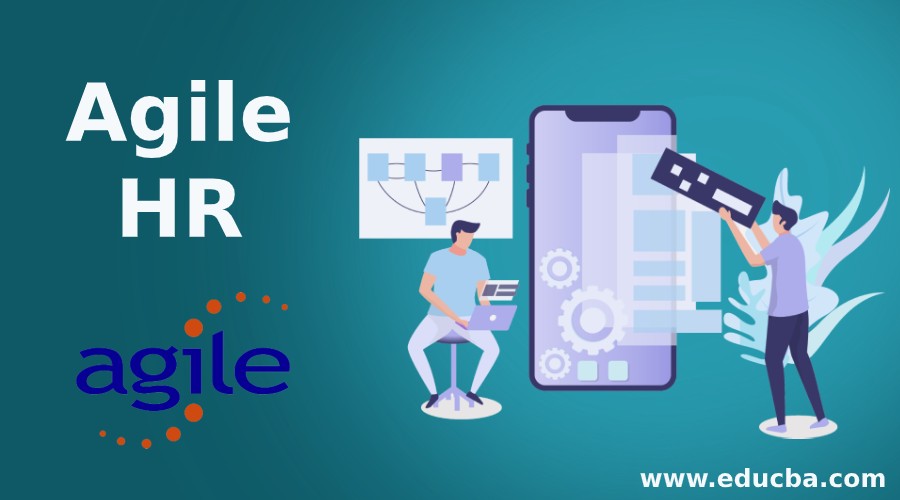 Introduction to Agile HR
Agile HR is a misfit term; instead, according to my understanding, Agile HR is a concept or phenomenon of orienting the HR (Human Resources) to think and work as per the agile project management methodology. It can be described as designing and planning the HR services to support the organization by implementing the best agile practices. This concept helps to align people to support the agile cycles and agile way of working like the scrum agile practices, Kanban agile practices, scrum waterfall agile practices, etc. It helps create new benchmarks in providing business solutions and a workforce that works according to the agile principles of project management.
Under this concept, human resources use Scrum, Kanban, Lean, and Six Sigma practices to develop customer services and use agile practices for incremental projects and organization development. These practices can be used in industries like software development, finance & accounting, etc. This aims to create a team of focused, responsive, and efficient workers for an agile organization. It aims to create a productive, agile workforce to deliver best-in-class services.
An organization is also called The Entrepreneurial organization, which is an organization that responds quickly based on customer needs and demands. An agile organization's response time is quick as per the market changes. These organizations tend to create healthy competition and focus on the customers rather than the uniform offerings. The organizations use the catalyst approach of leadership without compromising the cohesion of the whole system. The HR and organization foster an open communication system, as communication is crucial while implementing agile project management practices. The organizations promote continuous learning from the trials and testing during the implementation.
These practices promote faster and more successful project implementation. It orients the organizational approach toward customer needs and creates cost-effective software solutions. When agile practices are applied to human resources, collaboration, and innovation increase, and the focus shifts to customer needs rather than standardized offerings.
Key Differences Between Agile HR and Traditional HR
There are a few key differences between the outmoded HR practices and the Agile HR practices; some of them are listed below:
| | | |
| --- | --- | --- |
| Comparison of Objective | Agile HR | Traditional HR |
| Learning Approach | Promotes continuous learning from the experiments and provides myriads of learning opportunities. | Provides remedial learning by bounding the employee to a specific performance level. |
| Talent Acquisition | Promotes brand investment and inculcates acquiring talents from different talent channels using every inch of modern technology. Thus they are prepared for any resource hiring in advance. | Follows the same old talent acquisition process. The search for the candidate begins when jobs are available. |
| Transparency | Promotes transparency by providing ownership to the employee for their development and making. Employees are active members of the process. | The traditional HR processes are the least transparent as they stick to the old and lengthy talent acquisition process, and HR is the owner. |
| Implementation Approach | Specific teams are selected and chosen to work on different projects, and regular feedback is accumulated to determine the quality of service and to decide whether more team members are required for a particular project or not. | Large-scale systems are cautiously researched, resourced, and installed. |
Agile HR Strategies
Below mentioned are some of the Strategies:
Focusing on creating coaches and mentors instead of managers by training different level leaders of the company. It makes experts and not managers.
They concentrate on solid, focused values to keep the team members on the same tangent.
Implementation of high-performance self-motivated teams focussing on their targets and achieving their goals.
Maintaining transparency among different functions of the organization so that the goals and policies are clear to everyone and identify the levels of employees based on their expertise.
Focus on a continuous learning approach from their experiments.
Encourages feedback collection for continuous process improvement.
Believes in employee and brand investment and tends to implement a strong employment brand.
It promotes agile working and helps in a successful organization. The work environment empowers employees to work flexibly and with minimal constraints. They use different tools and available technology to optimize the team's performance and deliver the best results. It helps to improve customer satisfaction, productivity and to reduce the cost by using the project management methodology. Working is a powerful tool to improve sustainability and to remove all the obstacles that tend to reduce the efficiency of agile workers and the organization. The working tends to design a flexible work environment so the working individuals can balance their personal and professional life resulting in a much more focussed approach towards their responsibilities.
It supports maximum flexibility and minimum constraints to drive long-term organizational success. Implementing the practices and the working benefits the organization and the employees in numerous ways. Continued trials and the adaptation of available technology to maximize efficiency and productivity contribute to earning benefits. This, in turn, leads to a new and improved work environment by implementing varying work practices.
A few of the organizational and employee benefits are listed below: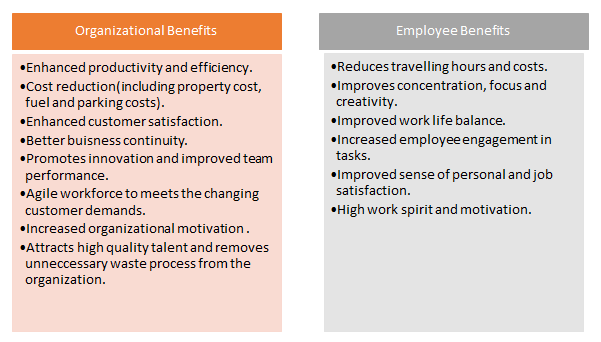 Key Features
Following are some of the key features:
The efforts of HR create a workforce, and together they create an adaptive and flexible work environment. They provide the right work and the right tools to the right and eligible employees to maximize productivity. Thus they provide freedom and flexibility to work by giving different workstations to the employees.
Reducing constraints and limitations allows employees to find a productive method for completing their assigned assignments and projects. They promote the easy collaboration of people.
Working environments utilize most of the technical tools available in the market. Updated communication boards, collaboration tools, and project management resources help to keep all the team members on the same page without engaging in unnecessary meetings, discussions, reports, and emails.
It applies agile methodologies to reinforce the organization by exploring the new possibilities of talent acquisition and supports adaptability and productivity.
Transparency is a key factor in the talent acquisition process, which helps to gain the manager's and employee's trust.
It is gaining recognition as a means of helping the organization stay current and aligned with the realities of today's talent requirements.
Recommended Articles
This has been a guide to Agile HR. Here we discussed the agile HR concept, benefits, key characteristics, strategies, and differences between traditional and modern HR. You can also go through our other suggested articles to learn more –