Updated July 4, 2023
What is the Advertising Budget?
An advertising budget is a financial plan that outlines how much a company will spend on advertising and marketing efforts for a specific period.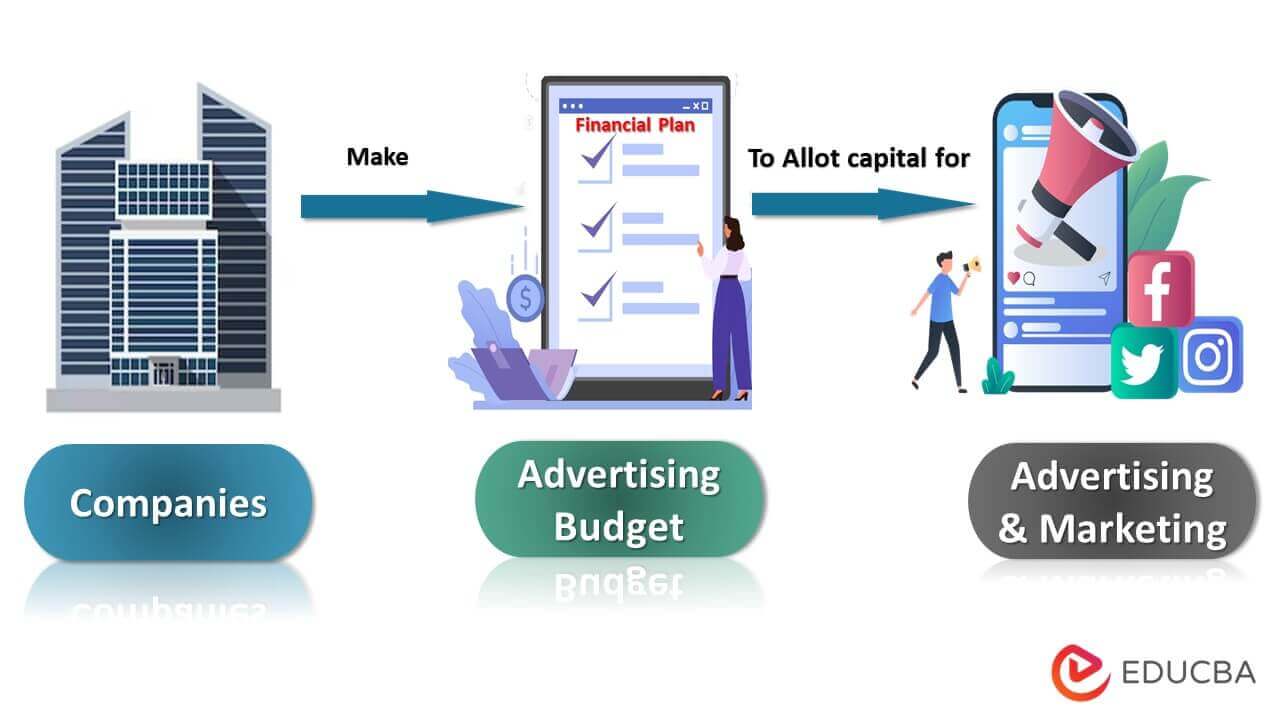 The company determines its budget based on its marketing strategy, target audience, and expected return on investment. It uses it to pay for various forms of advertising, including print, television, online ads, and more, as well as market research, production, and related expenses.
For example, Super Micro Computer has spent $500,000 on all marketing activities for a quarter. Here's a breakdown that a medium-sized B2B company might employ as an itemized marketing budget.
Email Marketing – 5% ($25,000)
Inbound Content Marketing – 22% ($110,000)
SEM PPC, Display, and Social Media Ads – 23% ($115,000)
PR, Off-Page SEO, and Influencer Marketing – 25% ($125,000)
Website – 15% ($ 75,000)
Traditional – 10 % ($50,000)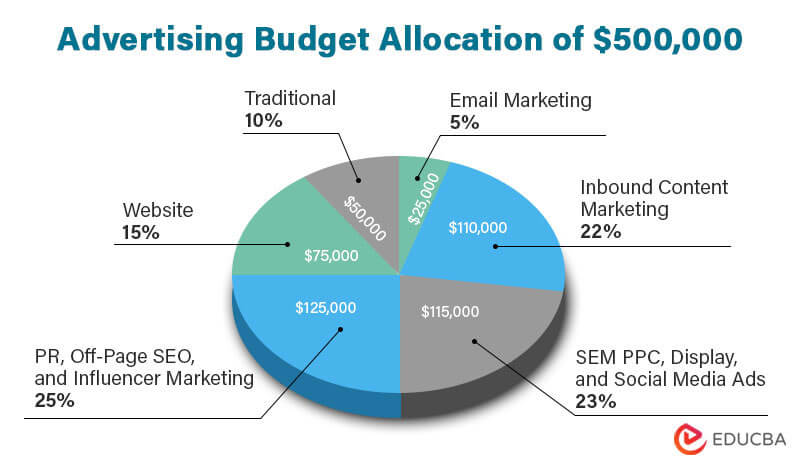 Key Highlights
An advertising budget is a plan for allocating funds toward promoting and marketing a company's products or services over a specified time.
A company's marketing or advertising department typically sets the budget for advertising, which pays for television commercials, print ads, and online advertising.
The budget may include market research, production, and other related expenses.
Factors such as the company's marketing strategy, target audience, and projected return on investment usually determine the budget.
It is typically reviewed and adjusted regularly to ensure that the company's advertising efforts achieve their desired results.
It is crucial for the company as it helps to track the expenses, measure the ROI, and make informed decisions.
Advertising Budget Process
Step #1 Define the Business Strategy and Marketing Plan
The first step in making is figuring out the business strategy and marketing plan.
It involves clearly defining the company's goals, target audience, and products or services the company is offering.
The marketing plan will list the different ways to reach the target audience, such as advertising, public relations, promotions, and sales.
Step #2 Determine the current marketing budget
The company needs to determine the current amount of money spent on marketing activities.
It will help to identify areas where the budget can be trimmed or increased.
Step #3 Measure the Effectiveness of Spending
To get the most out of its advertising budget, the company needs to figure out how well it uses the money it already has.
It involves tracking the results of marketing campaigns, analyzing the return on investment (ROI), and determining which tactics are working and which are not.
Step 4 Follow up and offer advice
The final step is to follow up on the results of the marketing campaigns and provide guidance to the marketing team.
It can mean cutting the budget if traditional advertising methods are no longer needed for the product or increasing the budget if the marketing strategies work.
Examples of Advertising Budget
#1 Netflix
As Netflix lost its subscribers, it increased its advertising budget by 14 % to 2.55 billion dollars in 2021 compared to 2020. The company took the step to get better results and regain those lost subscribers.
#2 Apple
Apple decided to invest over 100 million dollars in advertising on Twitter. Apple did so because Twitter has a vast user base of high net worth, and  Apple is known as a premium brand of smartphones.
Allocation of Advertising Budget
The company allocates its advertising budget among the following forms:
Advertising:
Advertising has to be on the customer's needs.
It is essential to know the marketing trends and market penetration effectiveness.
One can raise the budget after analyzing striking differences between market penetration, population density, and customer needs.
Events:
It is imperative to hold events to get customer feedback.
Events provide face-to-face reviews, which are the critical aspects of the events.
Digital events also play an essential role in knowing the consumer's digital behavior.
Tools and Technology:
Tools and technology play an essential role in deciding the market strategy.
Modern tools like SEO tracker, digital portfolio management, and customer relationship management tools help understand consumer analytics behavior.
It also helps decide the proportion of revenue to be shared among the stakeholders for better understanding.
Methods of Advertising Budget
Affordability Method:
This method considers a company's financial resources when determining the budget for advertising.
The basis of the budget is what the company can afford to spend on advertising, considering other expenses and financial obligations.
This method is best suited for companies with limited financial resources or those in the early stages of business.
Percentage of Sales Method:
This method allocates a percentage of the company's sales revenue towards advertising expenses.
This method helps to ensure that a company invests a consistent portion of its sales revenue into advertising.
This approach can be helpful for companies with stable and predictable sales revenue and who want to ensure they maintain a consistent level of advertising spending.
Historical Method:
The historical method's basis is the company's past advertisement expenses.
The budget is determined using the previous year's budget as a starting point.
This method is helpful for companies with a consistent advertising spending history and who want to maintain the same level of spending.
Objective and Task Method:
In this method, One can set specific goals and objectives for the advertising campaign in advance.
The budget is then determined based on the resources required to achieve these objectives.
This method is results-driven and emphasizes the effectiveness of advertising spending rather than just the amount spent.
Competitive Parity Method:
This method matches a company's budget for advertising to that of its competitors.
The assumption is that a similar level of spending is required to remain competitive in the market.
This method is helpful for companies that want to ensure they are not at a disadvantage compared to their competitors in terms of advertising spending.
Payback Method:
This method determines the budget based on the advertising campaign's expected return on investment (ROI).
The focus is on maximizing financial results from the advertising spend.
This method suits companies focused on ensuring a positive return from their advertising investments.
Negotiated Method:
This method involves negotiating the budget with media outlets based on their value to the company's advertising campaign.
This approach provides companies with greater flexibility and control over the budget.
This method is helpful for companies that have unique advertising needs and want to negotiate their spending directly with media outlets.
Factors Affecting Advertising Budget
Company size and revenue: The larger the company and its revenue, the more resources it has for marketing.
Marketing objectives and goals: The budget should align with the company's specific marketing goals, such as increasing brand awareness or boosting sales.
Target audience and market segment: Understanding who the target audience is and where they are located helps determine the most effective and efficient use of marketing resources.
Competitor analysis and market conditions: Understanding the competition and market conditions helps the company allocate resources to areas with the greatest potential return.
Product or service offering and pricing strategy: The marketing budget must consider the cost of the product or service and the pricing strategy.
Available resources, including personnel and technology: If one has to execute his marketing plan, the budget must consider the company's personnel and technology resources.
Measurement and evaluation metrics: The budget should allocate resources for measuring and evaluating the success of marketing efforts.
Legal and regulatory requirements: Certain industries have legal and regulatory requirements that one must consider when creating a marketing budget.
Historical marketing spending and performance data: Examining past marketing spending and performance helps the company make informed decisions about future budget allocation.
Economic and industry trends: The overall economic and industry conditions can impact the marketing budget, and one should consider it.
Importance
The advertising budget is important because it helps a company allocate resources toward promoting its products or services to potential customers.
A well-planned budget can help a company reach its target audience, increase brand awareness, and drive sales.
It also allows a company to measure the effectiveness of its advertising efforts and make necessary adjustments.
However, if one needs to manage the budget properly, it can result in wasted resources and a poor return on investment.
Final Thoughts
Developing the business strategy and marketing plan, calculating current marketing expenditure, measuring spending effectiveness, and following up and providing direction are all part of the advertising budget process. By following these steps, a company can get the most out of its budget and ensure that its marketing strategies align with its overall business goals.
Frequently Asked Questions(FAQs)
Q1. How does the advertising budget work?
Answer:  A company's advertising budget determines the expenses a company can make on advertising its products or services. It is part of a company's overall marketing strategy and is given out based on things like the audience they want to reach, their marketing goals, and their competitors. One can set aside a budget to pay for TV, print, online, and outdoor media advertising. Companies aim to maximize the return on investment by allocating the budget effectively to reach the target audience and achieve marketing goals.
Q2. What are the types of advertising budgets?
Answer: There are five main advertising budgets, each with its approach to determining the allocation of resources.
Fixed budget: It involves setting a predetermined amount for advertising.
Percentage of sales budget: It sets the budget based on a portion of the company's sales.
Competitive parity budget: One can determine it by observing the advertising spend of the company's competitors.
Objective and task funding: It sets the budget based on specific advertising goals and functions.
Negotiated budget: One can establish it through negotiations with media outlets.
Q3. What do you mean by advertising budget?
Answer: It refers to the amount of money a company allocates for promoting its products or services through various advertising channels such as TV, radio, print, online or outdoor media. It's an essential part of a company's marketing strategy because it affects how far and well their ads reach people.
Q4. How do you prepare an advertisement budget?
Answer: A company's marketing strategy must systematically assemble its advertising budget, which is a crucial part of the plan. The following steps are involved in this process:
Defining advertising objectives
Conducting market research
Identifying target audience
Determining budget allocation method
Considering previous advertising spend
Negotiating with media outlets
Allocating budget across different media channels
Continuously monitor and adjust the budget as needed.
By following these steps, a company can ensure that its budget effectively supports its marketing goals and maximizes the return on investment.
Recommended Article
We hope that this EDUCBA information on "Advertising Budget" was beneficial to you. For further guidance on business-related topics, EDUCBA recommends these articles: