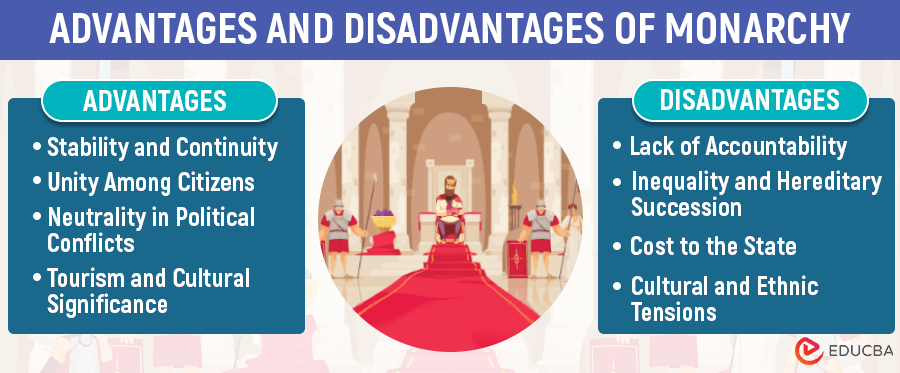 Advantages and Disadvantages of Monarchy – Introduction
In a world where most countries are fighting for democracy, imagine a nation ruled by kings and queens. Countries such as the UK, Japan, Thailand, and more still follow the ancient governing practice called monarchy. There are clearly two sides to this system, so in this article, let us explore the good and not-so-good sides of monarchy.
Here are the various advantages and disadvantages of monarchy.
Advantages of Monarchy
1. Provides Stability and Continuity
Countries under monarchies are often more stable and have continuity in government. This is because the head of state remains unchanged over long periods.
Example: From 1952 to 2022, Queen Elizabeth II, as the reigning monarch of the British monarchy, provided political stability.
2. Promotes Unity Among Citizens
Monarchs often serve as symbols of national unity, helping to bring people together across different regions and demographics.
Example: The Japanese Emperor plays a symbolic and unifying role in Japanese society, transcending political divisions.
3. Constitution Limits Negative Use of Power
Many modern monarchies are constitutional, meaning they have a constitution that limits the monarch's powers, ensuring a system of checks and balances.
Example: The constitutional monarchy of Sweden demonstrates how a monarch can coexist with a democratic system, ensuring political accountability.
4. Improves Tourism and Preserves Culture
Monarchies are often known to preserve cultural heritage, which attracts tourists and contributes to the economy.
Example: The Thai monarchy is a significant tourist attraction, drawing visitors to the country's rich history and traditions.
5. Provides Diplomatic Advantages
Monarchs can act as diplomatic figures and goodwill ambassadors, fostering international relations.
Example: King Abdullah II of Jordan has played a crucial role in promoting peace and cooperation in the Middle East.
6. Expertise and Training Assist in Effective Governance
Monarchs often receive extensive training and education in the responsibilities of their position, allowing them to rule efficiently.
Example: King Willem-Alexander of the Netherlands, who received training as a pilot and served in the Dutch military, has used his expertise to advocate for water management, a critical issue in his country.
7. Allows Long-term Planning
Monarchs can plan for the long-term benefit of their nation, as they do not face re-election pressures.
Example: King Mohammed VI of Morocco has implemented numerous long-term development projects, including infrastructure and education initiatives, to improve the country's future.
8. Maintains Neutrality in Political Conflicts
Monarchs often remain neutral in political disputes, which can help mitigate conflicts in their countries.
Example: King Harald V of Norway is known for his role in promoting peace and reconciliation during times of political unrest in Norway.
Disadvantages of Monarchy
Let's look at some of the disadvantages of monarchy:
1. Lack of Accountability
Some monarchs may lack accountability, leading them to make decisions without the public's input, potentially ruling like dictators.
Example: The absolute monarchy of Saudi Arabia illustrates the lack of political accountability in such systems.
2. Inequality and Hereditary Succession
Monarchies often choose the next ruler as per hereditary succession, continuing social and economic inequalities.
Example: The British royal family's wealth and privileges highlight the disparities that can exist within a monarchy.
3. Potential for Tyranny
Monarchs can become oppressive rulers, undermining human rights and silencing opposing voices.
Example: The reign of King Leopold II of Belgium in the Congo Free State serves as a dark example of the monarchy's potential for abuse.
4. Limited Representation
Monarchies can limit the representation and participation of citizens in the political process.
Example: The Kingdom of Eswatini (formerly Swaziland) is an absolute monarchy where political freedoms are severely restricted.
5. Cost to the State
Maintaining a monarchy can be expensive, with taxpayers often funding the royal family's lifestyle and official duties.
Example: The British monarchy's annual budget, paid for by UK taxpayers, has faced criticism for its cost.
6. Dynastic Struggles
Hereditary monarchies can lead to power struggles within royal families, which can destabilize the nation.
Example: The historical Wars of the Roses in England were a result of competing claims to the English throne among different branches of the royal family.
7. Gender Inequality
Many traditional monarchies favor male heirs over female heirs, perpetuating gender inequality.
Example: The Saudi Arabian monarchy has faced criticism for its strict male-only succession system, which excludes women from the line of succession.
8. Cultural and Ethnic Tensions
Sometimes, monarchies can increase the tension between cultural and ethnic groups if the ruling monarch represents only one segment of the population.
Example: The historical tensions between the Flemish and Walloon populations in Belgium have been influenced by the monarchy, as it is seen as favoring one group over the other.
These were the top advantages and disadvantages of monarchy.
Recommended Articles
We hope you found this article on the advantages and disadvantages of monarchy helpful. Refer to the following recommendations to view similar articles,