Updated June 27, 2023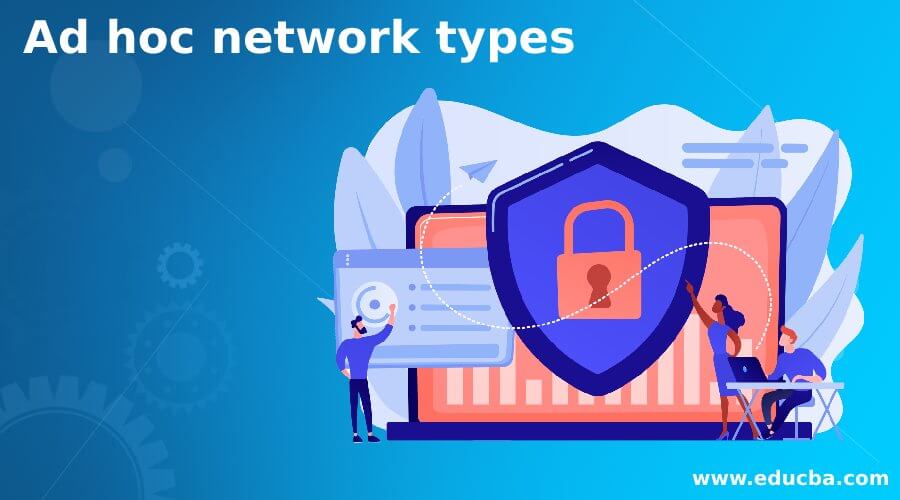 Introduction to Ad Hoc Network Types
In today's communication world, Various ad hoc networks categorize themselves as available modes of wireless networks within the Local Area Network (LAN) category. This allows users to connect in a peer-to-peer model of a wireless connection without any wireless access point device in between. Wireless access point devices are the devices that enable the connection between the different wireless cards. The card's name implies a wireless connection, suggesting that it does not require any cables for connectivity. When connected, the devices establish a spontaneous connection in the ad-hoc network. In this article, we will look into the working of ad hoc networks and the different types of ad hoc networks.
How Does an Ad Hoc Network Work?
Before knowing how an ad hoc network works, we need to understand the ad hoc network is set up without a centrally managed network system. The wireless network concept's baseline assumes that a base station or a wireless access point is necessary to establish the connection. The other thing to remember is that the connection is only temporary.
Let us assume one scenario to help us understand the working better. Person A wants to share files with B, but the existing Wi-Fi connection is not secure, and the data is very confidential. To share confidential data, it needs to be shared locally, as setting up a full network system doesn't serve the purpose effectively. And as a reason for that, we would set up a local area network for a temporary purpose. And as a result of that, for the transfer, A can create an ad hoc connection from the available list of ad hoc network types (in the next paragraph) to securely transfer the file over to B, without any fear of data leakage during the transfer. One can also think of accessing the internet if the hosting device can connect.
The communication concept is similar to a peer-to-peer local area network; No network infrastructure is established to provide the communication channel in a MANET. There is always a base station that initiates the entire ad hoc network, but in this topology, every device participates in routing the network that is coming in by:
Determining the route of communication.
Determining the routing algorithm and using the same to forward the data to other devices in the route of network share.
Lastly, when the hosting device ends the session of the ad hoc network, the entire chain of connections will break no matter how many other connections are in that network topology. With the above working principles and understanding of where the use case of ad hoc network type belongs, it is time for us to look into the different types of ad hoc networks.
Different Ad Hoc Network Types
Ad hoc networks play a crucial role in local area networks, as they create temporary connections required for smaller tasks and prove very handy when a lot of travel is necessary. The different ad hoc network types that can be looked upon to choose from are:
1. Mobile ad hoc network
The ad hoc network, acronymed as MANET (Mobile Ad Hoc Network), is formed by multiple mobile devices connecting to create a self-forming network. In this network, a set of mobile nodes form a self-configurable and self-healing network topology without relying on any fixed infrastructure. The nodes can establish connections within a specific network zone. Each node acts as a routing device to propagate the traffic to other devices. This type doesn't require much human intervention.
2. Vehicular ad hoc network
VANET is an extension of MANET specifically designed to establish networks within a specific domain of mobile devices, namely vehicles.
The mobile network formed can form and relay the network among cars. This network system intends to establish an intelligent transport network, which is evolving into an Internet of autonomous vehicles.
3. Wireless mesh network
In this type of network, radio nodes organize themselves in a mesh topology where infrastructure nodes can directly and dynamically connect to various other nodes without hierarchy and have an optimized route to guide the data to and from clients. The devices or nodes in this topology observe a rich interaction among themselves, and the frequency of device mobility is reduced due to the designed routes being updated frequently. As a result, there is less available time for data delivery.
4. Smart phone ad hoc network
Acronym'd as SPAN, the name itself suggests that smartphones are used for setting up the network. Here, a collection of smartphones within proximity together creates an ad-hoc network. The medium for communication utilizes a transparent discovery and route discovery mechanism. In this type of network, the peers can join and leave the network without destroying the network itself, and there is no concept of a device leader in SPAN.
5. Wireless sensor network
This topology mainly facilitates relaying sensor data from the physical environment to a central location. The sensors collect data on physical, environmental, or related conditions and distribute them spatially. Afterward, they transmit the data to a central system. This greatly helps us measure critical environmental factors like temperature, sound, pollution, etc.
Conclusion
With this, we come to the end of the exciting article. Still, a few points that should be kept in mind while using ad hoc networks are to look at the listed roadblock that might occur in terms of security, where cyber attackers can lead accessing the device (if in range) and too many systems connecting on ad hoc network and thus degrading performance!
Recommended Articles
We hope that this EDUCBA information on "Ad Hoc Network Types" was beneficial to you. You can view EDUCBA's recommended articles for more information.