What is the IB Programme?
The International Baccalaureate or IB Programme is renowned for its rigorous, comprehensive curriculum designed to cultivate knowledgeable, empathetic, and inquisitive learners. This globally recognized program not only emphasizes academic excellence but also fosters personal growth, ethical values, and a commitment to lifelong learning that prepares its students to thrive in a diverse and interconnected world.
For parents contemplating which educational pathway their child should embark on, IB schools in Singapore and worldwide offer opportunities for holistic development. These institutions instill a global perspective and a deep appreciation for cultural diversity in students. These qualities could also be the defining factors in shaping your child's future, allowing them to stand out with a rich blend of skills, knowledge, and values.
Recognizing whether the IB Programme aligns with your child's disposition and learning style is crucial. Thus, here are some clear signals that your child is a good fit for the program: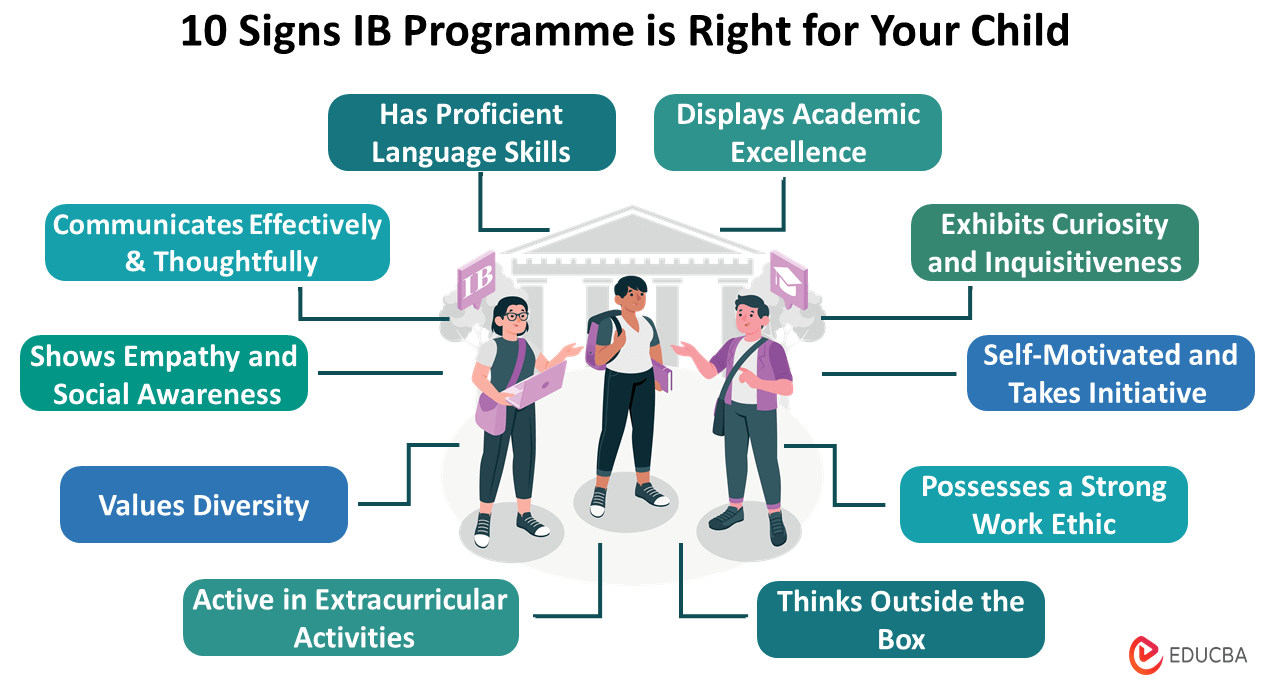 1. Displays Academic Excellence
High academic performance is a clear indicator of a child's potential success in the IB Programme. If your child is a natural achiever in school, the IB Programme can encourage them to delve deeper into topics, promoting understanding and retention of the lessons. Students with an inclination for learning and academic achievement can maximize their potential, master complex concepts, and acquire skills critical for future pursuits. The impact of academic excellence in IB extends beyond grades as it also cultivates a sense of responsibility and discipline, essential attributes that push students toward achieving their goals.
2. Exhibits a Strong Sense of Curiosity and Inquisitiveness
An inherent curiosity and an inquisitive nature are important for exploring the extensive breadth and depth of the IB curriculum. The program is designed to stimulate students' minds, urging them to question, analyze, and synthesize information. A child with a voracious appetite for knowledge and a questioning mindset will likely thrive in the enriching learning environment of the IB.
Exploration and inquiry are the cornerstones of the IB learning experience. The program drives students to investigate various perspectives and formulate informed opinions. This active engagement with learning materials not only enhances academic outcomes but also equips students with the analytical and critical thinking skills essential for discerning the complexities of contemporary society and contributing meaningful solutions.
3. Demonstrates Self-Motivation and Initiative
The curriculum requires students to be proactive, manage their time efficiently, and balance diverse responsibilities. A self-motivated child, driven by an intrinsic desire to learn and excel, can overcome the challenges of the program and maintain a positive and resilient attitude throughout. The emphasis on independent learning in IB encourages autonomy and a deep-seated love for learning, giving students the capacity to better explore their interests and passions. The cultivation of self-motivation empowers students to take ownership of their educational journey, preparing them to face the uncertainties of the future with confidence.
4. Possesses a Strong Work Ethic
Possessing a strong work ethic is indispensable for success in the IB Programme. The multifaceted curriculum demands diligence, perseverance, and a meticulous approach to tasks. Students with a commitment to hard work and a disciplined mindset are more likely to navigate the rigors of IB effectively, achieving their academic objectives while maintaining a balanced lifestyle. This foundational attribute not only facilitates academic accomplishments but also fosters personal development and success in later life.
5. Thinks Outside the Box
The IB Programme values and nurtures creative thinking, enabling students to approach problems with innovation and originality. Children who exhibit a natural flair for thinking outside the box and generating unique ideas will find the IB environment both stimulating and rewarding. The curriculum also encourages students to explore diverse solutions and engenders an appreciation for the aesthetic and creative aspects of different subjects.
Creative thinking is intertwined with academic development in the IB curriculum. The program enriches the learning experience by integrating various disciplines and perspectives to enhance the cognitive flexibility and adaptability of the student. Through diverse projects and interdisciplinary learning, students refine their creative skills, learning to synthesize information and articulate their thoughts effectively, a competency highly valued in today's dynamic world.
6. Has Proficient Language Skills
Children with strong language skills, capable of expressing their thoughts clearly and comprehending complex texts, will undoubtedly excel in the IB environment. The program encourages and supports multilingualism, giving rise to a deeper understanding and appreciation of different cultures and perspectives. Moreover, language skills acquired in IB are not merely about linguistic competence; they are integral to developing the cultural literacy and empathy needed to comprehend the nuances of different societies.
7. Communicates Effectively and Thoughtfully
If your child is an articulate and receptive communicator, then they'll easily fit into the IB Programme. Effective communicators will be able to participate actively in the complex discussions typical in IB environments and articulate their insights cohesively. Moreover, the importance of communication skills in IB is not limited to academic discourse as it also extends to interpersonal interactions and the expression of ideas, values, and emotions, all of which are also important in the IB curriculum.
 8. Values Diversity and Embraces Global Citizenship
The IB Programme is rooted in the principles of diversity and global citizenship, aiming to mold students into open-minded, informed individuals. Parents with kids who value diversity and exhibit a willingness to understand and embrace different cultures and lifestyles will find the IB ethos resonant with their worldview. The curriculum integrates global perspectives, encouraging students to explore and appreciate the richness of human experience. This holistic perspective is crucial in today's interconnected world, as it enables students to make meaningful contributions to society and to promote understanding and cooperation among diverse communities.
9. Shows Empathy and Social Awareness
Empathy and social awareness are core values of the IB Programme, fundamental for personal and societal well-being. Young learners who are empathetic and are attuned to social dynamics align well with the IB ethos. The curriculum actively nurtures emotional intelligence, helping students develop sensitivity to the needs and emotions of those around them. In a world fraught with divisions and inequalities, these qualities are indispensable for promoting harmony and social justice.
10. Actively Engages in Community and Extracurricular Activities
Children who find fulfillment in helping others will thrive in IB, as community engagement is an integral component of the curriculum. The emphasis on community engagement in IB is not merely about altruism but also about developing well-rounded, globally-minded individuals who are committed to making a positive impact. By giving importance to the wider community, the IB Programme aims to cultivate a sense of purpose that enriches students' lives and kindles a lifelong commitment to service and social change.
Enhance Your Child's Potential through the IB Programme
The International Baccalaureate Programme is renowned for promoting holistic and comprehensive development, preparing students not just academically but also socially and emotionally. However, it's not necessarily the best program for all children. Recognizing whether your child aligns with the IB philosophy can be instrumental in ensuring a harmonious and enriching learning experience.
If you observe these signals in your child, consider exploring the diverse educational landscapes offered by IB schools. If they're the right fit, enrolling them in an IB school can ensure that their learning experience is rewarding and conducive to their overall development. Remember to choose wisely, for the right educational pathway can be the cornerstone for your child's lifelong learning, ethical development, and future contributions to society.