Securitization
It is a process in which an entity securitizing its assets is not borrowing but selling a stream of cash flows that otherwise accrue to it. It is a process through which an issuer creates a financial product by combining other financial assets and then marketing different tiers of the repackaged instruments to investors for the issuer's funding. The repayment of securities is exclusively dependent on the performance of the assets.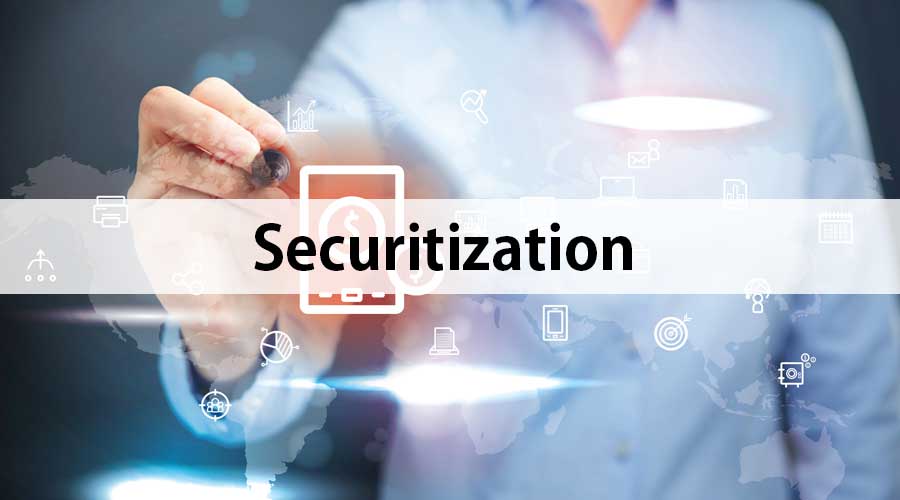 Features of Securitization-
The investor looks at the entity's cash flow and not the entity itself; hence, it's also called assets backed financing.
It is also called structured funding because the risk is structured following the investor's needs.
Originator's liability is in the form of credit enhancement.
 Difference between Securitization and Corporate Finance-
| | | |
| --- | --- | --- |
| Basis | Securitization | |
| Nature | General claim against the assets of an entity | Claim against specific assets of an entity, on a mutually exclusive basis |
| Objective | To harness the strengths of the corporate's balance sheet to raise funding | To strip the excess spread inherent in assets and service them on an off-balance sheet basis |
| Investor risks | Subject to entity-wide risks | Isolated from entity risks |
| Structured funding | Less amenable to structured funding | More amenable to structured funding since assets are hived off into a separate entity. |
| Leverage | Leverage limited to entity wideprudential/regulatory limits. | Leverage based on portfolio risks – usually quite high |
 Basic Model of Securitization-
 Securitization Process-
The originator either has or creates the underlying assets, i.e. transaction receivables, to be securitized.
Selection of receivables to be assigned
Formation of Special purpose vehicle (SPV)
A special purpose vehicle (SPV) acquires the receivables under a discounted value.
The servicer for the transaction is appointed (normally originator)
Servicer collects the receivables (usually escrow mechanism) and pays off the collection to Special purpose vehicle (SPV)
The Special purpose vehicles (SPV) either pass the collection to the investor (or reinvest the same to pay off)
In case of default, the servicer takes action against debtors as a Special purpose vehicle (SPV)s agent
When only a small amount of o/s receivables are left to be collected, the originator usually cleans up the transaction by buying back the o/s receivables
At the end of the transaction, the originator profit, if retained and subject to any losses to the extent agreed by the originator in the transaction, is paid off.
 Requirement of Securitization-
Legal environment
Accounting environment
Regulatory environment
Tax environment
Back office systems/Information
System
Strong investor demand
 Typical Originators of Securitization-
Mortgage financiers
Banks
Finance companies
Credit card companies
Hoteliers
Public utilities
Intellectual property holders
Insurance companies
Aviation companies
Governments
 Risks in Securitization-
Following are the parties' involved in Securitization-
Originator
Obligors
SPV
Trustees
An Investors
Swap Counterparties
Liquidity provider
Credit enhancement provider
Why securitization?
Lower cost – inherent cost and weighted average cost– The best example of the economics of securitization is an arbitrage CDO
Alternative investor base -institutional and retail
Matching of assets and liabilities
Issuer rating irrelevant
Multiplies asset creation ability
Non-conventional source; may allow higher funding-
Off-balance sheet financing – removal of accounts
Frees up regulatory capital
Improves capital structure
Higher trading on equity with no increased risk
Key Benefits of Securitization
Typically cheaper financing than traditional funding
Diversification of funding
Non-recourse to the originator/seller of the receivables
Early monetization of assets
Control of obligor exposure
Terms Used in Securitization-
Bond- A debt financial investment in which an investor lends money to an entity such as a corporate company, the government that borrows the funds for a specified period at a specified interest rate.
Investment Bank (IB)- An Investment bank is a financial intermediary that helps companies, agencies, and the government raise money by issuing and selling securities in the primary market.
Junk Bond- A high-yield or low investment graded bond. They are fixed-income financial instruments that have ratings of 'BB' or lower by Credit rating agencies.
Mortgage-Backed Security (MBS)- It is a type of asset-backed security secured by a pool of mortgages. These securities are grouped in one of the top two ratings as determined by credit rating agencies, like S & P. Usually, they pay periodic payments similar to interest payments.
Collateralized Debt Obligation (CDO)- Collateralized Debt Obligation involves pooling debt to hedge risk and raise returns. When a lot of debt, for example, home mortgages, are pooled together and split into different tranches or slices, each slice is assigned a different payment priority and interest rate per their grading by credit rating agencies. This overall process is known as securitization.
Yield- It is the income or return on investment.