Updated July 15, 2023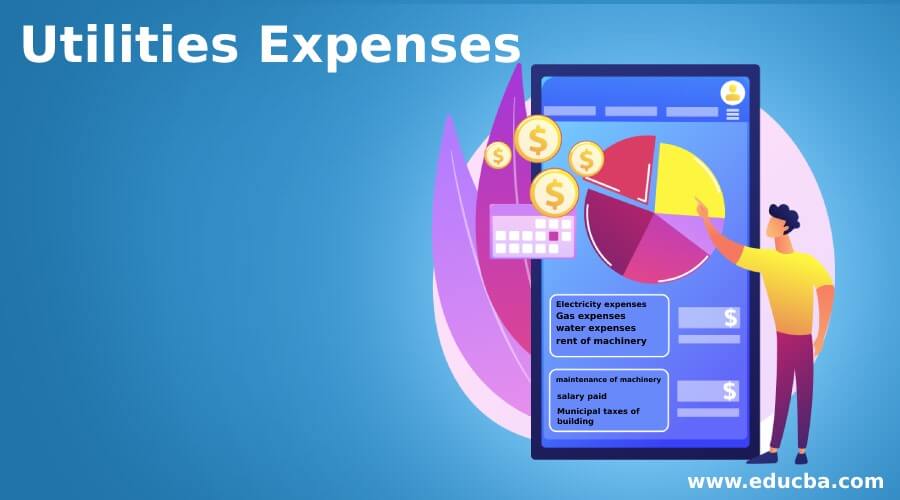 Definition of Utilities Expenses
The cost incurred on public utilities such as electricity, water, gas, etc., and all other basic utilities necessary for commercial and household purposes, represents utility expenses.
In the case of a business organization, utility expenses refer to the amount of money the organization spends on utilities to support the sale of goods or services. The classification and presentation of these expenses can be done as selling expenses, administrative expenses, etc.
Explanation
Public utilities incur basic variable costs such as electricity, water, gas, internet, etc. Organizations using these utility records expenses based on their chosen accounting method, either accrual or cash basis. In the accrual system, the actual consumption of utilities is recorded, not just the received bills. For example, In March, we record the estimated or consumption-based expenses for electricity, even though we receive the bill in April for the previous month. Under the cash basis, expenses are recorded based on the payments made. In business organizations, utility expenses encompass all the costs that contribute to sales, such as sales commission and manufacturing expenses.
Example of Utilities Expenses
ABC Ltd has incurred the following expenses:
| | |
| --- | --- |
| Particulars |  Amount ($) |
| Electricity expenses |        50,000.00 |
| Gas expenses |        12,000.00 |
| water expenses |          7,500.00 |
| rent of machinery |        12,000.00 |
| maintenance of machinery |          3,000.00 |
| salary paid |        15,000.00 |
| Municipal taxes of building |          7,000.00 |
| |      106,500.00 |
Calculate the Utility expenses paid by the organization
Solution:
The public utility expense considers the provision of basic facilities necessary for society.
Calculation of Utility expense is as under:
| | |
| --- | --- |
| Particulars |  Amount ($) |
| Electricity expenses |        50,000.00 |
| Gas expenses |        12,000.00 |
| water expenses |          7,500.00 |
| Municipal taxes of building |          7,000.00 |
| |        76,500.00 |
Expenses like salaries paid, machinery maintenance, and machinery rent do not form part of public utilities. Hence, they are not treated as utility expenses.
Types of Utilities Expenses
Telephone Expense: Using telephones and mobile devices for business purposes qualifies them as utilities that help organizations reach customers, adding value to sales and ultimately contributing to the organization's profit.
Internet expense:  Organizations widely utilize the Internet, finding it highly useful for their work and growth. The Internet plays a crucial role as one of the essential utilities in organizations, enabling tasks such as emailing official documents and making payments through net banking.
Water Charges: The organization charges for water usage based on the water used, with different rates for commercial and electric purposes. Water serves as a utility for the organization, enhancing its services through applications such as production, cleaning, and more.
Gas Bill: Gas is used for residential as well as commercial purposes. Some organizations keep the gas for tea and coffee preparations while others use it as it forms part of their manufacturing process like; in the case of the processed food business, gas is used. Both use to add value to the organization and are considered as part of utility expenses.
Electricity bills: Electricity is a major part of the organization. Without it, it is impossible to work as for all the things for creating a healthy work environment, working on electricity devices, manufacturing in machines, etc. Hence electricity expenses are considered the most vital and most important basic utilities.
Other Cost:  Utility expenses include the security guard salary, maintenance expenses of public places, association fees, lawn care, and other costs that contribute to the final product and are related to public utilities and are necessary and unavoidable.
All the things necessary for living and without which living can become difficult are considered utility expenses for home consumption.
Utilities Expenses in Accounting
In Accounting, organizations consider all expenses that directly contribute to sales, profit, and the basic necessities of the organization as utility expenses, which should be accounted for. These include electricity, water, internet, telephone, and other variable expenses related to public use, which are necessary for running the business.
The account should record all utility expenses as expenses, debiting them in the profit and loss account. In an accrual accounting system, the profit and loss account should record the actual consumption of utilities, irrespective of whether the payment has been made to the supplier or the supplier has issued a bill.
Generally, the accounting entry for recording Utility expenses is:
Particulars

Amount ($)

Amount ($)

Profit and Loss A/c                                  Dr.

To Utilities Expenses A/c

                       XXX

XXX

(Being the basic Utilities expenses used for business are charged to profit and loss account)
Importance of Utilities Expenses
Utility expenses play a vital role as they are expenses without which basic business activities are impossible. The importance of utility expenses is explained as under:
Utility expenses are considered essential expenses that organizations require for smooth functioning.
They are charged as per the usage; less usage leads to minimum utility expenses.
The provider's services are at minimal cost and with quality and assurance services like water. The authority charge for water takes the guarantee of providing clean water and chemical-free water so that it does not harm the service users.
Conclusion
Utility expenses encompass public services required to operate a business or carry out household activities. In the context of household expenses, they encompass essential costs for comfortable living, such as water, electricity, gas, and maintenance. Utility expenses include machinery repair costs, selling commissions, and basic packaging expenses for commercial purposes. These expenses are calculated based on usage, and by optimizing consumption, it is possible to reduce costs.
Recommended Articles
This is a guide to Utilities Expenses. We also discuss the definition and types of utility expense, examples, and importance. You may also have a look at the following articles to learn more –