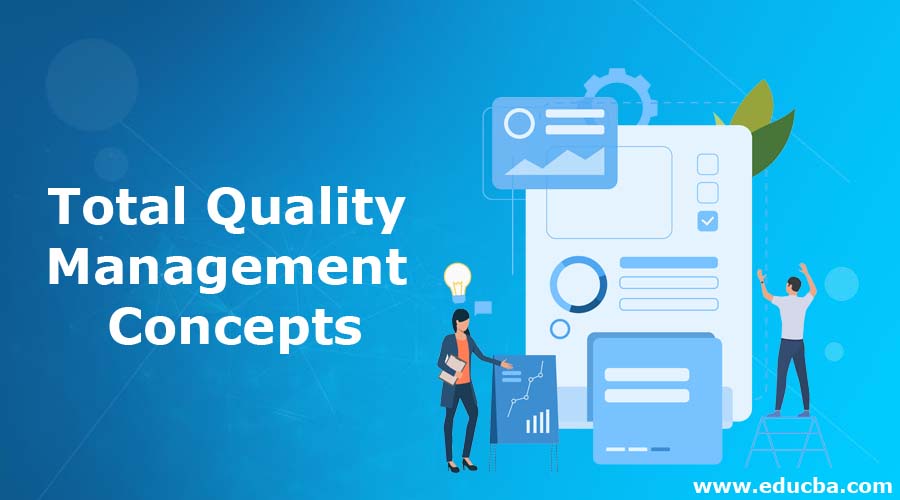 Introduction to Total Quality Management Concepts
Before diving deep into this concept, let's define each term separately as this will help us better understand these Total Quality Management Concepts.
Total: As per the name suggests, it refers to the entire or whole organization.
Quality: Even this is self-explanatory, the quality of the company's products and services.
Management: It can refer to the people running the organization and the way they manage, direct and control the organization.
Thus it refers to running the organization in an effective and productive manner and developing existing systems and procedures to operate at the highest efficiency. It also focuses on enhancing customer satisfaction and try to meet customer expectations. The objective of the management is to increase the internal productivity of the organization and work towards increasing customer satisfaction.
List of Popular Concepts of Total Quality Management
In order to achieve this, there are certain guidelines that assist management in enhancing their systems; these guidelines can also be viewed as concepts.
Below is a list of some of the popular concepts:
1. Continuous Quality Improvement
Customer satisfaction is key to the survival of any business, and to satisfy customers, business needs to constantly work towards improving their quality. They should have certain benchmarks in place that help them in maintaining basic standards and quality, and in no circumstance should the quality of their products and services fall below these standards.
2. Employee Involvement
Giving autonomy to employees in the way they conduct their daily tasks and involving them in the decision-making process goes a long way in retaining employees, gaining their loyalty, increasing their motivation and commitment towards their work. When management implements suggestions provided by employees, it boosts their morale and makes them feel management cares for them. Employees should also be rewarded based on their performance. If an employee comes up with a very innovative suggestion that is implemented should also be rewarded as this will send a signal to other employees, who in turn will work towards finding and providing innovative solutions. This will greatly enhance their productivity.
3. Long Term Planning
The organization should work on formulating its plan for the future, that is, for the next 5-10 years, what do they plan to achieve, and how do they plan to do it. And then work towards achieving this, they should take decisions that support their long term objective and have a periodic review phase so that they can compare if they are on the right track.Such plans will also help them acquire the right kind of human talent who supports their objectives and has the right kind of skills needed to achieve these objectives.
4. Openwork Environment
Managers should welcome suggestions from employees and encourage them to do so without keeping any prejudice in mind. Organizational structure should be relatively flat so that senior managers are easily accessible and take ideas provided by juniors into consideration.
List of Additional Concepts of Total Quality Management
Apart from the above-mentioned concepts, below is a list of some additional concepts. It should be noted that there a lot of theories for total quality management, but underlying methodology and concepts are intertwined.
1. Be Customer Focused: All the actions and decisions an organization takes must take keeping its customer in mind, that is, how will the customers benefit from this. It should enhance overall customer satisfaction. The organization can take several measures like training their employees and improving internal process management.
2. Total Employee Involvement: Only when employees are involved in the decision-making process will they work efficiently and come up with innovative ways of enhancing the customer experience. Employees to feel empowered if senior management takes their suggestion into consideration and implements it. Overall, employees become happy.
3. Process-Centered: The approach to enhancing quality must be focused on the main process of the organization. Finding ways to enhance and innovate the central process is key to high-quality management. And all decisions must be made keeping the central process in mind.
4. Integrated Approach: This point is applicable to companies that have multiple divisions and subsidiaries working collectively together. Any decision must be taken by keeping all these divisions in mind and how they are integrated. It should not be that a decision increases the efficiency of one division but reduces the other. The approach should be collected and how it will impact all divisions.
5. Continuous Improvement: If something has worked in the past, where organization effectiveness and customer experience increased, it does not mean it will work again in the future. The culture of the organization should focus on and encourage continuous improvement. Employees should be rewarded for finding innovative ways of improvement.
6. Fact-Based Decision Making: All decision that is to be implemented should be backed up by concrete facts and evidence. It is important not to get swayed away in emotions or have a hidden personal agenda when making and finalizing any decision.
7. Communication: The effectiveness of successful management depends on how well the decisions taken are communicated to employees so that they are aware of it and can use them to enhance their work. Any changes in policies that impact the customer experience must be communicated well so that they can be implemented successfully.
8. Strategic and Systematic Implementation: This point focuses on the timing of implementation. Taking the right decisions at the right point in time is crucial for enhancing quality. Strategically it is important as well because if a competitor is working on similar policies or strategies, it should not get first movers advantage.
Conclusion
Thus we would like to conclude this article by stating that total quality management is enhancing traditional ways of doing business and bringing them in line with current trends and technology developments. Given the competition organizations face both domestically and internationally, it is important that they find new and innovative ways to survival. Management needs to take responsibility for the survival of their organization and encourage a culture of innovation. Employees should be given autonomy. Along with smart decisions, makings companies can greatly enhance their productivity and overall customer satisfaction.
Recommended Articles
This has been a guide to Total Quality Management Concepts. Here we have discussed some popular and additional concepts of total quality management. You can also go through our other suggested articles to learn more –