Learn from Home Offer TAKE THIS BUNDLE
WORDPRESS Course Bundle - 8 Courses in 1
29+ Hour of HD Videos
8 Courses
Verifiable Certificate of Completion
Lifetime Access
TAKE THIS BUNDLE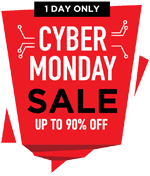 * One Time Payment & Get Lifetime Access
What you get in this WORDPRESS Course Bundle - 8 Courses in 1?
29+ Hours
8 Courses
Course Completion Certificates
Lifetime Access
Self-paced Courses
Technical Support
Mobile App Access
Case Studies
About WordPress Course in Singapore
| | |
| --- | --- |
| Course Name | WordPress Course in Singapore |
| Deal | You get access to all videos for the lifetime |
| Hours | 29+ Video Hours |
| Core Coverage | You will gain a complete understanding of using WordPress features. You will learn WordPress installation, WordPress Semantics, Posts, pages, Blogging, WordPress Administration, Design & Layout and various other advanced functions. |
| Course Validity | Lifetime Access |
| Eligibility | Anyone serious about learning content management and wants to make a career in this Field |
| Pre-Requisites | Basic knowledge about content management and basic coding would be preferable |
| What do you get? | Certificate of Completion for the course |
| Certification Type | Course Completion Certificates |
| Verifiable Certificates? | Yes, you get verifiable certificates for each8 course, Projects with a unique link. These link can be included in your resume/Linkedin profile to showcase your enhanced skills |
| Type of Training | Video Course – Self Paced Learning |
| Software Required | None |
| System Requirement | 1 GB RAM or higher |
| Other Requirement | Speaker / Headphone |
WordPress Course in Singapore Curriculum
---
MODULE 1: WordPress Essentials Training

| Courses | No. of Hours | Certificates | Details |
| --- | --- | --- | --- |
| WordPress Basics and Application Development | 3h 56m | ✔ | |
| WordPress - Basics | 2h 29m | ✔ | |
| Online Wordpress Course- Comprehensive Wordpress Training | 14h 19m | ✔ | |

MODULE 2: Projects based Learning

| Courses | No. of Hours | Certificates | Details |
| --- | --- | --- | --- |
| WordPress Practical - Creating a Plugin for Movies Directory | 2h 23m | ✔ | |
| WordPress Practical - Creating a Construction Website | 3h 25m | ✔ | |
| WordPress Practical - Creating E-Commerce Website | 2h 32m | ✔ | |
| WordPress Practical - Speeding up a WordPress Website | 1h 03m | ✔ | |
| Hosting WordPress Website on Amazon AWS | 35m | ✔ | |
WordPress is a Content management system wherein HTML contents are created and managed. In the past few years, WordPress has been gaining immense popularity in the last few years when there was a boom of the internet and aims to achieve greater heights shortly. With keeping these recent developments of WordPress, the Course from EduCBA will try to accomplish the following objectives:
Harness the power of the open-source content management systems in developing webpages.
Making developers aware of the 5-minute installation procedure of WordPress and the immense power it brings due to this feature.
Get hands-on experience on how one can use the power of WordPress to manage blog posts, files, and comments.
Understanding the power of simple yet flexible.
Get technical depth on the real-life situation of WordPress by getting exposure to many projects.
In this WordPress Course in Singapore, we start with the WordPress basics and how to develop an application. The reason we touch upon the basics in this section is that it will be easier for the readers to jump onto the intermediate and advanced level quite smoothly. All terminology alerts will be taken care of in this section and this jargon would be made familiar so that during the course the jargon doesn't haunt you or your knowledge. In this portion, the entire course is divided into 2 sections wherein the second half will be covering real-life examples. Once this section is finished, we would move towards the intermediate level of WordPress, and similar to how we dealt with our first section this portion will be supported with examples as well to make learning easy for you.
Finally, we move to the last but most important section and that is the comprehensive training on WordPress. Every point in the world of WordPress is described in detail and every effort is made that each of the elements is well taken care of to even the beginners of the course.
WordPress Course – Certificate of Completion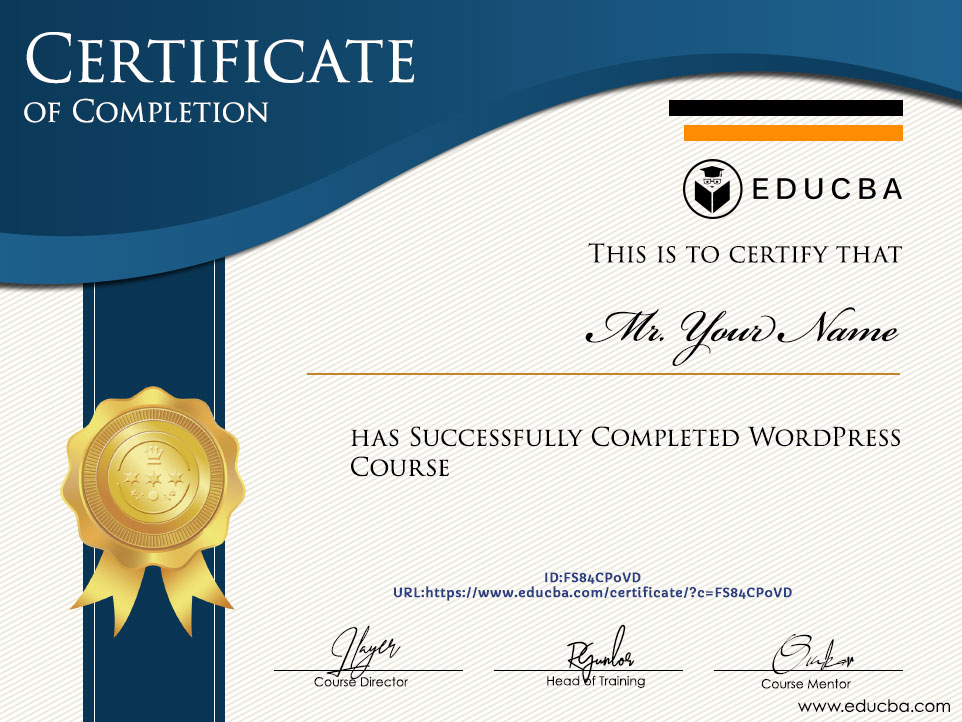 What is WordPress?
By definition in Wikipedia, WordPress is nothing but a content management system that is used widely in the industry for the creation of websites, blogs, and much other content. WordPress typically works with MySQL or MariaDB database servers but is also integrable with the SQLite engine as well. This system was essentially created for supporting people who are into blogging, but the content is so diverse that nowadays industry leaders recommend WordPress for the flexibility it provides for website building. According to wordpress.com, we have around 60 million websites in place running using WordPress and have a share of more than 33% of the top 10 million websites. Currently, if we look at the data on what industry WordPress is been used, it would be Online stores, membership sites, media galleries, etc. to name a few.
In the recent advancement, WordPress is now able to support more than one blog per installation but needs to be administered using a centralized maintainer. To start in WordPress there are a lot of themes available free of cost and WordPress provides the flexibility to build your themes as per the taste of the business genre we are in. Just for knowledge for installation of WordPress and the hosting company may provide online space specifically for this purpose otherwise wordpress.com does have the capability of hosting as well.

Industry Growth Trend
The rapid application development market size is expected to grow from USD 7.8 billion in 2018 to USD 46.2 billion by 2023, at a Compound Annual Growth Rate (CAGR) of 42.9% during the forecast period.
[Source - MarketsandMarkets]
Average Salary
Average Salary
$71,948 per year
The average salary for a Web Developer is $71,948 per year in the United States. Salary estimates are based on 3,732 salaries. The typical tenure for a Web Developer is less than 1 year.
[Source - Indeed]
Which Skills will you learn in this Training
?
During WordPress training, we would take you through a ride of important and simplified crafting of WordPress technologies and provide a deep understanding of those terminologies so that one is confident enough during the job and doesn't get overwhelmed by the nature of the job. As explained in the objective this course is trying to fulfill one would get to know the immense power WordPress possesses post the course. This course will allow you to learn the cutting-edge technologies in WordPress and make sure that one can easily apply them in job
During the course, one would get immense experience in real-life problems and also be able to appreciate the security WordPress provides while one is building a website. The advanced architecture of websites in WordPress is also discussed to give a touch and feel of how WordPress is used in the everyday industry. With this WordPress Course in Singapore, one is sure that he/she would attain a full 360o view of the use of WordPress.
Pre-requisites
We at EduCBA make sure that there is not much mandatory prerequisite for our courses as we try to start from scratch and help our learners build on with a strong baseline. And same is the case with the WordPress course. The only one important prerequisite is to have a knack in solving each assignment on your own so that one can get the maximum benefit out of this WordPress Course in Singapore. Our courses in EduCBA brings you the best materials designed by best subject matter experts and eventually helping you dive deep to understand the background of a particular course.
Having basic knowledge about web programming will help you grasp the intent of WordPress in website development and eventually help you get deeper on how and where to use WordPress.
Having some preliminary concept of what plugin needs to be at what place in a website is equally important as for a website if the plugins are placed wrongly and the website is poorly designed it will eventually lead to failure of the developer.
Having an appetite to think out of the box solutions so that if practiced during the course would give immense confidence to use the same solution in real-life challenging problems.
Target Audience
We at EduCBA never restrict our learner audience. Anybody who wants to expand their horizon of knowledge is more than welcome to join our course. It doesn't matter if one is a beginner. As discussed earlier we give immense focus to the details of the course to make it easy to understand for the beginners. This WordPress Course in Singapore can be taken as reference material for students in university for the theory of web development course. Having a course as complete as this will surely help you attain good grades. If one wants to grow up the career ladder, this course will surely get you running to finish the race of getting to the next higher role. For someone who is well versed in this genre can use this course as a refresher to freshen up their terminologies deck which one tends to forget during work. This course will always be looked upon as something which gives an upper edge over any other courses in the market.
WordPress Course in Singapore – FAQ's
---
Why should you take up the WordPress Course in Singapore
In the world of software development, Singapore is no less than a dream place for software professionals to work and organization to invest money in people. Completing the course in Singapore will provide an upper edge in the field of web development. WordPress is looked like one of the most sought-after skills set in a web development candidate.
What is the WordPress market trend in Singapore?
As we write this portion 55579 jobs are lying vacant in Singapore for WordPress developers to grab. And organizations are in a hunt to get the best candidate for their organization and this WordPress Course in Singapore is a one-stop place for all your web development in WordPress needs.
How much time would be required to be invested in this WordPress Course in Singapore?
The way we have designed the course, it requires immense dedication with just 6-7 hours per week to complete the course in 3-4 weeks. Though for beginners, it would make a bit more time because one would need to get used to the terminologies we teach in the course to get it into their system.
Sample Preview
---
Career Benefits
With our all-in-one package of WordPress training, one can't expect anything else to get to the zenith of web development skills. This WordPress Course in Singapore is designed keeping in mind the current industry standards and tries to fill in the gaps for the learners so that it becomes easy for them to crack even the hardest of the interviews. Post completion of the course one would get a verifiable certificate to flaunt and mention in your CV. With so many projects in place during the course, one would get immense confidence to do the best at the job. And for all this, all you need is a WordPress course from EduCBA!
Reviews
---
WordPress for Beginners
Great tutorials, I am not a computer person but with these videos I was able to download word press and start using it without any issues. Word Press has been something I have wanted to learn for some time now but was always discouraged by other videos because of how long they were. 6.5 hours worth of videos but this was easy to sit down and finish in one day.
Linked
Taylor Burley
WordPress Tutorial
I recommend educba online site. They provide exceptional courses and are highly professional. I have learned from educba and we get unlimited access to the courses with detailed information. WordPress powers more than 24% of the web — a figure that rises every day. Everything from simple websites, to blogs, to complex portals and enterprise websites, and even applications, are built with WordPress. And all these particular things are taught by eduCBA.
Alexander Kozhukhovsky
WordPress for Beginners
The course is a good topic for learning. It will be more interesting if more diagrams are used to elaborate on steps in a class. It would be great if a live project is used to teach the audience. It will be great if more materials are used as references to increase audience interest. Thank you for the courses provided.
Linked
GAN HONG KENG
WordPress Course
This WordPress course, in my opinion, is a very good and complete introductory course. I have learned all basics about WordPress, how to install WordPress, and how to interact with the WordPress environment, how to set up all options, and it gives me a great understanding of how a blog works. I have enjoyed the WordPress course and now I feel comfortable to start creating blogs for my customers. At the same time, it is well divided by section where you can review any topic if you have any questions. Thank you.
Linked
Gustavo Quintini
EduCBA Training
I liked their training, worth taking it. I took a course on Understanding WordPress Administration as a refresher more-so rather than a catch-all admin guide. The course gives a reasonably detailed overview of the UI and options for a user new to the basic administration of WordPress. Overall it is a useful refresher on the basic administration of an existing WordPress site.
Linked
Karol Moran