Learn from Home Offer TAKE THIS BUNDLE
WORDPRESS Course Bundle - 8 Courses in 1
29+ Hour of HD Videos
8 Courses
Verifiable Certificate of Completion
Lifetime Access
TAKE THIS BUNDLE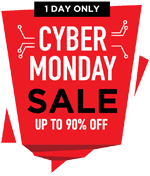 * One Time Payment & Get Lifetime Access
What you get in this WORDPRESS Course Bundle - 8 Courses in 1?
29+ Hours
8 Courses
Course Completion Certificates
Lifetime Access
Self-paced Courses
Technical Support
Mobile App Access
Case Studies
About WordPress Course in Hyderabad
| | |
| --- | --- |
| Course Name | WordPress Course in Hyderabad |
| Deal | You get access to all videos for the lifetime |
| Hours | 29+ Video Hours |
| Core Coverage | You will gain a complete understanding of using WordPress features. You will learn WordPress installation, WordPress Semantics, Posts, pages, Blogging, WordPress Administration, Design & Layout and various other advanced functions. |
| Course Validity | Lifetime Access |
| Eligibility | Anyone serious about learning content management and wants to make a career in this Field |
| Pre-Requisites | Basic knowledge about content management and basic coding would be preferable |
| What do you get? | Certificate of Completion for the course |
| Certification Type | Course Completion Certificates |
| Verifiable Certificates? | Yes, you get verifiable certificates for each8 course, Projects with a unique link. These link can be included in your resume/Linkedin profile to showcase your enhanced skills |
| Type of Training | Video Course – Self Paced Learning |
| Software Required | None |
| System Requirement | 1 GB RAM or higher |
| Other Requirement | Speaker / Headphone |
WordPress Course in Hyderabad Curriculum
---
MODULE 1: WordPress Essentials Training

| Courses | No. of Hours | Certificates | Details |
| --- | --- | --- | --- |
| WordPress Basics and Application Development | 3h 56m | ✔ | |
| WordPress - Basics | 2h 29m | ✔ | |
| Online Wordpress Course- Comprehensive Wordpress Training | 14h 19m | ✔ | |

MODULE 2: Projects based Learning

| Courses | No. of Hours | Certificates | Details |
| --- | --- | --- | --- |
| WordPress Practical - Creating a Plugin for Movies Directory | 2h 23m | ✔ | |
| WordPress Practical - Creating a Construction Website | 3h 25m | ✔ | |
| WordPress Practical - Creating E-Commerce Website | 2h 32m | ✔ | |
| WordPress Practical - Speeding up a WordPress Website | 1h 03m | ✔ | |
| Hosting WordPress Website on Amazon AWS | 35m | ✔ | |
WordPress has gained popularity in the recent era which is not just a blogging tool but it involves more features. In this certification course, you can browse various Word Press courses along with multiple projects and video tutorials. After completing the WordPress Course in Hyderabad, you will get the verified certificates which you can use it in your resume to apply for various jobs. In the beginning part of the course, you will understand the basic concepts in WordPress, all the jargons related to it, the installation, and the development of an application. In the second half of the tutorial, you will understand about various Word Press Semantics, pages, blogging tools, design, and layout. There will be various examples that will be given as part of different modules and this will help you in building a strong foundation in Word Press. There will be simple and intermediate examples which will be explained practically with various use cases.
Along with the various modules that will be covered in the WordPress Course in Hyderabad, there will be multiple projects where you will work on all the concepts that are taught during the training. This will help you in developing various real-life applications and websites.
WordPress Course – Certificate of Completion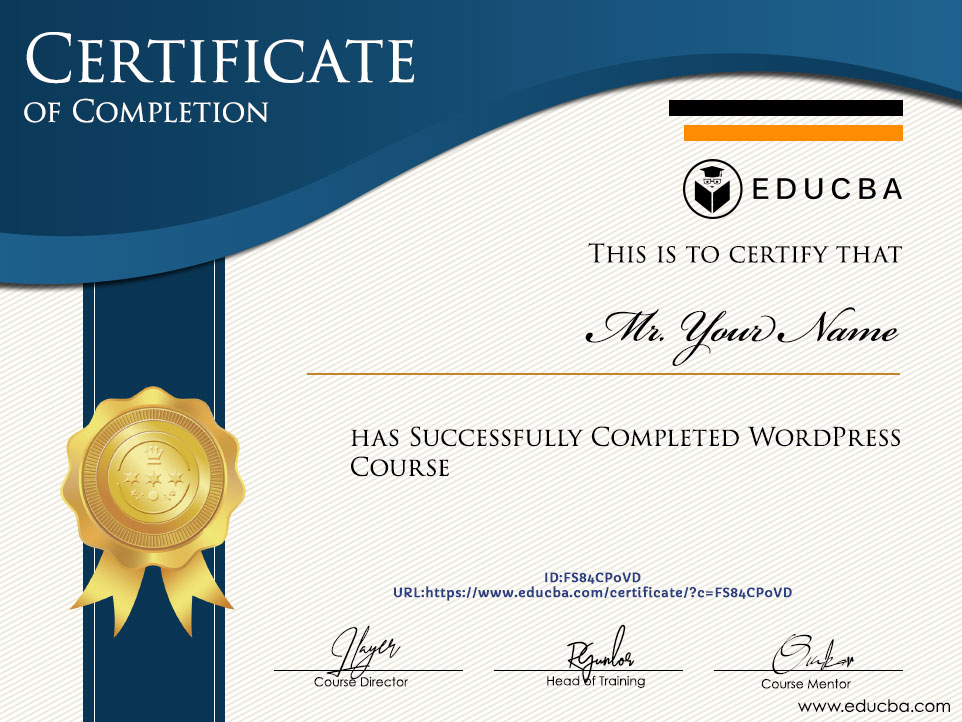 What is WordPress?
Word Press is a free and open-source tool that can be used by multiple users at the same time without any problem of intervention. It has various features like themes, pages, plugins, and others. These features in the tool enable the users to develop various types of websites which can be a simple blog or job portals. It supports various platforms like PHP and databases like MySQL. This tool is always updated with multiple features which increase the security and performance of the application. We can also back up the data and optimize it for high performance.

Industry Growth Trend
The rapid application development market size is expected to grow from USD 7.8 billion in 2018 to USD 46.2 billion by 2023, at a Compound Annual Growth Rate (CAGR) of 42.9% during the forecast period.
[Source - MarketsandMarkets]
Average Salary
Average Salary
$71,948 per year
The average salary for a Web Developer is $71,948 per year in the United States. Salary estimates are based on 3,732 salaries. The typical tenure for a Web Developer is less than 1 year.
[Source - Indeed]
Which Skills will you learn in this Training
?
In this WordPress Course in Hyderabad, you will have lifetime access to all the tutorials along with the videos and projects. Multiple concepts related to Word Press like Word Press fundamentals, different terminologies used in it, installation of the application, and different instances used in it. You will learn about its architectures, pages, Word Press Semantics, design, and layout of the tool. There will be multiple examples and projects in beginner as well as at an advanced level which will help you in building a good foundation in the tool.
Pre-requisites
There are no such mandatory prerequisites in learning Word Press. However, familiarity with certain concepts will help you understand the course easily and quickly.
Basic Knowledge in Web Development: Word Press is a tool for building various web sites and enterprise applications. So, you should have a basic idea of the steps and procedures involved in developing the applications. This will make things easier for you in covering the advanced concepts related to the WordPress Course in Hyderabad.
Basic Knowledge in the use of plugins: You should have an idea about the use of plugins in the correct place. So, this will help you in developing web applications and you can solve the real production problems. You should also know about the fundamentals of web and terminologies associated with it.
Target Audience
This certification course is for all those that are interested in learning the new technologies in the market and remain up to date with different technology trends. Graduate students and experienced professionals who want to learn the procedure of developing enterprise applications using Word Press can enroll for WordPress Course in Hyderabad. It will help the students or graduates in getting various jobs and internships in different organizations. Mainly, experienced professionals who know about developing web applications are considered one of the best audiences for this certification. Educators, who conduct various online pieces of training and tutorials can also take this certification course to increase their knowledge in the respective domain.
WordPress Course in Hyderabad – FAQ's
---
What are different job profiles in the market that are associated with Word Press technology?
There are different organizations in the market globally which Word Press Professionals at multiple levels. There are various profiles related to this technology like Word Press Developer, UI Developer, PHP Developer, Content Management Consultant, Java Script Content Management Consultant, Digital Marketing Analyst, Digital Content Management Manager, Website Developer, Web Designer, Content Writer, etc.
How many days will it take to complete this WordPress Course in Hyderabad?
This certification course consists of 24+ hours of video tutorials along with multiple projects and courses. It all depends on the familiarity of concepts and your understanding. If you have any prerequisite knowledge in web development, then it can take one month to complete the certification while the learners who are new to this domain can complete the certification in 2-3 months.
Can this WordPress Course in Hyderabad help me in preparing for an interview and apply to organizations?
Yes, with proper knowledge and understanding of various concepts related to the development of application and its various features used in the tool, you can start applying to various organizations after completing the certification course. It is advisable to keep on working with various use cases and projects even after completing the WordPress Course in Hyderabad so that it will gradually increase your familiarity with the tool.
Sample Preview
---
Career Benefits
This WordPress Course in Hyderabad covers both basic and intermediate concepts with multiple projects and case studies that can help you to begin a career in
Word Press and work in developing web and enterprise applications
Why should you take up the Word Press Training in Hyderabad?
Hyderabad is one of the fastest-growing cities in terms of various technology trends and job opportunities related to various domains. It has various institutes that provide online training related to various technologies with placement assistance and support. It has a very well planned IT infrastructure which attracts a large number of employees. With the rise in the number of companies, there are various opportunities in the latest technologies across several job boards.
What is the Word Press market trend in Hyderabad?
Word Press is a Content Management system tool that is free to use. About 75 million websites in the market are developed using Word Press. According to a survey, more than 30% of the best-ranking web sites were designed using the Content Management Process system. Some of the companies in Hyderabad that hire Word Press professionals are Aditya Emart, idizns Creative, III Consulting, Panzer Technology, Aptroid Consulting, Ci Techlabs, Atmecs, IMarks, etc.
Reviews
---
WordPress for Beginners
Great tutorials, I am not a computer person but with these videos I was able to download word press and start using it without any issues. Word Press has been something I have wanted to learn for some time now but was always discouraged by other videos because of how long they were. 6.5 hours worth of videos but this was easy to sit down and finish in one day.
Linked
Taylor Burley
WordPress Tutorial
I recommend educba online site. They provide exceptional courses and are highly professional. I have learned from educba and we get unlimited access to the courses with detailed information. WordPress powers more than 24% of the web — a figure that rises every day. Everything from simple websites, to blogs, to complex portals and enterprise websites, and even applications, are built with WordPress. And all these particular things are taught by eduCBA.
Alexander Kozhukhovsky
WordPress for Beginners
The course is a good topic for learning. It will be more interesting if more diagrams are used to elaborate on steps in a class. It would be great if a live project is used to teach the audience. It will be great if more materials are used as references to increase audience interest. Thank you for the courses provided.
Linked
GAN HONG KENG
WordPress Course
This WordPress course, in my opinion, is a very good and complete introductory course. I have learned all basics about WordPress, how to install WordPress, and how to interact with the WordPress environment, how to set up all options, and it gives me a great understanding of how a blog works. I have enjoyed the WordPress course and now I feel comfortable to start creating blogs for my customers. At the same time, it is well divided by section where you can review any topic if you have any questions. Thank you.
Linked
Gustavo Quintini
EduCBA Training
I liked their training, worth taking it. I took a course on Understanding WordPress Administration as a refresher more-so rather than a catch-all admin guide. The course gives a reasonably detailed overview of the UI and options for a user new to the basic administration of WordPress. Overall it is a useful refresher on the basic administration of an existing WordPress site.
Linked
Karol Moran