Learn from Home Offer TAKE THIS BUNDLE
VMWARE Course Bundle - 5 Courses in 1
This VMware Training includes 5 courses with 27+ hours of video tutorials and Lifetime access.
This training will be helping the trainees to master all the concepts of VMWare that will include all the essential concepts that are required to work with virtual machine software. VMware Virtualization Course - Beginners to Beyond, VMware vCenter, VMware vSphere Virtualization, VMware Virtual Machines are some of the units that we will be covering in this course.
TAKE THIS BUNDLE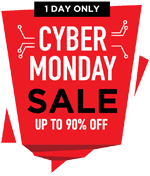 * One Time Payment & Get Lifetime Access
What you get in this VMWARE Course Bundle - 5 Courses in 1?
27+ Hours
5 Courses
Course Completion Certificates
Lifetime Access
Self-paced Courses
Technical Support
Mobile App Access
Case Studies
Online VMware Training in Hyderabad
This VMware Training in Hyderabad includes 5 comprehensive VMware Training , Projects with 27+ hours of video tutorials and Lifetime Access. You get to learn VMware virtualization and its concepts, vSphere, how to download and deploy VMware vCenter and administer vSphere infrastructure.
The way the design of the course is brought out in our training materials possesses a unique and simplified way of making learning happen. The course on VMWare brings you 4 comprehensive Online VMware Courses with 26+ hours of video tutorials and Lifetime Access. The course has already voiced success in other parts of the world and now we wanted to bring up this opportunity for learners in Hyderabad so that one can add another flag of achievement into their kitty. This training has all the information one needs to know for virtualizing operating systems and how does it contribute to a broader banner of cloud computing.

Further details are provided below.
About VMware Training in Hyderabad
---
| | |
| --- | --- |
| Course Name | VMware Training in Hyderabad |
| Deal | You get access to all videos for the lifetime |
| Hours | 27+ Video Hours |
| Core Coverage | Learn VMware virtualization and its concepts, vSphere, how to download and deploy VMware vCenter and administer vSphere infrastructure |
| Course Validity | Lifetime Access |
| Eligibility | Anyone serious about learning VMware and wants to make a career in this Field |
| Pre-Requisites | Basic knowledge about virtualization would be preferable |
| What do you get? | Certificate of Completion for the course |
| Certification Type | Course Completion Certificates |
| Verifiable Certificates? | Yes, you get verifiable certificates for each5 course, Projects with a unique link. These link can be included in your resume/Linkedin profile to showcase your enhanced skills |
| Type of Training | Video Course – Self Paced Learning |
| Software Required | None |
| System Requirement | Red Hat Enterprise Linux 4 or 5, Minimum 1 GB RAM |
| Other Requirement | Speaker / Headphone |
VMware Training in Hyderabad Curriculum
---
This training in VMWare is a quick take on
virtualization concepts
and within a few classes from this training, one would not only get the flavor these concepts but also cherish and explore advanced virtual machine concepts through this course. This training will go a long way in paving a smooth path in the learning of cloud computing. Through this VMware Training in Hyderabad, we aim to achieve the below objectives.
Acquaint oneself with the jargon in the VMWare industry.
Grove into the techniques used in the current industry.
Aware oneself with the different servers used in virtualization.
Solve things in a simple way rather than making it complex.
Equip oneself with real-time hands-on project experience so that one can deal with real-life projects later.
Reach the maximum technical depth one needs to master virtualization.
This course will start with a basic understanding of VMWare and its concepts. This part will take you through the vCenter concepts and the appliance servers used in vCenter. This part will help you in understanding how the installation of the vCenter is done and then proceed on to the concepts of Virtual Machine creation. Then we would move to ESXi configuration. The main intention of this portion of the VMWare course curriculum is to familiarize learners on the Elastic Sky X Integrated (ESXi) platform provided by VMWare and appreciate the technique used herein ESXi of allowing monitoring and management agents to directly work on VMKernel.
Next, we would proceed to the in-depth learning of the vCenter where we would exclusively look into concepts of vCenter like that of fault tolerance, installation of vCenter, ESXi system requirements, and many more. Next, we would focus on vSphere virtualization. In this portion, we would gain insights on the server concepts, concepts on CPU core and CPU socket, compatibility, and installation of ESXi, and finally, learn about the storage and data centers from VMWare. All-in-all this VMware Training in Hyderabad makes you master right from the basic so, just tap into the VMWare training and feel the change!
VMware Training  – Certificate of Completion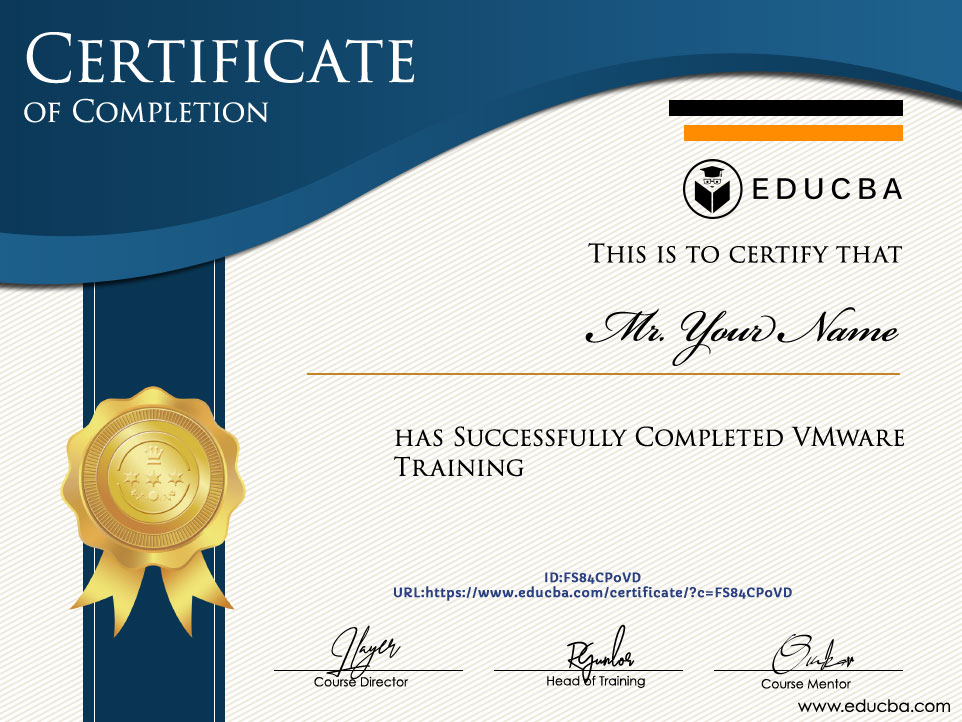 ---
What is VMware?
For one to understand what VMWare is, one needs to have a brief idea on Virtualization. So, let us start with understanding what virtualization is and then proceed to understand VMWare. Virtualization is a technology that allows the creation of services that were known to be hardware or immovables. Using this technology one can create instances of this hardware to be run in different execution environments. For example, one is quite familiar with the partitioning of hard drives. Now, when partitioned the hardware is only one but virtually one can store different items in different partitions although the hardware is just one.
There are few key properties of virtual machines as stated below:
Partitioning: With the help of this feature one can run multiple operating systems in a single machine.
Isolation: Isolate the fault and security at the hardware level.
Encapsulation: This feature acts like a covering state where it can save the entire state into files.
Independence: With independence comes great flexibility as one can migrate a virtual machine to any server as desired.
With VMWare, the tool, we can achieve all the above-said features and makes you achieve or experience the power of a virtual machine. The isolation we talked about in the previous properties is maintained by a thin layer known as hypervisor which allows the machine to run its different instances on a single host. Also, with the concept of virtualization one can attain the sharing of desktop in one fixed place to even the remote locations easily and instantly.
Which Skills will you learn in this Training

?
During the course, the learners would be able to achieve great insights into the different technical aspects of virtualization. The learning here in EduCBA would take in up to date technical advancements in the current industry of virtual machines. The skills learned during hands-on projects during learning sessions would allow and boost up the confidence to apply the gained skills in real-time projects in the industry one would be working. From a niche skills point of view, one would gain deep insights into vCenter, vSphere, Hypervisor, ESXi, VM Creation, vCenter Installation, Files in the Web client, and many such more.
This VMware Training in Hyderabad does contain the required skill set for VMware developers or Server Admins for administrating servers and applications based on resource allocation and configuration. Also, this course will touch upon several other skills like EVC, VMotion, Snapshots, Network Load Balancing, Standard to DV Switch Migration, Distributed Switches, Standard Switch many such more. In a nutshell, one would fulfill all the objectives mentioned in the above section and keep will help in keep improving oneself in the field of virtualization.
Pre-requisites
We keep our courses' design in such a way that one has to encounter minimum prerequisites for learning our courses and try to cover as basic as possible during our teaching. Unless there are absolute mandatory prerequisites required which will be difficult to cover in the span of the course, we recommend our learners go through the prerequisites before starting with our courses. With the VMWare course, there are not any mandatory topics apart from solving assignments on own without third party help. But having the below experiences or knowledge will help in grasping jargon faster.
Having a basic knowledge of VMWare system administration. This basic knowledge can be as little as having experience in running the shared resources or virtualized networks across the data centers.
Having some ideas on ESXi or vCenter server. Although these concepts are taught during our course structure, having a basic knowledge will help a learner to gain added benefit in terms of advanced concepts.
Target Audience
Our training is designed in such a way that learner from any discipline from any years of experience who has the desire of learning and increasing their horizon of knowledge. For an advanced learner as well, this course will provide and sharpen up the niche skills required in being the master in virtualization and strengthen their basic knowledge as well. This course is generally treated as a second textbook by a lot of university students and you can do that as well if you are a university student. This VMware Training in Hyderabad will fill up the gaps and make the path smooth for a transition to the next role in your current organization. Also, for people looking to switch their career, this course is a great boost in making that change happen. For experienced professionals who have been working in this domain since long this course will act as a great refresher to sharpen up the lost technical jargon during their job. This VMware Training in Hyderabad aims ad upscaling any learner in whatever step they are on their career ladder.
VMware Training in Hyderabad – FAQ's
---
Why should you take up the VMWare Training in Hyderabad?
Hyderabad is very next to the Silicon Valley of India, Bangalore, where organizations are putting in investments on people to develop their knowledge force. This VMware Training in Hyderabad will enable each one of you to be a part of those organizations to make it big and successful in accomplishing their road map. Also, this training will enable you to score big in the completion of courses in cloud computing as well.
What is the VMWare market trend in Hyderabad?
VMWare has openings of approximately 500 still vacant across different levels to be filled in Hyderabad only. These numbers will grow more as one searches outside. Post completion of this course and taking up another course on cloud computing by EduCBA one would gain tremendous expertise to manage even broader scope.
How much time would be required to be invested in this VMware Training in Hyderabad?
This course would require a complete dedication of 6-7 hours in a week and aim to complete the training in 4 weeks. Putting in this rigorous effort would yield sweet result as a system admin or server admin or a network admin.
Sample Preview
---
Career Benefits
As stated earlier in this VMware Training in Hyderabad the topics covered would immensely benefit the learners and confidently use the acquired knowledge in their day to day work. This would boost your confidence enough to help you apply the theoretical knowledge of VMWare into real-life applications. This confidence gained will enable you to take up challenging tasks in your organizations and benefit not only the organization but also improve your chances of growing up the career ladder. The verifiable certificate from EduCBA will be a gem in your CV to flaunt about. Grab on this opportunity and be a part of the EduCBA knowledge family!
Reviews
---
Working with VMware Solutions
Straight forward intro into how to setup VMware. I feel that I can now properly install, configure the VMware software. Once launched I am capable of launching a Virtual machine instance, backing that instance up and cloning that instance. In addition to all of that I was taught how to create a shared drive between all of the virtual machines and the host server. Overall nice experience of knowing how to set up VMware.
Raymond Holton
Nice Experience
Thanks for the insight on Vmware Visualization. Wonderful tutorials.
Linked
George Kwofie
VMware Virtualization
Very basic, but well prepared, tutorial/guide for anybody interested in "playing" with VMware products. For more advanced users, there is too much already known information, Also, there is a need to point out, that the main subject of this course is VMware Workstation and not the VMware ESXi. To summarize, the instructor has understandable pronunciation, the course has good and logical structure, but covers only basics.
Marko Zbirka